DataCore Will Reveal MaxParallel Soon
Not targets storage, but applications, I/O scheduling and memory.
By Philippe Nicolas on 2017.09.11
DataCore has discreetly developed MaxParallel and the company plans to announce it very soon.
The product is not listed on DataCore web site but if you search on Internet you should find a dedicated page about it on its web site. Oops, someone probably forgot to hide it. You can even find a datasheet and a solution paper about it on that microsite.
For several quarters, the company has promoted Parallel I/O approach illustrating gains with some famous benchmark results. Lots of details were published on this page.
Now the company opens a new directions not directly related to storage as it targets applications, I/O scheduling and memory.
Gains are pretty good:
from 3x to 8x quicker response,
up to 3x more transactions,
and from 2x to 10x faster reports following users tests and utilizations.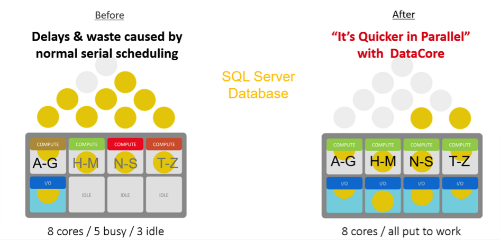 The main idea is still 'Divide and Conquer' applied here to SQL queries. In fact, multiple independent queries and updates that run on distinct cores don't need to wait any longer on a single queue. Thus these queries access data in parallel and reduce access times significantly. The product maintains the order of arrival for dependent writes and updates. Based on this design, the product can deliver interesting results for workloads that suffer from I/O latency.
This new product is a pure software approach that doesn't require SANsymphony as it resides on the application server. The administrator doesn't need to change anything on the server and there is no special configuration required by it.
MaxParallel targets two deployment models: on-premise and cloud. The first supported environment is Microsoft SQLServer, especially SQL Server 2016, 2014, 2012, 2008 running on Microsoft Windows Server.
It is also available on Microsoft Azure Marketplace and its prices starts at $0.06/hour as listed on the Azure portal.