Up to 128GB for TransMemory U364 USB 3.0 Super Speed Flash Drives From Toshiba
Maximum read speed of 120MB/s
This is a Press Release edited by StorageNewsletter.com on 2017.09.08
Toshiba Electronics Europe GmbH has announced the European launch of two families of TransMemory USB 3.0 Super Speed [2] flash drives with drive capacities of up to 128GB [3] and maximum read speeds [4] of 120MB/s.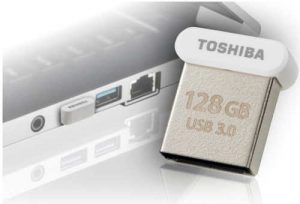 The TransMemory U363 flash drives feature a sleek, brushed metal body, pairing well with design-conscious notebook PCs. With a maximum read speed of 120MB/s, it makes good use of its USB 3.0 connection. This six grams device, including a keyring attachment, will be available in drive capacities of 32, 64 and 128GB.
The TransMemory U364 USB 3.0 combines big capacities in the smallest of all company's USB flash drives and comes with a tiny form factor and minimal weight of three grams. Like the U363, the U364 is USB 3.0 Super Speed [3] compliant with a maximum read speed of 120MB/s. It will also be available in drive capacities of 32, 64 and 128GB.
Based on the company's proven NAND flash memory technology, TransMemory U363 and U364 drives provide a USB Type A interface and are compatible with Windows 7, 8.1, 10 and Mac OS X 10.6.6 - 10.7, OS X 10.8 - 10.11, macOS 10.12. The firm's five-year warranty [5] covers both flash drive types.
"Our new range of TransMemory USB 3.0 Super Speed [2] features Toshiba's renowned reliability and high-speed performance, combined with a slim and minimalistic design that blends into notebooks almost seamlessly", comments Sandrine Aubert, product marketing manager, Toshiba Electronics Europe.
The U363 will commence shipping by the end of 3Q17 and for the U364, by the beginning of 4Q17.
[1] Among all Toshiba branded USB flash drives as of May 2017.
[2] The term USB 3.0 Super Speed used herein is the name of a specification upon which this product is based, it does not guarantee the speed of its operation.
[3] 1GB means 109 = 1,000,000,000 bytes using powers of 10. A computer OS, however, reports storage capacity using powers of two for the definition of 1GB= 230 = 1,073,741,824 bytes and therefore shows less storage capacity. Available storage capacity (including examples of various media files) will vary based on file size, formatting, settings, software and OS and other factors.
[4] Read and write speeds may vary depending on reading/writing device and the file types and sizes being read/and or written.
[5] More information on Toshiba's five-year warranty.
(*) Mac, OS X, macOS are trademarks of Apple Inc.