Toshiba microSD UHS-I M203 Card Up to 256GB
3D flash memory (BiCS FLASH) architecture, read up to 100MB/s
This is a Press Release edited by StorageNewsletter.com on 2017.09.08
Toshiba Electronics Europe GmbH has announced the European availability of a microSD UHS-I card that has a read speed of up to 100MB/s read [1], the highest [2] speed rate reached in this entry level category.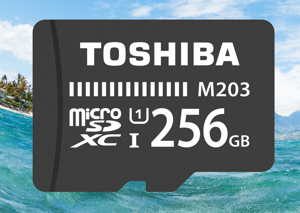 The microSD M203 card is shock proof, water resistant and x-ray proof [3].
Available in memory capacities from 16 to 256GB [4] and targeted at the mainstream customer with its cost-effective entry-level design in the UHS-I category, the microSD M203 offers mobile users faster transfer speed and the ability to add 256GB of memory to their smartphones. This means users can download more apps and carry large amount of contents on their devices without concern about storage limitations. Thanks to the company's 3D flash memory (BiCS FLASH) architecture, the card is able to combine greater capacity.
The high-speed (UHS) microSD M203 can be obtained in three different blister-pack versions with an adapter for mobile phone, camera or PC use as well as a version without an adapter for phone use only. The shock and waterproof card will also be offered as a mobile bundle, including the card and a mobile phone either with or without an adapter.
"microSD cards are becoming the major bridging and storage medium for consumer devices. Our new microSD M203 combines high capacity and performance is designed for the everyday user of mobile devices," says Sandrine Aubert, product marketing manager, Toshiba Electronics Europe GmbH.
The microSD M203 will make its European debut at the IFA exhibition in Berlin, Germany. The card shipments to distributors and retailers will commence in January 2018.
[1] Read and write speeds may vary depending on reading/writing device and the file types and sizes being read / and or written
[2] Within Toshiba memory card line-up. As of August 2017
[3] According to IPX7 standard, the product can function, after it is submerged quietly and left for 30mn in static tap water at room temperature and in depth of 1m and then it is taken out of the water. The product (only card) can function, after carrying out the gravity fall of this product (only card) from 5m in height. (Based on Toshiba Memory Corporation's test results.)
[4] 1GB means 109 = 1,000,000,000 bytes using powers of 10. A computer OS, however, reports storage capacity using powers of 2 for the definition of 1GB = 230 = 1,073,741,824 bytes and therefore shows less storage capacity. Available storage capacity (including examples of various media files) will vary based on file size, formatting, settings, software and OS and other factors.