PNY Technologies Unveils MicroSDXC Elite Performance 128GB V30
And also range of USB Type-C enabled products
This is a Press Release edited by StorageNewsletter.com on 2017.09.08
At IFA 2017, PNY Technologies, Inc., a manufacturer of consumer and professional technologies, unveils its MicroSDXC Elite Performance 128GB V30, designed for the most demanding photographers and videographers.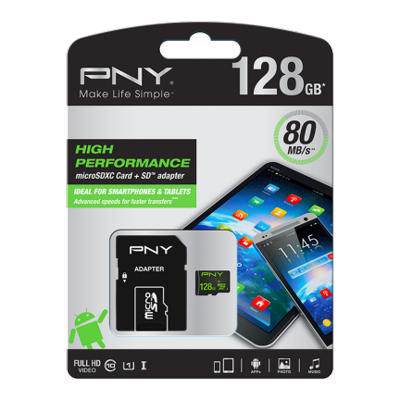 As today's cameras push the limits of image quality and fidelity, UHD 4K pictures and videos are fast becoming the norm rather than the exception. Yet the MicroSDXC Elite Performance V30 surpasses what photographers have come to expect. It is able to store the highest resolution images and frames per second videos, with fast transfer speeds that make their vocation quicker and easier than ever before.
The new PNY Elite X Fit and PNY Pro Elite high-speed USB flash drives will offer some of the fastest reading and writing speeds available at excellent value for the consumer. The Duo-Link Cable 3.0 will also enhance PNY's flash storage offering for Apple products with the addition of a soft, flexible lightning connector cable the possibility to expand the memory of iPhone or iPad; to save space by offloading files from the device, easily transfer and share files between iPhone, iPad, and computer and facilitate charging, and more.
PNY will also unveil a range of USB Type-C enabled products. As USB-C grows into the preferred connector system for many electronic devices, it stands ready with a complete offering to update its power offering and cement its position in Type-C. 
PNY will expand its range of power charging solutions including car and wall chargers with Type-C connectors, metal cable chargers, a 2-in-1 charge and sync cable. As manufacturers increasingly favour Type-C USBs, these portable mobile accessories will ensure customers keep up with technological changes and keep their devices charged at home and while traveling.
The PNY Road Solution will be completed by a PNY family car charger allowing several users to charge their devices simultaneously - excellent value and perfect for mobile and hi-tech families while on-the-road.
"The IFA is among Europe's most influential consumer electronics exhibitions. As one of the most recognisable and innovative manufacturers on the continent, I know PNY will feel right at home here," said Samy Benarfa, senior director of sales and marketing, PNY. "Storage is one of our proudest and most popular core offerings as a business, and we continually strive to break new ground when it comes to designing and creating cutting-edge innovations. We never compromise when it comes to quality or innovation, and our expertise always means we are upscaling our offering with the latest and most essential features and capabilities."