Infortrend: Two Thunderbolt Storage Solutions for 4K Media Editing and Transmission
EonStor GSe Pro 200 with Sonnet adapter
This is a Press Release edited by StorageNewsletter.com on 2017.09.08
Infortrend Technology, Inc. announced two solutions, EonStor GSe Pro 200 storage systems, with Sonnet Technologies, Inc. adapter featuring the Thunderbolt interface to cost-effectively meet the needs of small office multimedia professionals to transfer, edit, and backup high-resolution media data.
EonStor GSe Pro 200 storage systems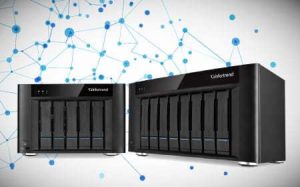 With the Thunderbolt interface, the company's performance solution takes advantage of its speed to enable a high-bandwidth throughput and support for 3D or 4K workflow transmissions. This solution can link several Mac workstations so that tasks such as editing and post production can be done at the same time to speed up work efficiency, while the raw capacity can be up to 400TB by adding four expansion enclosures to ensure media data is properly stored. For budget-concerned media and entertainment professionals, Infortrend also offers another budget-friendly solution with less capacity support.


These two solutions that combine EonStor GSe Pro 200 storage and Thunderbolt interface pack the benefits of Infortrend RAID storage in a compact, slim, quiet, and desktop form factor design, and are for small workgroups, remote studios, and other multimedia workers that have space constraints or cost considerations.
"We are pleased to launch new storage solutions featuring the Thunderbolt interface for the media and entertainment market, one market that Infortrend excels in. We are looking forward to seeing more wonderful multimedia projects completed by these solutions," said Thomas Kao, senior director, product planning, Infortrend.