Flash Memory Summit: Solarflare Demos Storage Fabric Staying True to Ethernet: NVMe Over TCP
With Samsung Semiconductor and Super Micro Computer
This is a Press Release edited by StorageNewsletter.com on 2017.08.15
Solarflare Communications, Inc. demonstrated a NVMe over fabric based on TCP, along with Samsung Semiconductor Inc. and Super Micro Computer, Inc..
Click to enlarge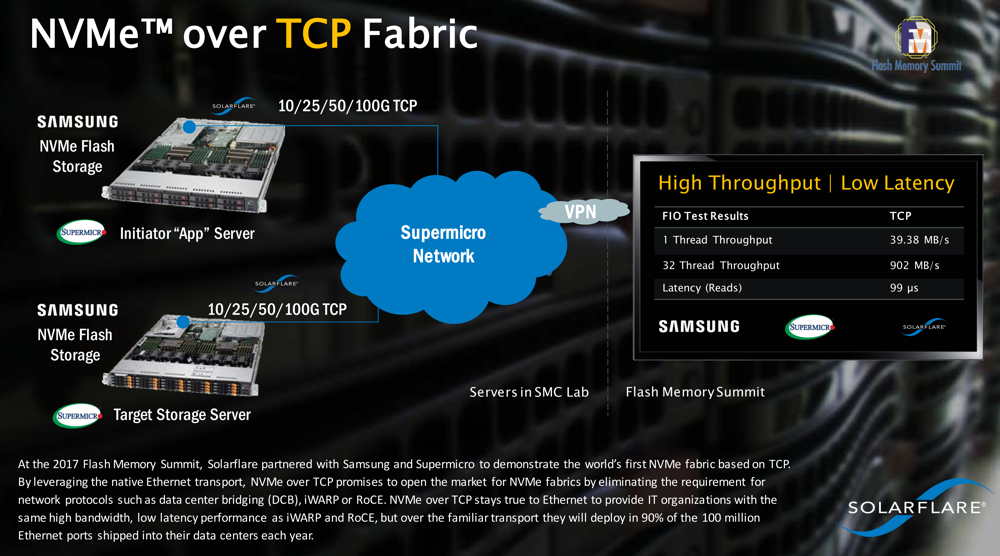 TCP promises to open the market for NVMe over fabrics by leveraging the native Ethernet transport, without requiring the deployment of network protocols such as data center bridging (DCB), iWARP or RoCE. NVMe over TCP uses Ethernet to provide IT organizations with the same high bandwidth, low latency performance as iWARP and RoCE, but over a familiar transport deployed in 90% of the 100 million Ethernet ports shipped into their data centers each year.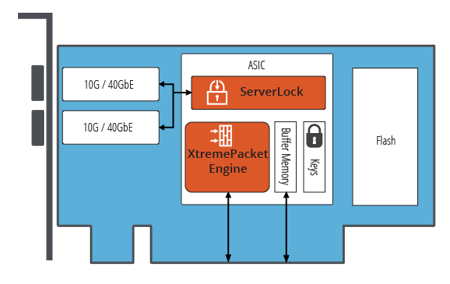 XtremeScale NICs with NVMe over TCP support will be commercially available on September 30, 2017.
Click to enlarge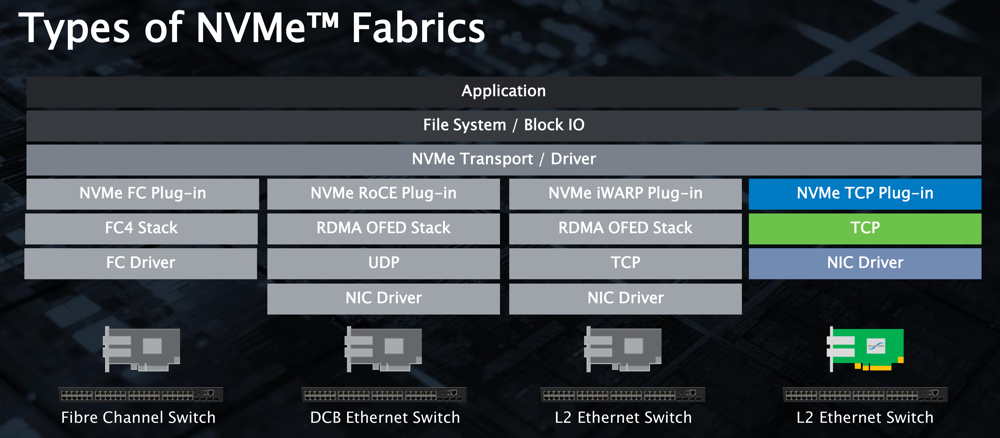 "NVMe over fabrics are the tip of the iceberg for low latency networking using standard TCP," said Ahmet Houssein, VP, marketing, Solarflare. "The largest IT organizations in the world are looking for solutions that are true to core Ethernet standards like TCP for their massive scale-out environments."
"NVMe over TCP is expected to play an important role in accelerating the adoption of NVMe over fabrics in distributed data center environments," said Bob Napaa, senior director, product and strategic planning, Samsung Semiconductor. "Samsung 3D V-NAND NVMe SSDs provide the most advanced solutions to meet the performance requirements of NVMe-over-fabrics."
According to Michael McNerney, VP, software solutions and infrastructure, Supermicro, "We are network agnostic when it comes to providing servers for NVMe over fabrics. We welcome NVMe over TCP and its potential to accelerate the adoption of NVMe servers because it leverages existing infrastructure and protocols."
Click to enlarge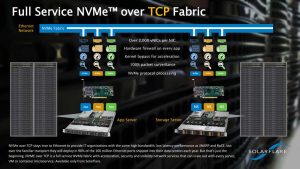 Solarflare NICs connect servers to NVMe over TCP fabrics
XtremeScale NICs support Universal Kernel Bypass (UKB), a suite of kernel bypass applications for accelerating application performance. Onload is the UKB application proven in the electronic trading industry. DPDK and NVMe are the two UKB apps available for accelerating NFV and storage server traffic.
Click to enlarge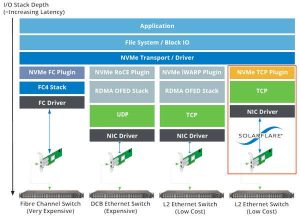 Samsung SSDs
Applications today need the right storage to process large amounts of data efficiently. Samsung enterprise and data center SSDs have led the industry in meeting the 24/7 demands of performance and software-defined storage solutions. Together with NVMe over Fabrics technology like NVMe over TCP, Samsung's SSD portfolio including its PM1725a will play a more important role in enabling data centers to meet increasing performance requirements, while overcoming efficiency bottlenecks.
Supermicro all-flash NVMe server solutions
The generation X11 NVMe systems take this technology to the next level, offering performance. Supermicro NVMe SuperServers offer up to: 3TB ECC 3DS LRDIMM or RDIMM DDR4-2666MHz memory in 24 DIMMs, 7 PCI-E slots SAS 3.0/SATA 3.0/NVMe hot-swap HDD/SSD support, 10GBase-T/10G SFP+, and support the latest generation Xeon Processor Scalable family CPUs for up to 205W TDP.