Jamie Bean Senior Solution Architect, Pixit Media
Joins from post-production facility Envy.
This is a Press Release edited by StorageNewsletter.com on 2017.08.11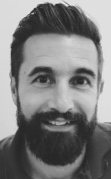 Pixit Media Ltd., in software-defined storage for media workflows, appointed Jamie Bean to the UK's pre-sales team.
He will take the position of senior solution architect. He has over 20 years experience in the media and entertainment industry. Having worked with industry leaders such as Envy Post Production and Glassworks. He Joins Pixit Media from post production facility Envy, where he worked as a systems technologist.
He joins Pixit to assist the company as they enter into a growth phase.
He comments:" It's very exciting to be joining Pixit Media, being able to offer a first class service to their clients whilst researching trends and technologies in order to provide solutions for the future, for which previously I'd been responsible for in arguably the most successful post production facility in the UK."
Sean Baker, CSO, says: "We are delighted to have Jamie join our team here in Chesham, I have worked with Jamie over the past 15 years and his wealth of experience, technical capability and enthusiasm will be a huge benefit to our existing support team and customers alike."