Zstor Cluster-in-a-Box Storage Solutions Certified for Windows Server 2016 Storage Spaces
2U or 4U rackmount chassis with 12/24 or 70 SSD/HDD bays and 12Gb SAS interfaces.
This is a Press Release edited by StorageNewsletter.com on 2017.07.14
Zstor GmbH has certified high available http://zstor.de/en/Zstor-Losungen/zstor-windows-storage-spaces-cluster-in-a-box.htmlCluster-in-a-Box storage solutions (CiB) for Windows Server 2016 Storage Spaces.
Click to enlarge
Each company's storage cluster CiB224 and CiB4270 have two independent hot-swap compute nodes, which are built in a 2U or 4U rackmount chassis with 12/24 or 70 hot-swap SSD/HDD bays. Up to four Xeon CPUs manage performance SSDs and high capacitive HDD drives via 12Gb SAS interfaces. Storage cluster CiB224 and CiB4270 will be tailor made on application's demand and are prepared for further additional JBOD expansion units via built-in external SAS interfaces.
Storage cluster  CiB4270 front and rear
Cluster in a Box - company's storage cluster make HA storage solutions easy
The CiB is consistently deployed by the company, combined in a single system and tailored to the requirements of the application. Specifically for use in smaller environments, the CiB224/4270 are for use and combine IO/s as well as data throughput in a compact appliance deployed as high available storage solutions. Based on Microsoft's Windows Server 2016 architecture, it uses consistently Storage Spaces in cluster nodes which made it easy to be integrated into existing IT environments. The systems are certified by Microsoft for Windows Server 2016 Storage Spaces and designed as high available storage solution, company's storage cluster have two redundant nodes, which is set into an automatic failover cluster and thus offers reliability and data availability. Both systems can individually equip with high performance datacenter SSDs or enterprise SAS HDDs.
Storage cluster CiB224 front and rear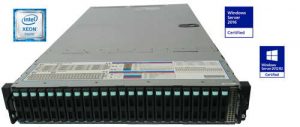 Entry level solution for storage professionals
"Ultimately the CiB concept is a turn-key solution, which really reduces the workload of every admin in integration of high available storage solutions", says Helmut Kopel, MD, Zstor. "Through our years of experience specifically with Windows Server and Storage Spaces environments we have certified our storage clusters with Microsoft as a complete storage solution. Moreover, we stand ready with our specialists to support admins in design and implementation into their respective IT structure."
Company's plays Storage Spaces - and offer knowledge to partner´s and admins
The implementation of professional storage solutions using Windows Server 2016 needs some experience - especially when it comes to Storage Spaces. The firm offers with its certified Cluster-in-a-Box solutions partners and admins the needed consultancy and support via experienced certified engineers. The company works out possible approaches individual and tailored to the needs of the system environment and optimize them in terms of performance and cost. For larger environments also certified storage building blocks for complex high performing and high available storage solutions are available in the portfolio.
Certified server and JBODs for larger storage solutions
Microsoft, Inc., has introduced a special, flexible software-defined storage (SDS) through the introduction of Storage Spaces within the Windows Server architecture. Not only the power reserves within the servers can be better exploit, it also make a better use of the different performance benefits of HDD, SSD, and NVMe components. Complex scale out file server (SoFS) structures, consisting of servers and JBODs with 12Gb SAS architecture offers the necessary disk space, as well as the necessary performance to the centralized productive servers. With certified servers of the GridServer series and also certified company's JBODs, sophisticated systems for complex, performance and high available storage solutions can be realized.
All certified systems available
Fully certified for Windows Server 2016 and Storage Spaces 'Cluster in a Box'-entry solutions are available for ordering as well as certified storage building blocks with GridServer and the firm's JBODs for realizing high available storage solutions. In addition to a 36 months hardware service a personal technical hotline in English language is available.
All company's storage solutions are tailor made to the needs of system requirements and are offered individually.