AetherWorks Launched AetherStore Freemium Software
To create local 'cloud-like' storage without handing data over to third party
This is a Press Release edited by StorageNewsletter.com on June 2, 2017 at 2:24 pm
AetherWorks LLC. announces that its first product AetherStore is available to the public in a freemium version.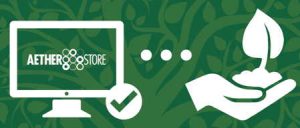 AetherStore pools unused space from existing Windows workstations and servers to create secure, encrypted, replicated network drives on demand. The release of AetherStore 2.0 freemium allows anyone to download the software and create their own local 'cloud-like' storage with ease, and without ever handing their data over to a third party. Prior to this launch, AetherStore has only been available via resellers.
Click to enlarge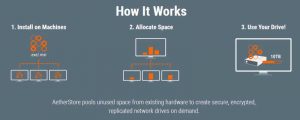 With patented technology, anyone can now pool their local storage into secure on-site drives. These drives are most often used as inexpensive, low-RTO backup storage. With the speed and added security of being on-site, plus the low cost, AetherStore is a cloud-beater for backup. It is a cost-effective alternative to existing storage solutions, as it does not require new hardware and does not require a high-bandwidth Internet connection. It maximizes an organization's investment in IT infrastructure, enabling more value to be squeezed out of existing computers, and meets the increasing needs for storage without requiring new hardware.
Click to enlarge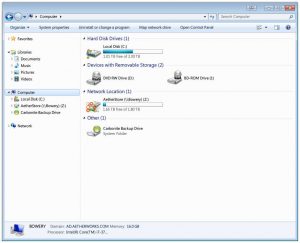 "Cloud storage is good for accessibility, but nothing beats on-site storage for security and, if storing your backups, for speed of recovery. As the most recent round of ransomware attacks showed us, backups are critical – and onsite backup storage lets you recover far faster than cloud. With AetherStore you have cloud-like simplicity and low cost with the security and recovery-time benefits of being on-site. It's like your own, private, on-site storage cloud," said Robert MacInnis, Ph.D., CEO and founder, AetherWorks. "We made the decision to expand access to AetherStore beyond resellers through a freemium version so that a wider range of IT consumers can take advantage of the numerous benefits our software provides, and make use of all that spare space on their computers that is currently going to waste. For companies that embrace AetherStore, they can be confident knowing that they are making the most of their hardware investment, and that their data is on-site, secure, and readily accessible."
In addition to their storage solution, the company also offers ActiveAether, a fog computing technology that utilizes locally available computing resources to streamline processing for high-traffic technology, such as for IoT devices. Patented technique for providing and consuming web services enables the demand-driven deployment of location-neutral software.
Resources:
General FAQ
Blog 
Why AetherStore? (Video)
AetherStore Video Introduction