Market of Hybrid and All-Flash Arrays – TechTarget
54% of participants have hybrid installed, 43% all-flash.
This is a Press Release edited by StorageNewsletter.com on 2017.05.19
This article in an abstract of the report, The New Storage Technology - who is buying what and why, written by Jonathan Brown is VP of market intelligence at TechTarget, Inc.
Storage technology roadmap 2H16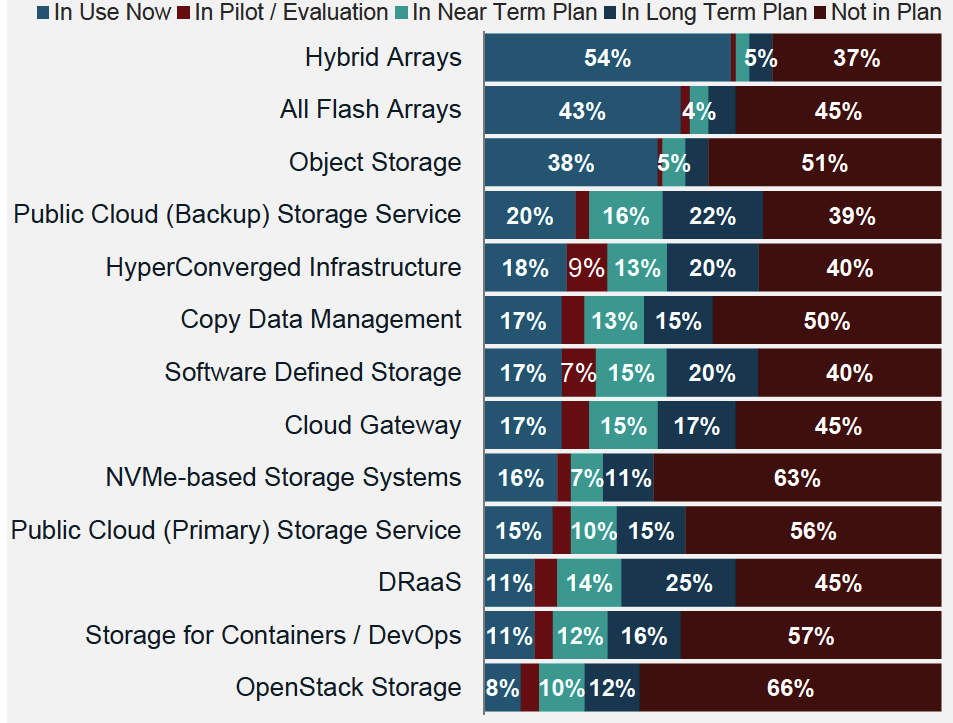 Arguably, this era is a good one for storage innovation. We consider technology with greater than 20% adoption in production as mainstream.
Using this definition, the following are mainstream technologies:
 
Hybrid Arrays
By now, more than half of the EPIC research participants have hybrid arrays installed in production. 71% of organizations over $2 billion have them in place, while just under 1/2, 49% of organizations under $2 billion have hybrid arrays as part of their storage infrastructure. Leading vendors in use include Dell EMC (42% have installed), IBM (16%), HPE (13%), Nimble (2%) recently acquired by HPE. NetApp and HDS are in use by 8% and 7% respectively. Newer vendors, Qumulo (who make a scale out appliance), Tegile Systems and Tintri are being considered by about 5% of research audience. Notably, Nimble Storage CS Series won a silver award in Storage Magazine 2016 Storage Product of the Year contest. Dell EMC captured 40% of the transactions measured.
TechTarget hybrid arrays transaction index
A quarterly metric measuring a technology vendor's ability
to compete for (shortlisted) and win a deal

All-Flash Arrays
Some 43% of research participants have all-flash arrays installed, while another 12% are either evaluating currently, or have plans to do so in the foreseeable future. Many organizations believe they will be 'all-flash' or high majority flash by 2020.
Object storage is in use at 38% of participants in the study. Amazon S3 is perhaps the most widely used object storage provider, but most cloud providers do offer object storage. As for use cases, archival and big data storage are two principal uses.
 
Public Cloud (Backup) Storage Service
Leveraging cloud as a final backup target, it is becoming more popular. 20% are currently backing up data to the likes of Amazon and Microsoft and other cloud providers. A whopping 38% of participants did say that there were plans in both near and short terms to evaluate options in this space. Related, Disaster Recovery as a Service (DRaaS), while less adopted, reflect similar audience plans - some 36% have plans here as well.
Non-mainstream storage
Converged and HyperConverged Infrastructure in 2017
Few topics garner as much research and interest as the constantly evolving landscape for converged and hyperconverged infrastructure. That being said, from a storage perspective, the technology is not yet mainstream - with adoption above 20% of the available market.
Converged and hyperconverged plans 2017


For 2017, about 1 in 6 (15%) of organizations intend to invest in hyperconverged infrastructure infrastructure appliances and/or software. Investment plans are concentrated in larger organizations. Additionally, we see a greater interest in North America for this form factor than we do elsewhere in the world.
Converged infrastructure is set to continue its global growth. While 1 in 6 (16%) in the overall market intend to purchase these pre-configured hardware bundles, larger enterprises have stronger plans with fully 1 in 5 (21%) intending to invest in converged infrastructure in the coming year.