Dell EMC World: New Faster All-Flash Storage Systems by Dell EMC
VMAX 950F, XtremIO X2, Unity, new generation of Isilon
This is a Press Release edited by StorageNewsletter.com on 2017.05.15
Dell EMC, part of Dell Technologies, announced updates across its storage portfolio designed to provide IT departments with the technology they need to modernize their data center and begin their journey to transform IT.

As the business drives new digital initiatives, IT must transform to accommodate massive growth in structured and unstructured data, maintain the performance and reliability of key business applications, deploy a new breed of cloud-native applications and support increasingly complex workflows. To satisfy these diverse demands the company provides a diverse portfolio.
The company announces platform refreshes to its flagship enterprise storage, VMAX, as well as the next generation XtremIO purpose-built all-flash array. The firm also announces the next generation of Unity, its mid-range all-flash array and the SC5020 midrange hybrid array, as well as Isilon scale-out NAS arrays.
"With these new offerings in high-end, midrange and unstructured storage, Dell EMC is bringing best-in-class performance, value and economics to customers' IT organizations," said Jeff Boudreau, president, storage, Dell EMC. "The speeds and feeds are impressive, but more importantly, customers of every size, every budget and every stage of IT Transformation can harness the power of enterprise storage to move their business forward."
VMAX 950F All Flash array
VMAX 950F is the newest member of VMAX All Flash family, the high-end storage offering that has set industry benchmark for enterprise storage arrays. With performance that is 68% faster and offering 30% better response times (6.7 million IO/s for RRH, 350μs response times for OLTP) than the previous generation, VMAX 950F resets the bar for all-flash storage performance. It is up to 4x faster than its nearest competitor in testing of real-world workloads.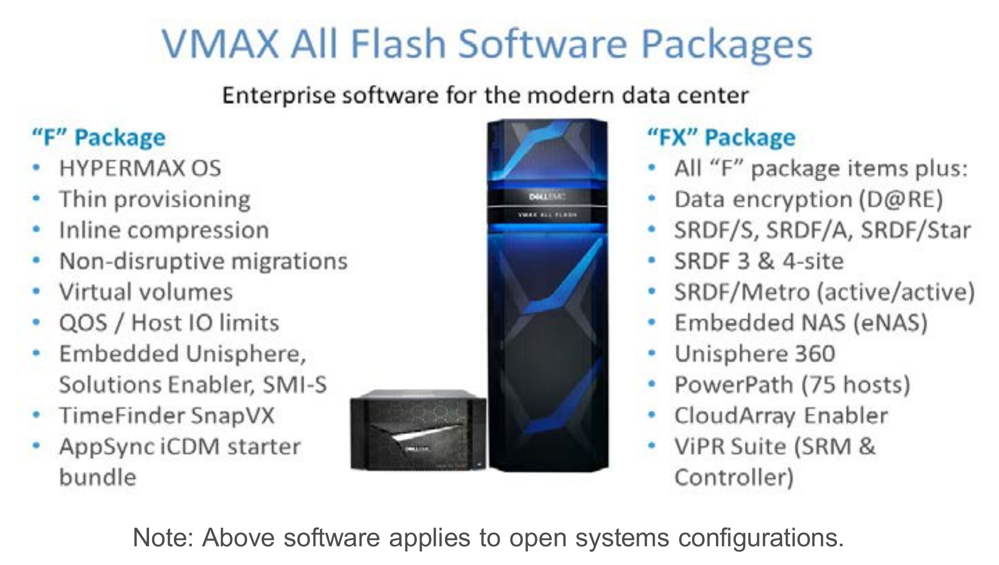 The VMAX 950F array leverages the latest Intel Corp.' CPUs with software enhancements designed to deliver performance at scale. It also allows customers to consolidate with confidence - including open systems, mainframe, IBM i as well as file workloads - on a single platform with a 25% smaller footprint for the same performance as the previous generation. It offers all the data services of the rest of the VMAX all flash family - including SRDF (Symmetrix Remote Data Facility), D@RE (Data At-Rest Encryption), non disruptive migration, inline compression. This combination of performance, data services and more than 'six nines' availability make the VMAX 950F the platform for consolidating mission-critical applications that demand the performance of flash and can never, ever go down - such as core banking, credit card processing, electronic billing or hospital record systems. Blog
XtreamIO X2
Purpose-built for all-flash with always-on inline data services, XtremIO delivers efficiency to thousands of customers worldwide. With XtremIO X2, the company has amplified the strengths of the previous generation by enhancing XtremIO's software design and adding more horsepower to the hardware. XtremIO is the platform for workloads that benefit from deduplication and integrated copy data management (iCDM) for large-scale snapshots, such as VDI and development/test use cases.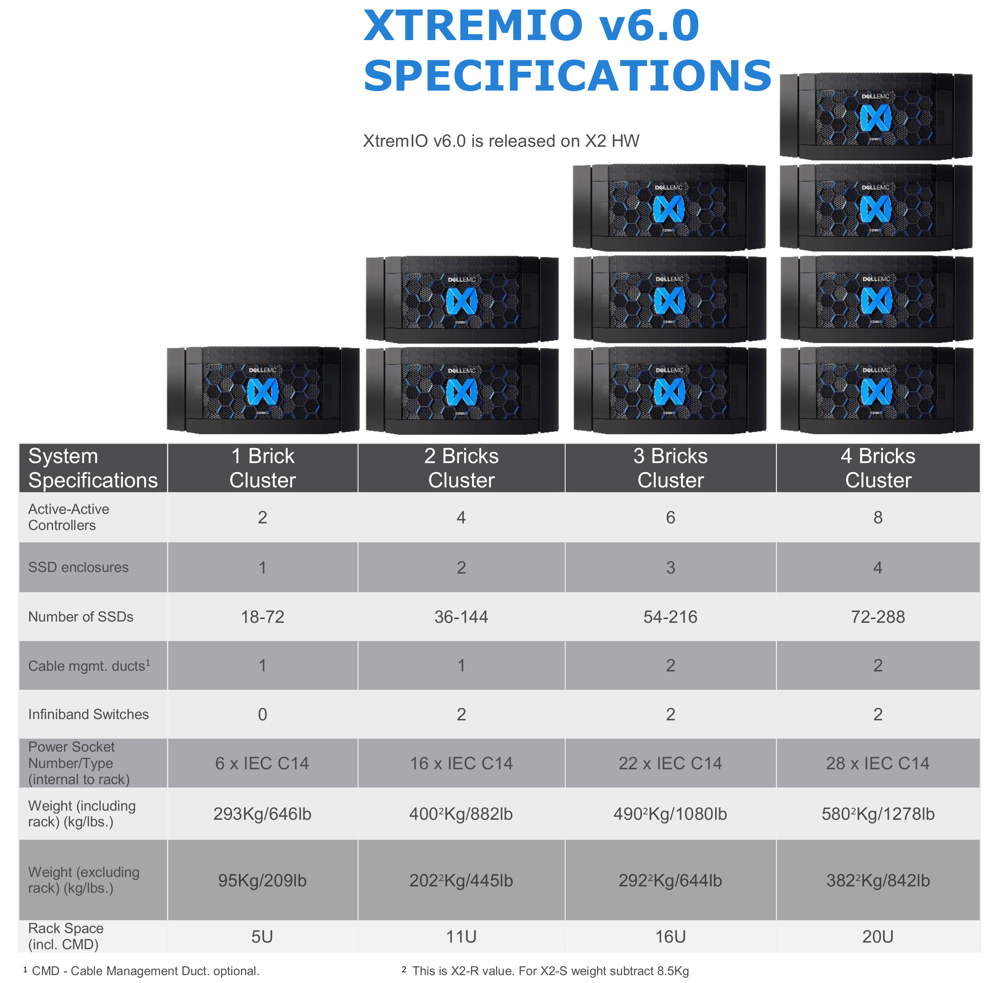 With a combination of new hardware and intelligently enhanced software, X2 offers up to 80% lower response times and 25% higher data reduction to support 2x more copies per cluster for iCDM. The firm has engineered X2 to be more efficient in storage capacity and all-flash performance, at a price as low as one-third of its predecessor. X2 provides 3x the capacity per X-Brick as well as new multi-dimensional scalability to scale up from 7TB to138TB per X-Brick, scaling out up to eight X-Bricks. X2's rack density has been increased by 4x, providing up to 5.5PB effective capacity and a capacity density of over 100TB effective per rack unit. Blog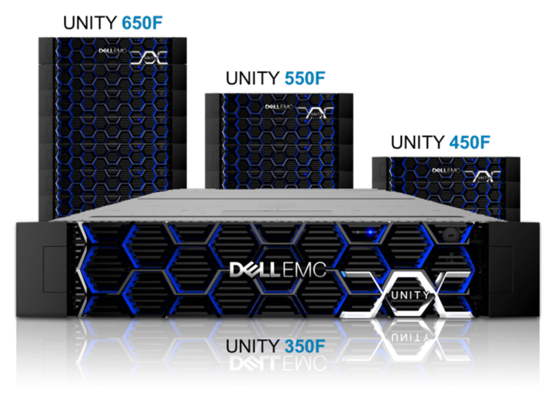 Unity and SC Series models for midrange
The company introduced four Unity all-flash models - Unity 350F, 450F, 550F and 650F - providing up to 500TB of effective storage capacity in a 80-drive, 3U footprint. These models delivers all-flash performance and simplicity for the mid-range with integrated support for block and file data. All Unity models include 4x larger file system with inline file compression, iCDM with snapshot mobility, simpler mapped RAID protection and support for external encryption key management via KMIP (Key Management Interoperability Protocol). Additionally, Unity features an 8x increase in density and 8x more effective file system capacity than its predecessor, as well as the ability to install in under 10 minutes, 33% faster than previous generations.
Click to enlarge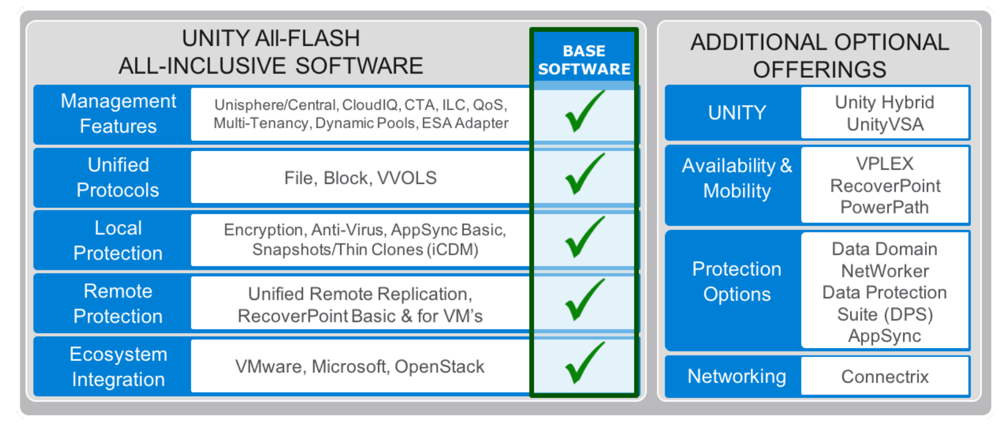 The firm also introduced the SC5020 to its family of economical and intelligent entry- to mid-range-level hybrid storage solutions for block workloads. The successor to the SC4020 array, the SC5020 offers more power and scale, with up to 45% more IO/s, 2x max capacity (2PB) and 3x the bandwidth in a new 3U format featuring 30 internal drive bays, dual controllers, plus FC, iSCSI and direct-attach SAS connectivity. The SC5020 boasts one of the lowest hybrid storage entry costs, thanks to the automated efficiency of built-in data progression, intelligent deduplication and compression. Unity mid-range all-flash arrays blog, and SC Series 5020 hybrid storage array blog.

New generation of Isilon Scale-Out NAS
Organizations are struggling to keep pace with the growth of data, as well as the need to support increasingly demanding applications that are critical to deliver faster business outcomes. To address these challenges, the company is introducing a generation of Isilon scale-out NAS systems based on a 'Infinity' architecture. This generation of Isilon systems will include all-flash, hybrid and archive configurations that are designed for demanding file applications across a range of industries including media and entertainment, life sciences and financial services.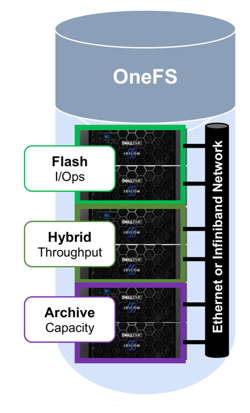 The 'Infinity' architecture brings levels of performance and scalability to the Isilon platform, delivering up to 6x the IO/s, 11x the throughput, and 2x the capacity of the current generation Isilon platform. It also enables Isilon to provide 9x the IO/s, 18x the throughput and 21x the capacity of the closest competitor.
With the new modular design, customers can upgrade performance or capacity independently as their needs evolve. Additionally, the dense Isilon platform provides customers increased data center efficiency by up to 75%, reducing operating expenses relating to data center power, cooling and space requirements. As with all Isilon platforms, this generation of Isilon systems is powered by the OneFS OS, offering storage efficiency, data protection and strong data management capabilities. This generation of Isilon systems can integrate with existing Isilon clusters, or can be deployed as a new cluster. Blog
Services for data migration
Dell EMC Services offers Intelligent Data Mobility (IDM) 2.0 - a platform- and vendor-agnostic methodology to data migration that enables customers to achieve faster time-to-value at lower cost with minimal disruption to applications and data. Based on the customer's specific business and technical requirements, the firm will tailor the engagement using standardized blueprints. IDM is available in three packages that align to a range of customer needs, whether it's a technology refresh or data migration.
Availability:
VMAX 950F is orderable this month and will be available in June.

XtremIO X2 is orderable this month and will be available this summer.

Unity all-flash models will be orderable this month and available in July.

SC5020 is orderable this month and will be available in June.

New Isilon platforms are orderable this month and will be available in June.
Mark Peters, practice director and senior analyst, Enterprise Strategy Group, said: "As enterprises seek to transform to be truly digital businesses, it's crucial that they optimize both their traditional and next-generation application workloads based upon modern data center infrastructure. Moreover, since every enterprise has a unique set of requirements to support its business with storage, a comprehensive portfolio such as that that offered by Dell EMC can make the processes of planning, acquisition, deployment and ongoing support far easier for most customers than assembling point storage products from multiple vendors. But one commonality is that all-flash and scale-out storage solutions - capable of delivering both the high performance and rich data services needed for today's demanding applications - are critical elements for any enterprise that wants to achieve IT transformation."
Jack Rondoni, SVP, storage networking, Brocade Communications Systems, Inc., said: "Digital transformation is driving the rapid adoption of flash storage to support new requirements for a modern infrastructure that can optimize application performance and adapt to evolving data center needs. As the first to market with Gen 6 FC solutions, Brocade delivers easy-to-deploy storage networks that will unleash the full value of Dell EMC's new and future all-flash storage products. With our long-standing partnership with Dell EMC, our mutual customers will benefit from unparalleled performance, proven reliability and greater visibility to mission-critical applications."
Resources:
Dell EMC All-Flash portfolio
VMAX 950F
XtremIO X2
Unity All-Flash models
SC Series 5020
Isilon models powered by Isilon OneFS 8.1