Exclusive Interview With Scott Dietzen, CEO of Pure Storage
"We plan to integrate Intel Optane."
By Jean Jacques Maleval on 2017.04.18
Scott Dietzen, 54, CEO of Pure Storage, Inc. since September 2010, was formerly president and CTO of Zimbra, now part of VMware. Zimbra was originally acquired by Yahoo!, where he served as interim SVP of communications and communities. Prior to Zimbra, he was CTO of BEA Systems, where he helped craft the technology and business strategy for WebLogic that drove BEA from $61 million in annual revenues prior to the WebLogic acquisition to over $1 billion. He came to BEA in 1998 via the acquisition of WebLogic, in Java and web application server technology. Prior to WebLogic, he was principal technologist of Transarc (acquired by IBM), developer of distributed transaction and file sharing systems. He also serves on the board of Cloudera since June 2010. He earned his Ph.D. and M.S. in Computer Science and B.S. in Applied Mathematics and Computer Science from Carnegie Mellon University. Hobbies: ski, bike and scuba dive. He has two young children. "I'm a dad and I work, that's all I do." He said his annual salary plus bonus is $450,000.
StorageNewsletter.com: What's your opinion on the recent acquisition of Nimble Storage by HPE?
Scott Dietzen: I think they were two primary motivators from HPE. First, they probably see Nimble as a strong down market product, a way to reach smaller costumers than with the 3PARr technology. Also, I think they like InfoSight, Nimble's cloud automation. So, I guess they may try to integrate 3PAR into InfoSight.
 
Did you get an acquisition offer from HPE?
So, in general we don't talk about overtures. We've said in the past that we've had M&A overtures from legacy players and we have not considered those. EMC stated publicly that they tried to acquire us and we declined their overtures. That's the only such discussion that's ever been made public.
 
Nothing from Hitachi Data Systems for example?
Again, we will decline to share any such conversations. I will say it's not our focus. While we were private we never ever entertained such conversations, as a public company the situation is different because you have public shareholders you need to look after. But, as long as our business is growing, the best thing for our shareholders is for us to stay independent.
 
At a time, Pure was number two behind EMC. Now a storage analyst (Stifel analyst Aaron Rakers) ranks your company number five behind EMC, NetApp, HPE and IBM in 4Q16 in enterprise all-flash array revenue with $169 million. He also said, that Pure represents 10% the quarter, down from 13% and 11% in the prior and year-ago periods. Why did you lose market share?
We didn't. The shares that matters in this market are overall storage market share and that's what we're gaining. Actually, the legacy vendors are shifting their install bases toward all-flash but their overall business is shrinking. So, within a shrinking slice of the pie they're growing the all-flash portion of their business, but with their overall business's still shrinking and ours growing, we are still accumulating share in the market. The thing that will really hurt these companies is they are not succeeding in the cloud. More than a quarter of our business today is in the cloud, and it is growing fast.

Charts presented by Dietzen
Y/Y revenue gain/loss in external storage 1Q15-4Q16 in $ million
(disk + flash)
Click to enlarge
(Source: IDC WW Quarterly Enterprise Storage Systems Tracker, March 2017)
Cumulative 3-year market share gain/loss
WW external enterprise storage, 2013-2016
Click to enlarge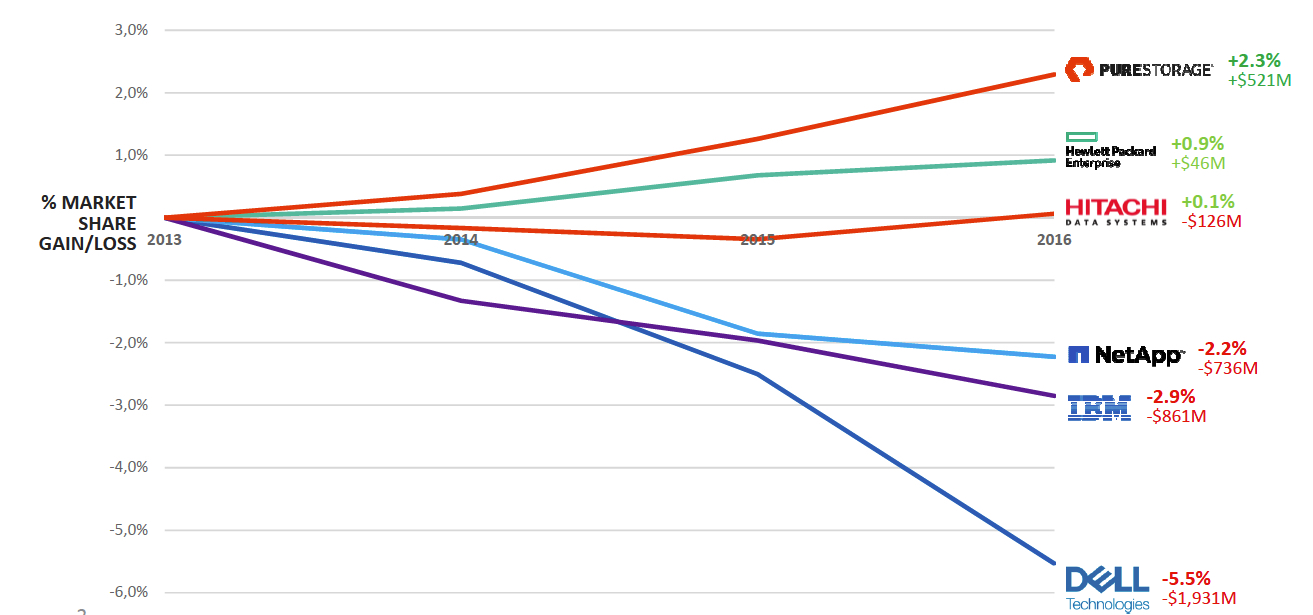 (Source: IDC WW Quarterly Enterprise Storage Systems Tracker, March 2017)
Are you also competing with companies in software-defined storage like Nutanix?
We do on occasion compete with Nutanix. We see VMware vSAN a little bit more, but either way it's a low single digit percentage of our customers. Those solutions are not popular in bigger data centers and they are not at all popular for cloud costumers. So, where we do see them are in really small business and remote branch office, which are segments we are not strong in and I think they are.
When will the company be back to profit?
The net loss last quarter was less than 5 million dollars [Official figures for net loss was GAAP $42.9 million and non-GAAP $4.8 million. Editor], we were almost profitable. The thing is, because we have a subscription business, we go cash flow positive first before we become profitable, much like Salesforce and Workday.  We have not announced a date for profitability. We have said that we would be cash flow positive, sustained, in the second half of this year. Profitability will happen thereafter we have not stated specifically when.
Will it be this year?
It is almost certain that Q4 to be profitable, yes.
 
Last FY revenue ending January 31 was $728 million. The company expects $975 million to $1,025 million for current FY, up between 41% and 34%. Are you certain that you will respect those figures?
We are very confident in the billion-dollar guide. We did $728 million last year, it reflects our conservative growth forecast from what we've already done. We project that 70% of that billion, so seven hundred million dollars, will come from existing customers just continuing their purchases of Pure. We have large customers who have stopped buying any of the other storage vendors' products and we get a 100% of their new spend and that should provide $700 million of the $ billion. Because we manage to do that much new business last year, we know we can do it again.
 
More than that, the guidance for your next quarter is not impressive: revenue in the range of $171 million to $179 million or down between 25% and 1% sequentially. What's the problem?
There is no problem, that is just the nature of the seasonality. All storage vendor businesses are seasonable. It means they start low and by Q4 they achieve their highest totals for the year. We just had our record quarter, $228 million, and we've also had our record new customer acquisitions with 450 new customers.  Q1 though, is a quarter where customers spend less on storage than they do in Q4. So, if you look at the ratios compared to last year, the growth reflected in that Q1 guide will drive us to the billion-dollar goal if we just maintain the same level of seasonality we had in the business last year.
USA represented 77% of global sales for the last FY, 23% for the rest of the world compared to 80/20% for prior fiscal year. What are you going to do to expand seriously internationally?
We remain the fastest growing storage business in history by a wide margin. We are growing faster internationally than we are in the US and we are growing faster than anyone's ever grown a storage business internationally. We just need to maintain that, and because international grows faster than the US, we will achieve balance in the years ahead.
 
Will you soon stop Flash Array to concentrate on FlashBlade only?
No. Flash Array is a block of technology and FlashBlade is file and object. Those two complement each other well and in fact we're selling the combination of Flash Array and FlashBlade.
Yes but FlashBlade is growing faster.
FlashBlade is growing faster from a small base and when FlashBlade achieve the skill of Flash Array, if it is growing as fast as Flash Array, we will be very happy.
 
Your company stated that you have customers spending $20 million or more expanding their initial flash array deployments. How many are there and who are they?
I'm afraid even the customers that are public on that list will decline to have their spending with Pure storage made public. But we have customers that run one array and we have customers that run more than a hundred arrays, so there's a wide variation in the scale of those deployments.
Laurent Martini, country manager France, Pure Storage: On this topic, what we can add is that, as soon as a customer is using one storage array they are very quickly expending the storage deployment within their data center. Another reason of Pure success is our customer satisfaction. We are measuring that satisfaction with an independent company called Satmetrix and Pure Storage has an 83.5% rate of customer satisfaction. So, our customers are our best ambassadors.
There is a huge competition on price between all flash array manufacturers. Not only because you have a lot competitors, but also because when you have a new customer you are certain that he will spend much more after the first acquisition, just to expand and renew systems.
I would say that the fiercest competition that we see is competitors trying to keep customers from starting with Pure storage because our competitors know that once customers try Pure, they stop buying the alternative technology. So, our competitors try to keep customers from trying Pure storage.
 
But because your system is proprietary, if the customer wants more capacity they are forced to buy Pure systems.
That is true, but it's also true of all our competitors as well as public cloud. It is not possible to do otherwise and still deliver the same quality of service, the same performance, the same simplicity and frankly the same low cost. We are actually saving the customers' money versus the alternative's technologies that they have access to.
 
On average, how much more your clients are spending after their initial acquisition?
Across the top tier of our customer base it's twelve more dollars after the first one in the next 18 months. Across the whole customer base, I think it's three more euros in the next 24 months.
 
According to 2016 Gartner's Magic Quadrant for Solid-State Arrays, Pure Storage does not have user-configurable QoS features at the application, host or volume level. What do you answer to that?
We provide QoS but we automate the technology. Our customers want to make sure that they are protected from noisy neighbor but they don't want to have to go through and manage that themselves, they want the system to take care of it. So we believe that our solution that automates QoS is far better for customers than them having to try to hand-configure it.
 
Why dont you have OEMs? Are you looking for any?
There aren't many OEM agreements in general across the storage space right now. EMC doesn't have an OEM agreements, HPE doesn't have an OEM agreements, NetApp used to have an OEM agreements but it no longer has any, at last that I am aware of. OEM agreements are hard because you want to be able to ensure the quality of the customer experience and you need to be able to ensure that the business is profitable on both sides. We've not dismissed doing OEM agreements but know that it could be hard to find an ideal one. You want it to work for your sales teams and your partner's sales teams as well as both businesses and I think that's one of the challenges. In the case of Cisco, we have a fantastic go-to-market partnership that doesn't depend on OEM and it deliver great value to our mutual customers.
What is you roadmap in terms of product and software?
I'm not in liberty to talk about things that we have not announced. For Flash Array, it's active clustering and we have hinted at coming support for NVMe beyond hardware, support for NVMe in software.
When will you have synchronous replication?
We have said that it is coming this year we've not say specifically said when.
 
When will you add NVMe ? It is supposed to come "prior to December 31, 2017"?
NVMe has been shipping in Flash Array for a year and a half and it is part FlashBlade, but there are more features of NVMe in Flash Array that we will be turning on this year.
 
Are you studying the possibility to integrate Intel Optane?
Yes, but we don't see it as a replacement for flash, we see it as an alternative to DRAM. Optane is more than ten time more expensive than flash today so it is not interesting as a flash replacement
 
But it's faster...
It is a good choice for NVRAM but it is ten time more expensive.
Some companies said that they have already integrated Optane.
Well, not that I am aware of. I do think it is going to be good technology for NVRAM but I think we are probably five to ten years off to see use for mainstream storage.