Phil Bullinger SVP and GM Data Center Systems Business Unit, Western Digital
Most Recently SVP and GM at Dell EMC, he succeeds Dave Tang named SVP of corporate marketing.
This is a Press Release edited by StorageNewsletter.com on April 7, 2017 at 2:39 pm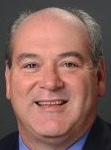 Western Digital Corp. announced the appointment of Phil Bullinger to the position of SVP and GM, Data Center Systems (DCS) Business Unit.
 
In his new role, he will focus on accelerating growth of the company's disk, flash and hybrid storage platforms, as well as object storage systems for use in cloud-scale data centers.
He will report to Mike Cordano, president and COO, and be based in San Jose, CA.
Bullinger succeeds Dave Tang who has been named senior VP of corporate marketing, reporting to Cordano. Tang will lead the ongoing transformation of the Western Digital brand, as the company redefines its brand identity and role in the industry from a storage device supplier to a leader and enabler of data-centric innovation.
Bullinger was most recently SVP and GM at Dell EMC, responsible for the Isilon business, including strategy, product planning, engineering and business operations. Before joining Isilon, he held executive positions at Oracle as their SVP of SAN/NAS storage, and at LSI as the EVP and GM for the Engenio storage group.
"Phil brings a 30-year track record of building successful, high growth data center systems businesses," said Cordano. "His substantial management and technical expertise will be extremely valuable as we continue to scale this important growth business by building on the strong foundation Dave Tang and others have helped to establish."
Bullinger's career in storage spans a number of engineering and management roles from silicon to system-level products that have defined and led their respective market segments.
He holds five patents in the fields of storage technology and integrated circuit design.
He earned a Bachelor of Science degree, magna cum laude, in Electrical and Computer Engineering from Kansas State University, and a Master of Science degree, magna cum laude, in Management of Technology from the National Technological University.