Dell EMC Opts for Viavi Xgig 1000 Storage Network Test Solution
Supporting for 32Gb FC and 25GbE
This is a Press Release edited by StorageNewsletter.com on April 3, 2017 at 2:22 pm
Viavi Solutions, Inc. announced that Dell EMC has selected the Xgig 1000 10/25/50/100 GE Analyzer for storage network test.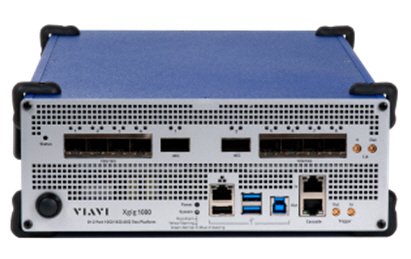 Dell EMC is maintaining its position by innovating to address demand for new speeds, protocols and features. The company needs test capabilities that can keep pace with market evolution, and the Xgig 1000 delivered with support for a range of speeds and protocols.
"In addition to supporting the higher speed, 32Gb development needs to address new features such as mandatory forward error correction. Viavi's Xgig analyzer precisely met our requirements, allowing us to effectively test for link training, speed negotiation and FEC," said James Wynia, director product management networking, Dell EMC. "It was also very important that these new capabilities were incorporated in the familiar user interface and management environment, allowing us to leverage existing infrastructure and avoid retraining our team when time was of the essence."
With support for 32Gb FC and 25GbE, the Xgig 1000 addresses all predominant speeds and protocols in storage networking, supporting manufacturer R&D and helping field installers deploy and troubleshoot data centers. This development continues a long line of mar, firsts, including support for 16, 32 and 128Gb FC and 10, 25, and 100GbE.
The platform has features such as: inline, non-intrusive capture and analysis and inline jamming; and true analog pass-through adapters keeping the linear nature of signal over copper connections.
"What really puts Viavi at the forefront of its industry is its willingness to be both market-focused and standards-focused," Wynia added. "While the industry is still figuring out the standards, enterprises cannot wait to deploy new speeds and architectures, and we need to respond. Viavi is involved with standardization efforts but also working with its customers. That's what makes them a true pioneer."