Company Profile: Syneto
Italian firm in hyperconverged infrastructure with integrated DR
By Jean Jacques Maleval | March 29, 2017 at 2:40 pm
Company
Syneto srl
Locations
HQ in Brescia, Italy, offices in London, UK, Canobbio, Switzerland and Timisoara, Romania
Date founded
2000
History
2000-2009: designed and built network security solutions (U- Unified Threat Management)
2009-2015: software-defined storage solutions for SMBs
2015-today: hyperconverged infrastructure products for small/medium datacenters, SMBs and remote offices
Financial funding
Privately funded since inception
Revenues and profitability
Profitable with annual growth rate around 60% for past three years but revenue not revealed.
Main executives

Vadim Comanescu, CEO since March 2016: worked at Syneto since 2009 successively software developer, scrum master, software architect and COO.
Marco Lorenzi, co-founder and president since January 2016: is also CEO of S.C. Syneto SRL.  
Dan Vatca, co-founder and CTO: was formerly software development manager of the company for 12 years.
Flavius Stef, co-founder and VP engineering since 2015: was managing partner of Syneto from 2008 to 2011 and then agile coash of Mozaic Works during 6 years before coming back to Syneto.
Rick Dudson, VP sales, EMEA: had director positions at Storpool and Infortrend Europe
Dragos Chioran, VP marketing and design: joined Syneto in 2010 as senior marketing specialist and content strategist.
Number of employees
30 people in Italy and Romania
Technology
Hyperconverged infrastructure with integrated DR: every product is shipped with a dedicated DR unit receiving automatic backups of all the applications and files from the primary unit (can be scheduled every minute, hour, day, etc). In case of a downtime incident the end-user can restart the whole IT infrastructure in minutes. The backups are incremental and the DR unit can be located on- or off-site.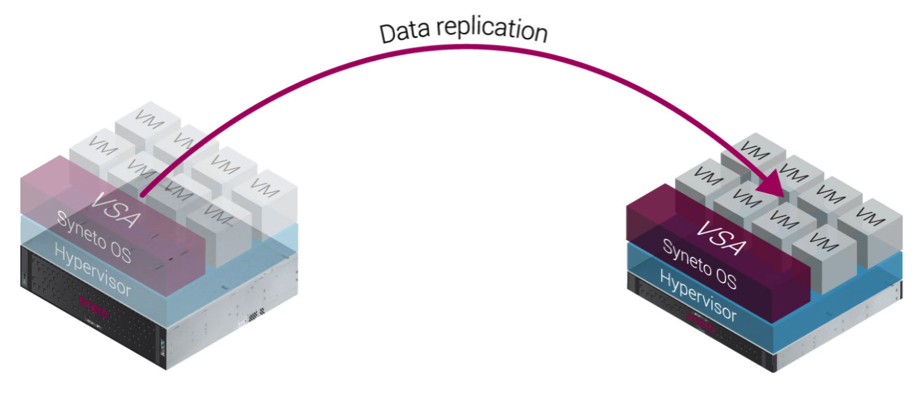 The firm stated that RPO is one minute (backups of applications and files can be configured to take place every minute). RTO can be as fast as 15 minutes (the DR unit continuously receives backups form the primary unit and is always 'up-to-date').
Products description
The HYPERSeries 3000 can be configured with both a hybrid data pool (for regular applications like email and domain servers) as well as an all-flash data pool that can run critical applications (ERP applications, databases, etc).

The hyperconverged infrastructure can run applications using an hypervisor (VMware for now, others in the future) as well as natively share files (over SMB, CIFS and AFP). This means the end-user does not need extra file servers, virtualized or not.
Company's business research over the past two years has shown that one of the biggest frustrations with other hyperconverged vendors is sizing the product. The different models in the HYPERSeries 3000 are sized for workloads in this market. This offers partners an edge because they don't need to spend resources on sizing the product and going over huge license lists and complicated configurations.
The HYPERSeries 3000 is designed to fit the needs and solve the challenges of small/medium enterprise datacenters, SMBs and remote/branch offices. It combines virtualized applications, DR and file services in a single, easy to use platform, composed of a primary 2U production unit and a 1U DR unit (which can be located off-site).
Applications running on the HYPERSeries 3000 perform 5 to 20 times faster when compared to VMs deployed in a traditional infrastructure, according to the company. The technology inside ensures up to 90% of an application's data, is served at nanosecond speed directly from the RAM memory.
Advanced self-healing technologies find and repair corrupted data automatically.
Syneto has recently launched two new hyperconverged products. The 3100 supports 24 VMs with a storage capacity up to 16TB. The 3200 can handle twice more VMs with different capacity and performance options available:
1. Hybrid: up to 16TB effective hybrid capacity
2. Hybrid2 (double-hybrid): 8TB hybrid tier alongside 3.2TB all-flash tier
3. All-flash: 7.2TB all-flash
The products feature built-in 10GbE software-defined network connectivity and the configurations can be expanded adding nodes or disks.
Release date
The HYPERSeries was released last March 22
Price range
From €19.000 to €30.000 depending on the models
Roadmap
Consolidate the position/innovation/development and features of the hyperconverged products with built-in DR functionalities
Next generation of products is still in stealth mode but will released soon, They will be positioned more towards the medium businesses among European SMBs.
Cloud portal for predictive analytics is under development with an expected alpha version release this year.
Partners
Supermicro, VMware, Mellanox, HGST, Intel
Distributors and OEMs
Syneto is a 100% channel-based company, supplying products via a network of distributors. The company has currently four distributors in Italy (including Alias, Attiva and ICOS), one in Portugal, one in Benelux, and one in the US-Maryland area. European channel expansion is targeting France, UK, Nordics and Germany.
Number of customers
600 customers in 10 countries
Main customers
They come from:
Manufacturing and engineering: Include LG, Silca, Serioplast (plastic packaging manufacturer), Marangoni, OMB Salieri, BMZ, and Pichi Machines.
Education: University of Milano, University of Bologna, American School of Dubai, and Dowling College New York.
Public sector: Include Province of Rome, Italian Airforce, Fairfax Country Virginia.
IT&C: Saas Plaza and Wavetech.
Law media and publishing: Tiwi, Sergio Bonelli, Pearson Education and The Gleaner.
Retail, financial and logistics: Include Calzedonia, Boggi, Galbusera and Noberasco.
Applications
The HYPERSeries 3000 can host any kind of virtual application currently in use: Oracle databases, Exchange servers, SQL servers, ERPs, PDM/PLM manufacturing servers, etc.
Target market and competitors
In the hyperconverged vendor ecosystem, the firm has identified and validated through its partners a market niche that sits between software-only vendors like Datacore, Maxta, Atlantis and entry-level products from enterprise vendors like Nutanix and Simplivity.
The company claims that there are no other solutions which fit both the requirements and the budgets of these companies.
Here is why:
On one side of the market there are the software-defined hyperconverged players like Datacore, Atlantis, Maxta and others. These solutions can be deployed on various servers from vendors like Cisco, Lenovo, etc. It shows that, for the end-users and the IT resellers/integrators who service them, buying the whole IT infrastructure in pieces is a big operational and financial inconvenience. Company's target market needs support from a single vendor, for both hardware and software, who can offer a 'complete out-of-the-box experience.'
On the other side of the market sit the big hyperconverged infrastructure vendors like Nutanix and Simplivity. They target large enterprises and the global 200.000. The problem with these enterprise solutions is that for the European market here targeted, they are too expensive. Small/medium datacenters, SMBs and ROBOs still need to buy extra products (software and hardware) in order to create backups of applications and ensure DR. "All this means that these upper-market products are an 'overkill' for most SMB/ROBO customers," said the company.