Intel Optane SSD DC P4800X With Memory Drive Technology
375GB, displacing portion of DRAM or increasing size of memory pools
This is a Press Release edited by StorageNewsletter.com on 2017.03.20
Intel Corp. unveiled the Optane SSD DC P4800X Series and Optane SSD DC P4800X Series with Intel Memory Drive Technology, enabling new possibilities to transform storage and memory architectures for the data center.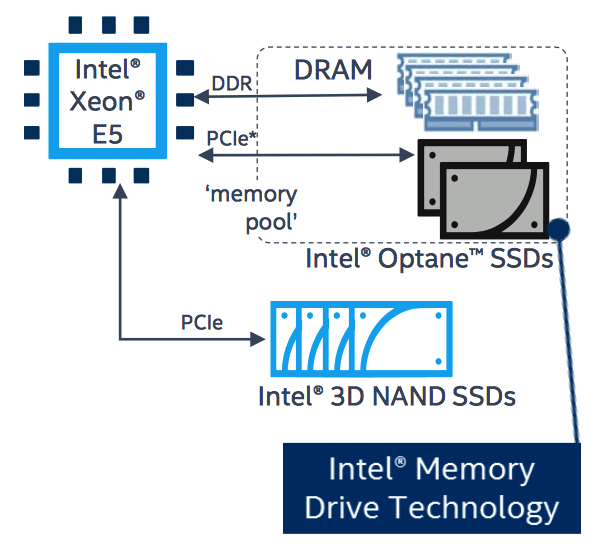 Deployed as blazing fast storage or caching tier, it breaks the confines of traditional storage to increase scale per server and accelerate applications. When deployed as extended memory, this drive expands the system memory pool, creating bigger, more cost-effective memory to gain higher quality insights.
A combination of high throughput, low latency, high QoS and high endurance enable the creation of solutions that remove data bottlenecks, unleash CPU utilization and deliver unprecedented insights.
Optane SSDs offer performance at low queue depth, where the vast majority of applications generate storage workloads, which means CPUs are more active and more fully utilized. Optane SSDs for the data center let users do more work with the same servers, improving TCO or expanding capabilities. And because the drive is responsive under any load, it is highly predictable and delivers ultra-fast service, consistently.
Optane SSD DC P4800X Series will drive new solutions with applications such as artificial intelligence and machine learning, faster trading, and deeper insights into medical scans. It expands the reach of cloud computing solutions.
With Intel Memory Drive Technology, it enables data centers to deliver more affordable memory pools by displacing a portion of DRAM or increasing the size of memory pools. This solution transparently integrates the drive into the memory subsystem and presents the SSD as DRAM to the OS and applications.
Intel Optane SSD DC P4800X Series (375GB, add in card) and Intel Optane SSD DC P4800X with Memory Drive technology is available to customers in an early ship program.
Additional capacities and form factors will be available in 2H17.
Read about specific uses cases utilizing Intel Optane SSDs for the data center on the IT Peer Network.