JetStor X Series of All-Flash/Hybrid Flash Arrays by AC&NC
D-1500 processors and chipset in quad-core architecture, dual active controllers with quad-ported 10GBASE-T iSCSI with optional SFP+ or 16Gb FC card, and 12Gb SAS with support for NVMe
This is a Press Release edited by StorageNewsletter.com on 2017.02.14
Advanced Computer & Network Corporation (AC&NC) introduced the JetStor X Series of all flash/hybrid flash arrays that can scale up to petabytes of data while delivering the performance, data protection, and functionality of costlier systems.

They feature Intel Corp.'s D-1500 processors and chipset in a quad-core architecture, dual active controllers with quad-ported 10GBASE-T iSCSI with optional SFP+ or 16Gb FC card, and 12Gb SAS 3.0 technology with support for NVMe to leverage flash capabilities.
JetStor X solutions are engineered for organizations of all sizes, public and private clouds, as well as remote and branch offices that require fast, cost-effective storage, data sharing, and backup.
They support VMware, Citrix, Hyper-V, and KVM for virtualized storage, as well as VMware VAAI, and deliver the throughput, security, and scalability required for such sectors as media and entertainment, healthcare, financial, government, education, research, HPC, and large-scale video surveillance.
"Today, many applications demand scalability and the throughput of flash storage, which make AC&NC's JetStor X solutions very timely," said Gene Leyzarovich, president, AC&NC. "Even SMBs, enterprise departments, and branch offices can now afford ultra-fast access to petabyte-scale data stores. Moreover, the JetStor X platforms enhance their value by enabling users to manage and protect their data easily and cost-effectively."
JetStor-812FX front and rear

Performance, scalability and functionality once reserved
only for large enterprises and budgets
The JetStor X family of solutions are an cost-effective storage for 10GbE IP SAN or 16Gb FC environments and their SAS-3 technology doubles the transfer rates of SAS-2, making them for bandwidth-intensive applications like HPC or 8K and 4K video editing.
The platforms deliver 99.999% availability and include built-in backup services such as volume snapshots, local and remote backups, and remote replication with traffic shaping to ensure efficient use of network bandwidth. Additionally, they feature rapid rebuilds of compromised RAID volumes, rebuilding only the written partitions in a volume to reduce recovery time and power consumption.
JetStor 824FX front and rear

The JetStor X series offer on-demand scalability without any downtime. These systems are available in four models to ensure a value solution for every storage need.
2U/12-bay
3U/16-bay
4U/24-bay
2U/26-bay AFA
The chassis support 3.5-inch drives of up to 10TB and 2.5 drives of up to 4TB capacity.
For pay as you grow expansion, each platform can support up to ten JBODs, providing 4PB of capacity.
JetStor 826FXD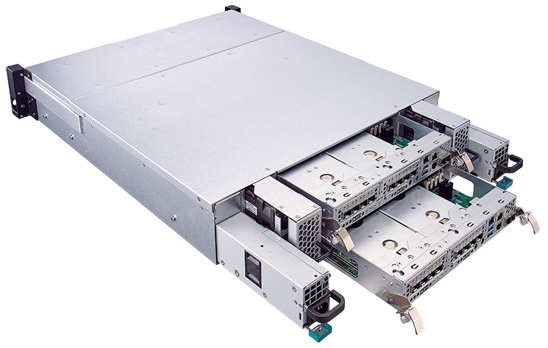 The arrays also provide such functionality as advanced RAID level support, thin provisioning, SSD caching, auto-tiering to contain storage costs, remote DR, and the enhanced QSOE 2.0 (JetStor Storage Optimization Engine) package to increase IO/s.
The JetStor X platforms ship with the SANOS 4.0 (SAN OS v4.0) to bring enterprise capabilities to even SMBs. The technology simplifies deployment and administration with a web user interface, a dashboard, and real-time notifications with event logging.