Lenovo Smart Storage Starting at $140
Secure storage solution with up to 6TB HDD, dual-band wireless access and multi-device auto-sync capabilities
This is a Press Release edited by StorageNewsletter.com on 2017.01.11
The smart home market is at the cusp of exponential growth.
Lenovo Smart Storage appliance

By 2019, IoT manufacturers are expected to ship nearly two billion smart home devices to the tune of $490 billion in revenue. (1)
Yet, the budding industry has yet to race towards full, mainstream adoption leaving us wondering - why have so many consumers been slow to embrace smart home technologies?
The reason is two-fold. First is the high cost barrier to owning IoT devices. Nearly two-thirds of consumers worldwide think IoT devices and services are too expensive - making price the number one hurdle to smart device ownership.(2) And second, is the lack of customer-centric design in the development of these products - leading to consumer confusion about which IoT device best serves their needs. A recent survey revealed at least 23% of global consumers expressed uncertainty as to which smart home device would be useful to them. (2)
Lenovo Smart Assistant
Teaming up with Amazon
With these consumer needs and pain points in mind, Lenovo designed the Smart Assistant, a mainstream digital personal assistant with Amazon Alexa cloud-based voice services. Built in collaboration with Amazon, the firm's Smart Assistant recognizes users' voice commands and uses Alexa to conduct web searches, play music, create lists, provide calendar updates and much more. And because Alexa's brains are in the cloud, it means she's always getting smarter.

Smart assistant with Amazon Alexa
Based on company's user surveys, 65% of people around the world already use voice recognition technology on their phone, PC or tablet - and that a third of them do so because it's more convenient than typing and useful when multitasking (cooking dinner, getting dressed for work, etc.). (3)
That's why Smart Assistant was built with eight 360° far-field microphones with noise suppression and acoustic echo cancellation - designed to pick up users' voice commands from up to 16 feet (five meters) away. (4)
Additionally, the device comes with the option of a special Harman Kardon, Inc.' edition for audio quality for music and home entertainment. The Smart Assistant is also designed to run company's smart home devices as well as scores of existing third-party products to expand consumers' options.
Smartifying every home
"Our goal has never been to simply build smart home devices for the sake of advancing technology alone," says Johnson Jia, SVP, PC and smart device business group, Lenovo. "In the same way a person's IQ is measured by applied knowledge, we believe products are 'smart' to the degree they're actually understood and applied to daily life by their users."
"We're excited to work with an innovative company such as Lenovo to bring the Lenovo Smart Assistant with Alexa to customers this spring," said Steve Rabuchin, VP, Amazon Alexa. "At Amazon, we work hard to provide customers with as much choice as possible-and Lenovo's new Smart Assistant speaker does just that through leveraging the power of Alexa Voice Services (AVS). We can't wait for customers to try this out later this year."
Lenovo Smart Storage appliance rear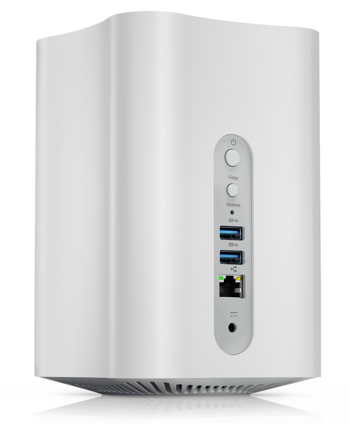 Smart Storage
Rounding out our mainstream smart home offerings is company's Smart Storage, a secure digital storage solution with 6TB (5) capacity, dual-band wireless access and multi-device auto-sync capabilities. Designed for security and P2P (peer-to-peer) access to stored media like photos, music and documents, It offers users control of their data and files. Its integrated facial recognition software can organize your entire photo library based on faces with accuracy.
Click to enlarge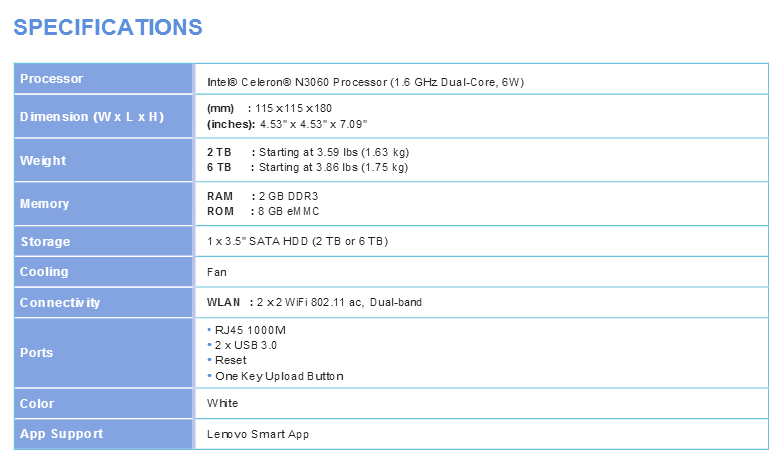 The overall IoT market in 2020 is expected to reach a staggering $1.7 trillion, with much of that growth transitioning from the work place to the home. (6) And by 2025, IoT may create up to $11.1 trillion per year in potential economic impact. (7) At the company, we aim to be at the forefront of this growth. The Smart Assistant and Smart Storage are just the beginning. The firm will continue to work collaboratively with customers to imagine, design and build smart home products that they want, can afford and will use - with the vision to fundamentally improve their home life.
These products will be available on company's website.(8)
Smart Assistant starts at $129.99, available in light gray, green and orange beginning in May 2017. (8)

Smart Assistant Harman Kardon Edition starts at $179.99, available beginning in May 2017. (8)

Smart Storage starts at $139.99, available beginning in May 2017.(8)
(1) Predicts 2015: The Internet of Things, Gartner, Jan 2015
(2) Igniting Growth in Consumer Technology, Accenture, 2016
(3) Based on company's 2016 global survey of 1,307 respondents in US, China, UK, Australia and India.
(4) Based on firm internal testing; background noise, walls and other obstacles will reduce usable distance.
(5) Actual available capacity is less and varies due to many factors, including formatting, partitioning and operating system, etc. which utilize part of this capacity. The available capacity may change with software updates.
(6) Worldwide Internet of Things Forecast, 2015-2020, IDC, May 2015. 
(7) Unlocking the Potential of the Internet of Things, McKinsey, 2016: 
(8) Color options will vary by geography and are subject to change without notice. Prices do not include tax or shipping or options and are subject to change without notice; additional terms and conditions apply. Reseller prices may vary. On-shelf dates may vary by geography and products may only be available in selected markets. All offers subject to availability. Lenovo reserves the right to alter product offerings, features and specifications at any time without notice.