Kanex Launched Thunderbolt 3 Line of Adapters and Cables
$150 for Thunderbolt 3 Travel Dock, $130 for Thunderbolt 3.0 to eSATA 3+USB 3.0 adapter, and $30 (1.6-foot length) or $70 (6.6-feet) for Thunderbolt 3 USB-C cable
This is a Press Release edited by StorageNewsletter.com on 2017.01.11
Kanex launched its Thunderbolt 3 line of products at CES 2017.

The line includes: the Thunderbolt 3 Travel Dock for MacBook Pro, a Thunderbolt 3.0 to eSATA 3 + USB 3.0 adapter, and 1.6' and 6.6' Thunderbolt 3 / USB-C cables. Thunderbolt 3 is the fastest, versatile connection to any dock, display, or peripheral device, including billions of USB devices.
"We have said it before and will say it again, Kanex strives and thrives on creating functional products that fit seamlessly into everyday life, and our line of Thunderbolt 3 products is another perfect example of that," commented Andrew Truong, Kanex. "What makes Thunderbolt 3 so different? It lets you sync, charge, and power devices with just one cable. And it's fast! Real fast. It can transfer an entire 4K movie in just 30s! That's four times faster than the speed of USB 3.1, and it's backwards compatible with existing USB. By far, the quickest bi-directional cable available."
Thunderbolt 3 Travel Dock for MacBook Pro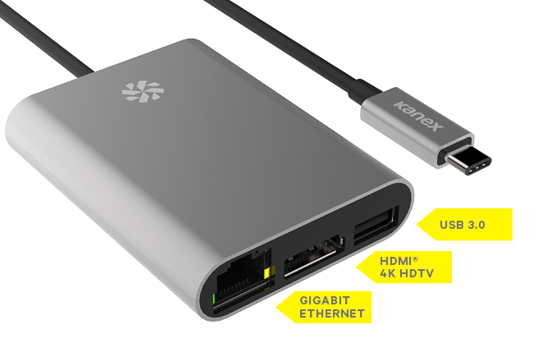 Thunderbolt 3 Travel Dock for MacBook Pro (K170-1048-SV131)
With the Thunderbolt 3 Travel Dock, users can easily connect and power their MacBook with a single cable, converting it to a desktop workstation. Connectivity reigns supreme, as the unit comes with two HDMI ports, a USB port, one-GbE port, and a USB-C port for pass-through charging. You could connect four devices through a single Thunderbolt cable, or connect two HDMI monitors to extend your desktop. Or, connect everyday peripherals like a keyboard, mouse, or smartphone to the available USB port. You could also connect to a secure, reliable network using the GbE port. All while the USB-C port provides pass-through charging so your laptop never loses power. Its lightweight, compact design takes up minimal desk space.
The unit supports dual 4K video output simultaneously and each at 60fps from both HDMI ports. So, you can experience high-resolution picture clarity while mirroring as extending your desktop.
MSRP: $149.95
Thunderbolt 3.0 to eSATA 3+USB 3.0 adapter
Thunderbolt 3.0 to eSATA 3+USB 3.0 adapter (K170-1118-BK6I)
Small and compact, the Thunderbolt to eSATA + USB 3.0 adapter lets you connect your Thunderbolt-equipped Mac to an eSATA device. It connects to the Mac's Thunderbolt port, adding an eSATA port and an extra USB 3.0 port. The adapter allows you to upgrade to the latest Mac Pro and still use your eSATA HDD. For added convenience, the unit includes an additional USB port for further connectivity. Both ports are backwards compatible with older USB and eSATA peripherals. It's plug and play ready. No setup required. The integrated Thunderbolt 3.0 cable connects directly to a Mac. No external power is needed, making the adapter an ideal companion for wherever you go.
MSRP: $129.95
Thunderbolt 3 (40GBps) USB-C cable
Thunderbolt 3 (40Gb/s) USB-C cable (K158-1143-BK05M 1.6'; K158-112-BK6F 6.6')
With this Thunderbot 3/USB-C cable, you can connect to a single display 5K 60Hz or simultaneously stream two video signals, each supporting up to 4K 60Hz. The Thunderbolt 3 cable provides up to 40Gb/s throughput, eight times the max bandwidth of USB 3.0. Gamers can plug 'n' play from an external graphics source directly to a laptop and enjoy the latest games at recommended or higher settings. The cable works with up to 6 daisy-chained Thunderbolt 3 devices, and provides up to 100W of charging for a laptop or notebook and 15W to bus-powered devices.
It's compatible with a number of MacBook, MacBook Pro, and Google Pixel devices as well as Thunderbolt 3 and USB-C ready computers, and most other Thunderbolt 3 devices. It is backward compatible with USB-C devices.
MSRP: $29.95, 1.6-foot length; $69.95, 6.6-feet length
Availability:
The Thunderbolt 3/USB-C cables are available for purchase at the company's website.

The Thunderbolt 3 Travel Dock and Thunderbolt 3 to eSATA adapter will be available April 2017.