Company's Profile: Acronis
$200 million in revenue in 2016, according to CEO
By Jean Jacques Maleval on 2017.01.06
Company
Acronis International GmbH
Location
International HQ in Singapore, and corporate HQ in Schaffhausen, Switzerland, offices in 18 countries, R&D in Singapore, Phoenix, AZ, Arlington, VA, Sofia, Bulgaria, Moscow, Russia
and Zurich, Switzerland
Year founded
2001 in Singapore by a Singaporean citizen, Serguei Beloussov, together with his partners.
Originally Acronis was part of SWsoft, but became a separate business entity in 2003
Financial funding
The privately owned company got $11 million in one round in January 2004 from three investors: ABRT Venture Fund, OpenView and Insight Venture Partners
Acquisitions (no price revealed)
9/2012 GroupLogic, in secure mobile file access, sharing and sync software
9/2014 BackupAgent, in software for cloud backup
9/2014 nScaled, in DR-as-a-service
5/2016 PEZ Kommunikationssystem, distributor in Germany
Revenue and profitability
$200 million in revenue in 2016 and profitable since inception, according to CEO who is considering an IPO in 2017 or 2018 depending on the market conditions
Main executives
Serguei Beloussov, CEO and COB since 2013, co-founder (with Ilya Zubarev, Stanislav Protassov and Max Tsyplyaev), was until 2011 CEO at Parallels where he is executive chairman. He sits on the board of directors at the Russian Quantum Center, Centre for Quantum Technologies in Singapore, and Acumatica. He is also a senior partner at Runa Capital venture fund which he co-founded with his university colleagues in 2010. He holds a B.S. in Physics, M.S. (Hons) in Physics and Electrical Engineering, and a Ph.D. in Computer Science from the Moscow Institute of Physics and Technology where also attended Ratmir Timashev, co-founder of Veeam Software.
Ezequiel Steiner, SVP business and corporate development, is the GM for the access business unit and head of business development at Acronis. Prior to joining the company in June 2013, he served as CEO, president and COB at Acumatica. From 2004 to 2009, he was as SVP of business and corporate development of SWsoft becoming Parallels. He spent several years in sales management and business development positions at IBM.
Stanislav Protassov, co-founder and SVP engineering, previously was co-founder and SVP of engineering and R&D at Parallels. He has authored over 100 patent applications, with 40 issued patents to date.
John Zanni, CMO and SVP, channel and cloud strategy, previously was service providers CMO at Parallels. Prior to that he was GM of the WW software plus services industry team for the communications sector at Microsoft.
Number of employees
1,000
Technology
Firm's data protection and recovery software is based on disk imaging technology Acronis AnyData Engine that captures, stores, recovers, controls and accesses data in virtual, physical, cloud and mobile environments. The policy engine ensures secure access and compliance. The technology is fueled by 100 patents.
For:
Backup, bare metal restore, migration, system deployment
Servers, workstations, mobile
Physical and virtual servers
Windows and Linux OSs
NTFS, ReFS, FAT16/32, Ext2/3/4, ReiserFS3, XFS, JFS and more file systems
VMware, Hyper-V, XenServer, RHEV, Linux KVM, and Oracle VM virtual environments
V2V, V2P, P2V, P2P migration
MS Exchange, MS SQL Server, SharePoint, Active Directory applications
Cloud, including Acronis Cloud, on-premise and remote offices for storage locations
Acronis AnyData Engine
Click to enlarge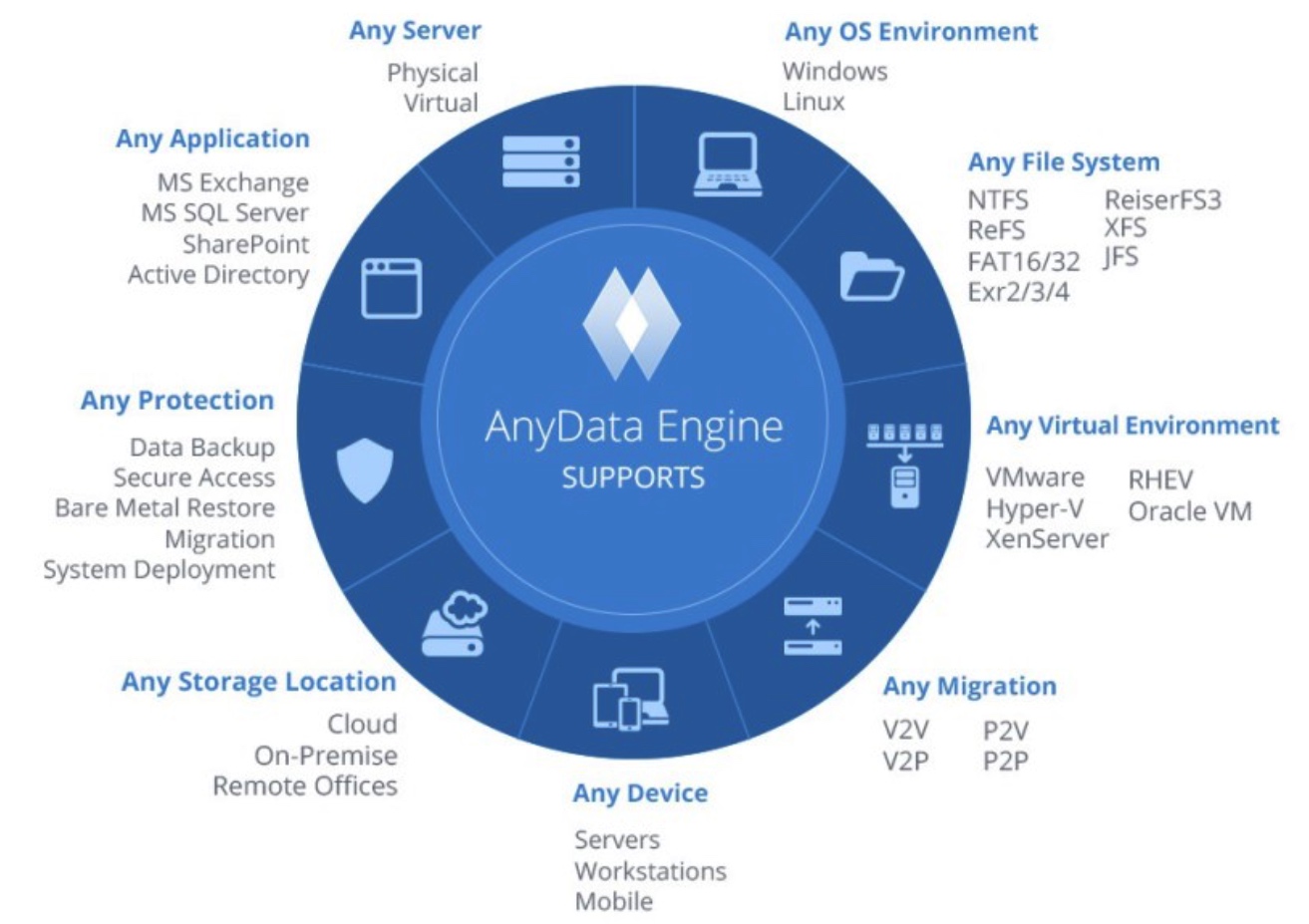 Prices
Acronis Backup Cloud Hosted - hosted on Acronis's data centers, from €0,10/GB/month
Acronis Backup Cloud Hybrid - hosted on customer's data center or on Azure, Amazon, OVH, Numergy, Telecity, etc), from €0,06/GB/month
Acronis Backup Advanced for PC, €99/PC
Acronis Backup Advanced for Windows Server/Linux Server, €1,299/server
Acronis Backup Advanced Universal License (supporting hypervisors from Microsoft, VMware, Citrix, Red Hat, etc., €1,599/hypervisor
Acronis Access Advanced, €137/user
Acronis True Image 2017 for consumers, from €39,99/unit or €29,99 for annual subscription with updates included
Just released
Acronis True Image 2017
Acronis Backup Advanced 12
Acronis Backup Cloud v7
Acronis Files
Acronis Storage
Acronis DR 2.0
Roadmap
Acronis Active Protection
Acrons Notary (Blockchain signing)
Acronis AI/machine learning
Distributors
In 150 countries
Number of customers
50,000 partners for 500,000 SMBs (40% in Europe and Americas, 20% in APJ/MEA), 5,000,000 products' end users in 150 countries, protecting a total of 5,000EB
Target market
Service providers , partners and end users
Competitors
Include Commvault, Veritas, Dell EMC, Veeam, Ashay and many others in cloud backup software