Microsemi: 8405E and 8805E Adaptec Series 8 Entry-Level RAID Solutions
Accelerated performance with built-in cache and reliability
This is a Press Release edited by StorageNewsletter.com on November 11, 2016 at 2:45 pm
Microsemi Corporation announced two adapters in its Adaptec Series 8 product family.
Click to enlarge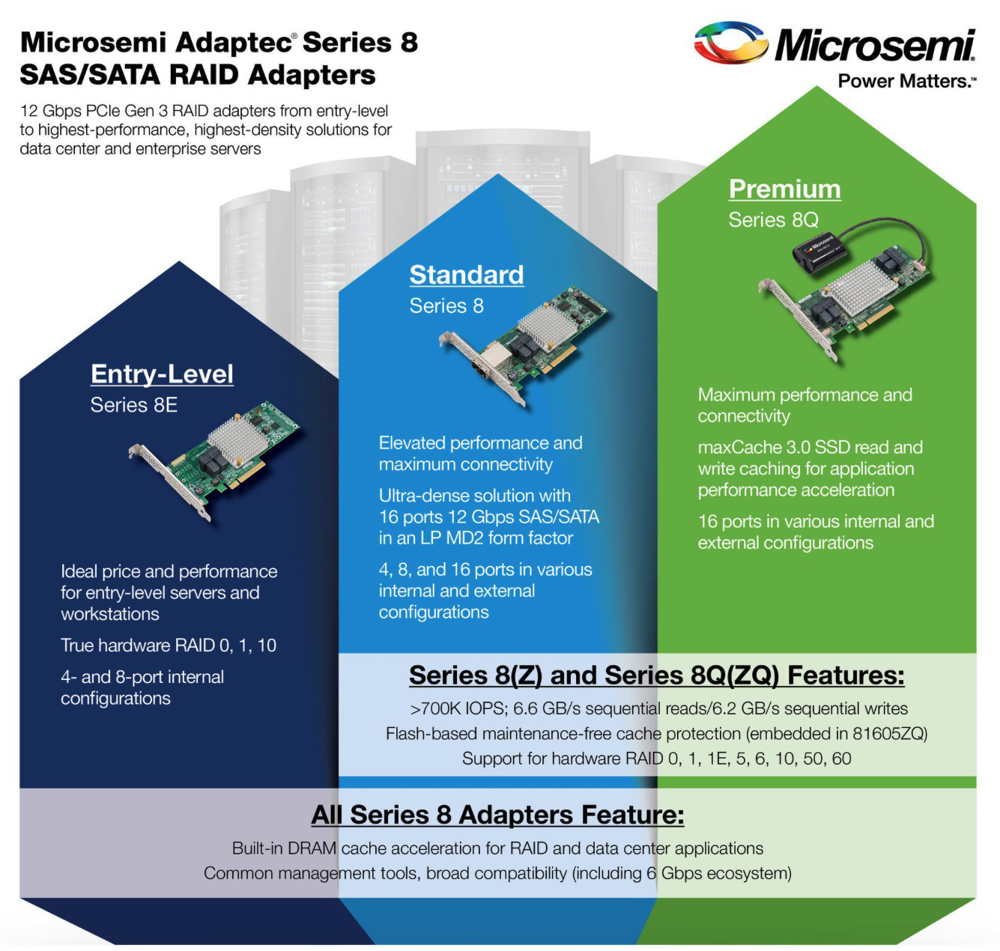 The 8405E and 8805E offer server storage customers entry-level systems with RAID devices that deliver accelerated performance with built-in cache and uncompromised reliability.
As the original hardware RAID devices offering 12Gb/s throughput at each port, the Adaptec Series 8E adapter solutions enable entry-level servers and workstations with redundant boot support and I/O intensive applications such as databases, video editing and network video recording (NVR), which require high bandwidth. The 8405E and 8805E support hybrid RAID for performance with SSDs and cost-efficient redundancy.
The company announced two adapters in its Adaptec Series 8 product family, the 8405E and 8805E, which offer server storage customers entry-level systems with RAID devices that deliver accelerated performance with built-in cache and reliability.
"Our new additions to the Series 8 family were driven by customer demand for a true hardware RAID solution at the entry level. We went a step further by providing on-board cache for accelerated performance, making these devices attractive to both current and new customers," said Pete Hazen, VP, scalable storage solutions, Microsemi. "This is the ideal solution for cost-effective servers and workstations that do not require the full-featured capabilities of our Series 8 RAID adapters."
Firm's devices offer a migration path for those seeking to transition from an alternative software RAID solution to a robust hardware RAID solution. It also provides customers a migration path from the company's current Series 6E 6Gb/s products to a 12Gb/s solution to future-proof and add additional capabilities to their servers. In addition to offering reliability, the 8450E and 8805E deliver over nine times improvement in random read SATA SSD performance over the Series 6E devices and increase the bandwidth capability of SAS/SATA devices by 16 times.
"We had great success with the Microsemi Adaptec Series 6E 6 Gb/s RAID products," said Viktor Martens, product management, servers, Wortmann AG. "With the Series 8E 12Gb/s RAID adapters we see overall performance improvement with SSDs and the reliability and robustness of hardware RAID that are important criteria for our customers."
According to a global market intelligence and advisory firm IDC's recent report, enterprise SSD shipments grew 44% year over year in the second quarter of 2016, reaching 3.9 million units per quarter. SAS and SATA SSDs make up more than 85% of the server storage market SSD unit shipments today and 100% of the HDD drive market shipments, making SAS/SATA connectivity and manageability a central component in the enterprise architecture.
"Entry-level hardware RAID is an essential technology to maximize the performance of SSDs or provide critical data protection in a cost-effective redundancy solution," said Jeff Janukowicz, VP, research, IDC. "Microsemi has become a key player in the storage market and the addition of an entry-level RAID card to expand its proven 12G Series 8 SAS/SATA product line is another example of that commitment."
Microsemi Adaptec 8405e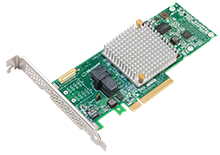 Key features of 8405E and 8805E include:
Hardware RAID-0,1,10 to provide data reliability and performance acceleration for up to four and eight direct attach devices (8405E and 8805E, respectively)

Built-in performance DRAM cache for HDD and SDD performance acceleration

Consistent suite of management tools across platforms and OS, offering ease of use
Support of SAS/SATA devices (versus competitors' SATA only offerings)
"At Ingram Micro, we rely exclusively on Microsemi Adaptec SAS/SATA solutions to meet the storage connectivity needs of our diverse customer base of system integrators, OEMs and VARs," said Shelly Dailey, director, product marketing, Ingram Micro, Inc. "Expanding its Series 8 product line with the addition of the cost-effective 8E SKUs will allow us to expand our sales to customers in the entry-level server category who need a lower cost solution without sacrificing performance."

8405E and 8805E devices are available.