Starline: SMB/CIFS HA Cluster for NASdeluxe Systems With Open-E JovianDSS
Possibility to configure cluster with SMB/CIFS protocol
This is a Press Release edited by StorageNewsletter.com on September 30, 2016 at 3:00 pm
Starline Computer GmbH offers with the NASdeluxe NDL-4000 Z-series different software-defined storage systems.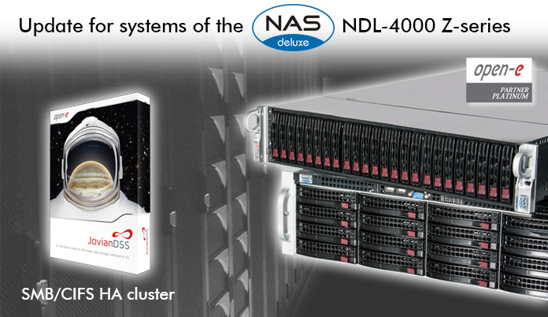 They are certified for the ZFS-based JovianDSS from Open-E, Inc. Thus the NASdeluxe Z-series is an solution for many different storage needs, such as high data protection, HA, efficient use and fast access times.
According to the new, free update of NASdeluxe systems you have the possibility to configure a HA Cluster with the SMB/CIFS protocol in JovianDSS. Thanks to the integrated HA Cluster Management, Shared Folder are available after a failover. Additionally the Shared Folder Access Control Lists (ACL) are supported, which are compatible with Windows.
Cluster functionality with SMB/CIFS protocol
Support for Shared Folder with Windows ACL and ADS authentication

Access to SMB Shared Folder after failover with integrated HA Cluster Management
The company, with the Open-E Platinum partner status, offers service and counsulting by trained, certified technicians and sales staff for JovianDSS.
Krzysztof Franek, CEO and president, Open-E platinum partnership, Starline, said: "We are absolutely pleased to have extensively grown our cooperation with Starline in the past years. By awarding Starline with the Platinum Partner status, we want to intensify this collaboration so that customers know they are dealing with one of the best specialists regarding high-quality storage with Open-E software."
The update for existing NASdeluxe systems of NDL-4000 Z-series, can be downloaded at for free (*).
(*) For the SMB/CIFS cluster function, JovianDSS HA Cluster Feature Pack (liable for costs) is required.