Start-Up Profile: HubStor
In cloud archive for Microsoft Azure file storage
By Jean Jacques Maleval on 2016.07.25
Company
HubStor, Inc.
HQs
Kanata, ONT, Canada
Founded in
2015
Main executives
Co-founder and CEO Geoff Bourgeois is an enterprise software entrepreneur. Prior to HubStor, he was CTO at Acaveo, where he co-invented and launched Acaveo's file analysis product with Greg Campbell. Prior to Acaveo, he held senior director positions at Iron Mountain Digital and Mimosa Systems, where he managed the Ottawa office and directed new product development initiatives. Prior to Mimosa, he was director of EAS product development at Autonomy and EAS product manager at Zantaz, where he managed EAS product strategy for an installation base of 2,200 enterprise customers. He started his career in sales at Educom TS, helping to pioneer one of the first email archiving solutions. He was a key contributor in sales, helping to drive revenues to a $22 million run rate before seeing acquisition by Zantaz in 2004. In addition to the Zantaz acquisition, he has performed through other acquisitions, including Zantaz by Autonomy in 2007 and Mimosa Systems by Iron Mountain Digital in 2010.
Co-founder and CTO Greg Campbell has designed, developed, launched, and scaled several enterprise software solutions in the fields of content archiving, e-discovery, search, and data migration. Prior to HubStor, he was chief architect at Acaveo where he co-invented, developed, and launched their market file analysis software. Prior to that, he held principal developer roles at Hewlett Packard Enterprise, Autonomy, Iron Mountain Digital, and Mimosa. Prior to Mimosa, he provided architecture and development assistance to TransVault, an email migration company. Prior to TransVault, for several years, he managed the platform development of EAS at Zantaz. He started his career at Educom TS in 1997 where he developed several enterprise software products before his role as principal developer on Educom's email archiving solution. He has performed through several acquisitions, including Educom TS by Zantaz in 2004 Zantaz by Autonomy in 2007 Mimosa Systems by Iron Mountain in 2010 Iron Mountain by Autonomy in 2011, and Autonomy by HPE in 2011.
VP marketing Elizabeth Lam has been responsible for cultivating channel partners, working with medium and large enterprises, and managing strategic and event marketing. Prior to HubStor, she was channel development manager at Zantaz, cultivating multiple profitable channel relationships and overseeing all channel sales in the EMEA, Canada, and AsiaPac regions. She began her career at Educom TS, running several sales territories and helping to pioneer one of the first enterprise email archiving technologies.
Into the advisory board of the start-up, there is Steve King, a former president and CEO of DocuSign. Prior to that, he led Zantaz as president and CEO.
Technology
HubStor, in data-aware cloud archive, is a B2B SaaS company partnering with Microsoft to serve enterprise clients in North America, Europe, Australia, and South Africa from Azure data center regions located around the globe. It is an archive environment created in the cloud - in a dedicated tenant, even under your own Azure account - and includes software that cloud-enables your existing storage with policies that you control.
The product:
Securely archives SAN and NAS storage to the cloud.
Synchronizes all data archived to the cloud from network file servers, supporting CIFS and NFS-based storage.
Reduces storage, backup, and recovery costs by 66-75%, according to the company.
Simplifies e-discovery with storage and search.
Delivers easy, compliant records retention on Azure.
Protects data from malicious users.
Files being moved to Azure are de-duped inline and encrypted by HubStor while in transit.
Dedicated cloud archive tenant in Azure

HubStor has patent-pending advances related to the security of writing data to cloud storage, managing data in the cloud, and making data available to users contextually.
Released date
June 2016
Pricing
A HubStor subscription starts at $1,400 per month for parking 4TB of data in either Microsoft Azure file storage or Azure Cool Blob Storage for infrequent access. The monthly rate does not include HubStor fees for spinning up volume search clusters in Azure. The monthly cost also could increase if a customer needs higher data redundancy or full context indexing.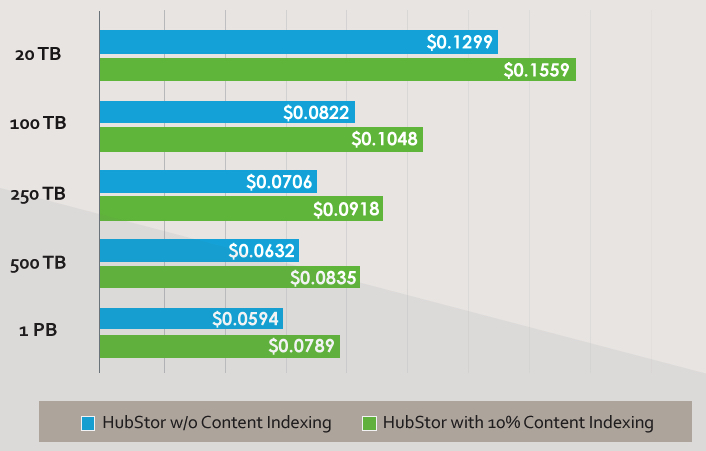 Partners
Microsoft, Bishop, Soarsoft International, JL Solutions
Known customer
Bishop Technologies