Drobo 5D Turbo 5-Bay DAS With Thunderbolt 2, USB 3.0, mSATA Card
$899
This is a Press Release edited by StorageNewsletter.com on June 30, 2016 at 2:23 pm
Drobo, Inc. announced the 5D Turbo (5Dt).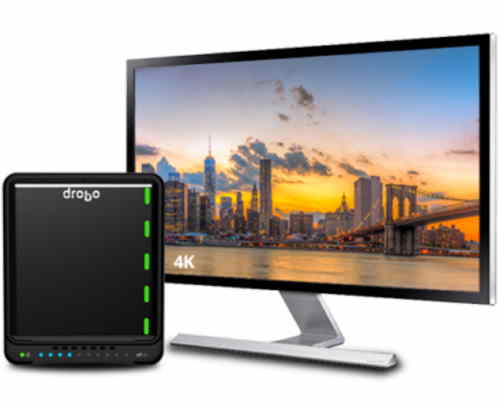 The 5Dt, is built on company's patented BeyondRAID technology to meet the demanding storage requirements of professionals and media creators providing them with simplicity, flexibility and performance.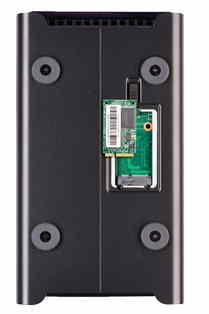 The 5Dt offers high speed Thunderbolt 2 and USB 3.0, providing flexibility. It is a solution that also supports 4k Thunderbolt connected displays. Included with the 5Dt is an mSATA card for increased performance, Thunderbolt 2 and USB 3.0 cables and DroboCare for three years at no additional charge.
Designed for creative power user
The 5Dt is an extension of the 5D product line. Firm's customers require a high quality, high performance solution for media editing and storage. The 5D has been engineered to meet the expanding storage needs of creative power users.
The 5Dt builds on the automated functionality of previous firm's arrays by adding fast performance with company's simplicity along with Thunderbolt 2 and USB 3.0 connectivity. The 5Dt is a flexible, easy to use personal storage array.
"Our customers are looking for a complete, worry-free solution and with the 5Dt we are giving them fast local storage to handle images and streaming video," said Mihir Shah, CEO, Drobo. " I am also excited to announce that we have included 3 years of DroboCare support on every 5Dt sold to ensure the best storage experience ever."
Capacity and performance for data intensive applications
The 5Dt comes with a 128GB mSATA card to power firm's patented hot data cache technology right out of the box. The hot data cache keeps a copy of the most frequently accessed data so that it can be delivered even faster, directly from an SSD/Flash device, when needed. The 5Dt is also a five bay DAS array that offers dual Thunderbolt 2 and USB 3.0 connectivity, allowing for instant expansion via multiple drive bays. This allows daisy chaining of up to six 5Dts, for up to 240TB of usable capacity based on current HDD capacities.
"The 5Dt's Hot Data Cache gives up to a 30% speed boost for streaming video and 3x faster read performance when using applications such as Lightroom. These performance enhancements give media professional's quick access to large files. The 5Dt also supports 4K monitors, not previously offered on the Drobo 5D," said Rod Harrison, CTO, Drobo.
The company delivers on growth plan
The firm has introduced five new products in the last year since the company underwent an acquisition and management change. The company has executed on its commitment to deliver designed-in-California products that preserve simplicity and provide the best storage experience ever.
"I am proud of our dedicated team that has delivered the best products and experience for our customers," said Shah.

The 5Dt is available at an MSRP of $899 through the company's store and selected channel partners.