Open-E Updates JovianDSS Software With Off-site Data Protection Service
Enables asynchronous replication to local or co-locations.
This is a Press Release edited by StorageNewsletter.com on May 13, 2016 at 3:06 pm
Open-E, Inc. released a update for its software defined JovianDSS.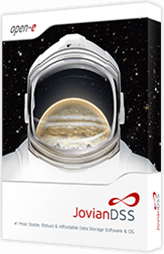 This storage management software is equipped with Off-site Data Protection Service (ODPS) for backup and DR.
Off-site data protection is a strategy for DR to send business-critical data out of the main storage location. This way, servers with crucial data can easily be restored in case of an unexpected disaster.
The Off-site Data Protection Service in JovianDSS update 12 enables asynchronous replication to local or co-locations. Thanks to this feature, it is easy to set up backup with a retention interval plan or DR for virtual environments like VMware, Hyper-V, Citrix Xen, etc. With the functionality, rotational auto-snapshots can be created, and snapshot deltas asynchronously replicated to local or remote destinations. With encrypted and buffered data replication for ODPS, security and efficiency of storage environments can be increased.
JovianDSS users can update the software at no cost by downloading the up12 update directly from the company's website. In order to support firm's users when configuring the Off-site Data Protection Service, the company provides a detailed video tutorial, showing the setup step by step, together with data deduplication and compression demo, ODPS quick start, as well as pool corruption and DR simulation.
For users who have not experienced the advanced features yet, the company is offering a free online demo on their website. This simulated version of JovianDSS does not require any installation.