Drobo DroboAccess for Secure and Simple Remote File Access
iOS or Android app for $0.99
This is a Press Release edited by StorageNewsletter.com on April 15, 2016 at 3:03 pm
Drobo, Inc. launched DroboAccess as part of the myDrobo suite of applications.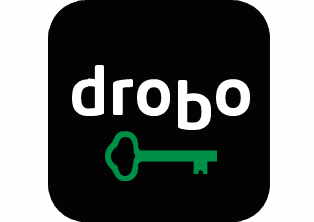 The DroboAccess solution allows customers to access and share files on their network attached company's systems with privacy and security from anywhere on any device. As with all firm's solutions, DroboAccess will continue with the heritage of preserving simplicity.
Drobo 5N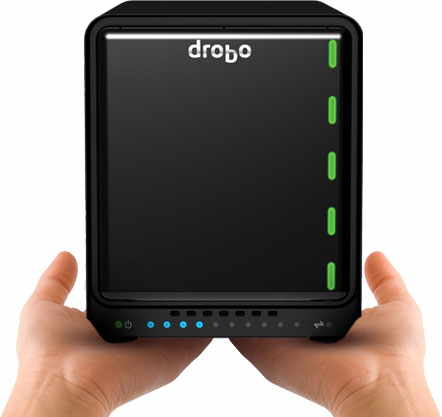 DroboAccess allows secure and encrypted remote access so that files are always accessible anywhere, at any time, and on any device. Users can access files from a web browser, or directly from a mobile device using a dedicated iOS or Android app. It allows users to host their very own private and personal cloud storage solution using their own Drobo. DroboAccess is available on the Drobo 5N and B810n. It will enable users to securely share folders or files via links with read only and R/W privileges along with password protection options.
Drobo B810n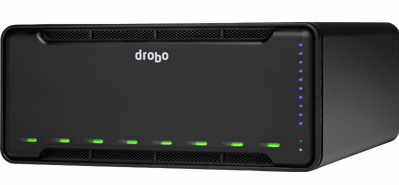 "DroboAccess is a direct result of the feedback we received from our customers with the need to securely access their files from anywhere and on any device without having to worry about firewalls," said Mihir Shah, CEO, Drobo. "The 5N and B810n deliver the best file sharing experience while maintaining our value proposition of simplicity. Our extended functionality with DroboAccess demonstrates our commitment to innovation as well as our commitment to our customers."
DroboAccess Android
Click to enlarge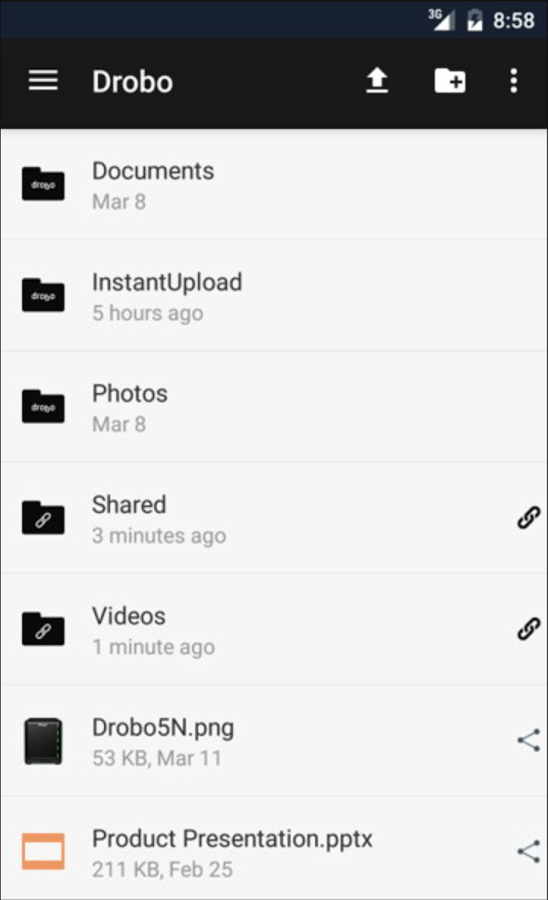 Expanding myDrobo platform functionality
DroboAccess extends the myDrobo service, which provides a secure way for many applications to access data stored on a company's network attached systems. The myDrobo platform addresses the issue of accessing information on a firm's storage array that sits behind a secure home or office firewall. With myDrobo, data transfer from the Drobo to a portable device is encrypted end-to-end and each Drobo carries a unique SSL certificate. It is this model of simplicity that allows users to extend their storage investment into hosting the applications they need securely.
In addition to DroboAccess, applications such as Koken, a photo library app and WordPress, a popular blog app resides within the myDrobo platform. This set of downloadable DroboApps will enhance the capabilities and the experience of the Drobo 5N and B810n, providing the ability to host your own blog using WordPress and share photos with a sophisticated gallery app using Koken, directly and securely from Drobo.
"We are excited to bring DroboAccess to our 5N and B810n customers as the next logical progression for our myDrobo suite of applications," said Rod Harrison, CTO, Drobo. "The DroboAccess solution is not only important for our prosumer customer base, who need to access their data remotely, but also for SMBs, who need the ability to share company information in a secure manner with their mobile workforce."
DroboAccess for iOS
Click to enlarge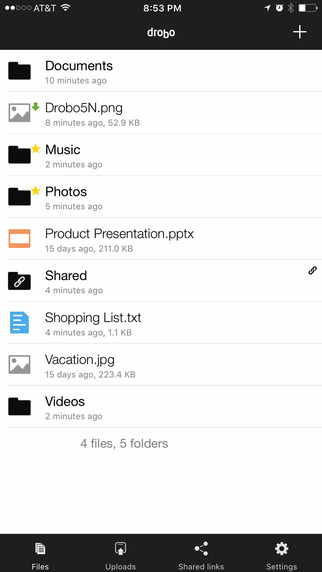 DroboAccess and myDrobo are available for free to 5N and B810n owners on Drobo Dashboard. The iOS and Android applications are available for $0.99 on the App Store and Google Play.