Cisco HyperFlex System
Hyperconverged infrastructure built on UCS compute platform
This is a Press Release edited by StorageNewsletter.com on March 10, 2016 at 2:46 pm
Cisco Technology, Inc. announced data center technology innovations in three key areas: networking, hyperconverged infrastructure, and hybrid cloud orchestration which will enable application-centric hybrid cloud deployments.
HyperFlex systems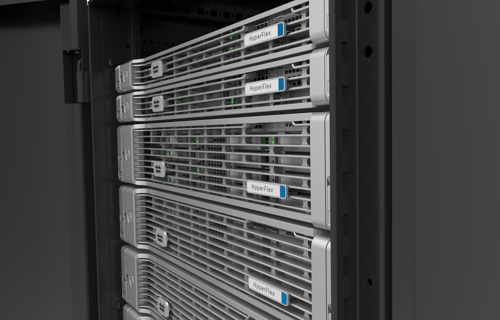 The company released SDN-ready Nexus switches that deliver cloud scale 10/25/40/50/100Gp/s, with up to 10 times performance improvement. These switching platforms provide the scale, telemetry, security, and performance needed for distributed containers and microservices, as well as the lossless traffic needed for IP storage and hyperconverged infrastructure. These switches give firm' customers a two-year innovation advantage over competitive technology.
The firm unveiled HyperFlex systems, built on UCS compute platform, which brings a architectural approach to hyperconverged infrastructure. The HyperFlex Systems simplify policy-based automation across network, compute and storage for the widest set of enterprise applications. It surpasses first generation hyperconverged solutions, which were limited in terms of the performance, flexibility, and operational simplicity required by today's IT environment of microservices, containers, new applications and clouds. This expands firm's portfolio of complete software-defined infrastructure – from compute with UCS, network with ACI and SDN solutions, to now HyperFlex for storage.
CloudCenter platform screenshot
Click to enlarge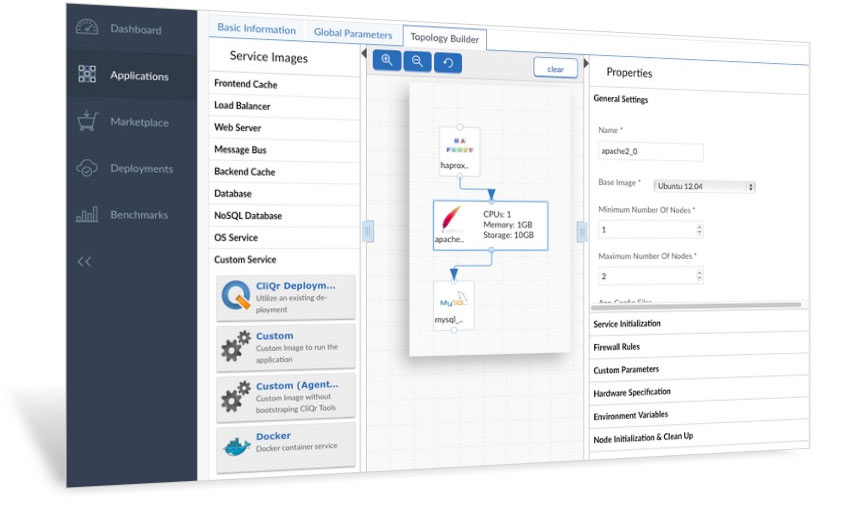 In addition, the company announced its intent to acquire CliQr Technologies Inc. The CliQr CloudCenter platform will provide customers with comprehensive yet simplified, application-centric orchestration for private, hybrid and public clouds. The company provides customers with a single, intuitive platform that helps customers manage the entire application lifecycle across hybrid IT environments, whether simple or complex. The platform ties business applications to heterogeneous data center infrastructure, running across bare-metal, containers and virtualized environments.
These announcements are the first of many hardware and software innovations the company plans to bring to market in 2016. The goal is to help customers achieve highly secure, simplified, scalable and cost-effective data centers that keep pace with the speed of business, and accelerate adoption of hybrid cloud environments.
HyperFlex systems
Based on UCS technology, the HyperFlex Systems represent the next generation in hyperconverged infrastructure with a leap in technology that delivers the industry's first complete end-to-end hyperconverged solution. The HyperFlex portfolio extends firm's UCS and converged infrastructure businesses, which together have over 50,000 customers worldwide. It makes a platform for customers deploying enterprise applications in their data centers, and for remote and branch offices where hyperconverged infrastructure is expected to become a multi-billion industry over the next three to four years.
HyperFlex customer benefits include:
Plug-n-play setup within minutes, not days, with flexible, adaptive and independent scaling of compute, network as well as storage capacity

Data management services such as rapid clones and non-intrusive snapshots with always-on inline deduplication and inline compression, yielding up to 80% reduction in the data footprint

Engineered from the ground up to deliver 30% reduction in TCO and up to 40% higher performance than competitive solutions, extending hyperconvergence to a wider spectrum of enterprise workloads
Next generation Nexus switches and software: Speed and telemetry
Firm's ASIC innovations power its next generation switches, enabling customers for the first time to transition to 25/50/100Gb/s at the cost and density of today's 10/40Gb/s networks, with an increase of up to 10 times the bandwidth.
Nexus 9000 switches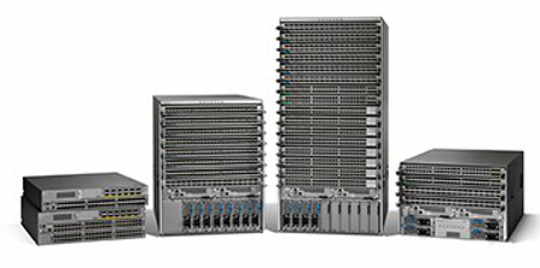 Nexus 9000 switches deliver:
Performance for 100Gbps, with 25% more non-blocking performance, at 50% the cost of comparable solutions, plus greater reliability and lower power

Real time network telemetry at 100Gbps wire rate, enabling network security with pervasive NetFlow and fabric wide troubleshooting

The ability to scale up to ten times in IP addresses and end points at cloud scale, and support over a million containers per rack.

Unique cloud services with adaptive capacity and congestion control, allowing customers to support lossless traffic for IP storage, hyperconverged and converged infrastructure on a single unified fabric that enables application completion times 50% faster than traditional competitive platforms.
Future-proofing with cloud economics for the transition to hyperconverged infrastructure and applications based on microservices and containers
Other annoucements:
Software enhancements that enable ACI support for Nexus 7000 switches, protecting customer technology investments in the most common deployment scenarios.
Nexus 3000 data center switches, which continue to bring architectural choice for customers who prefer merchant silicon-based solutions, are based on industry-leading chips and deliver 25/50/100Gbps. The firm offers the industry's broadest data center switching portfolio and is an industry leader in merchant silicon platform sales, with over ten million ports shipped on the Nexus 3000 family.
Automation with Nexus Fabric Manager
The Nexus Fabric Manager automates the complete fabric lifecycle management with a simple point-and-click web interface, and offers automated configuration snapshots and rollbacks. It builds and self-manages a VXLAN-based fabric, dynamically configuring switches based on simplified user-based actions. An IT manager can fully deploy a VXLAN-based fabric in just three steps, complete with zero touch provisioning, and can upgrade all fabric switches to a new software release in only four mouse clicks.
"Our business demands high bandwidth and over 180 petabytes of storage for our customers," said Arslan Munir, director, cloud engineering, Shutterfly, Inc. "The new Cisco Nexus 9200 switch promises to solve our current demands with speeds of up to 100Gbps. With this as our foundation, we can successfully sustain the ever-changing and increasing needs of our users while continuing to innovate. This allows us to offer new and better services without compromising the customer experience, which is crucial to our business. Plus, through automation, we can achieve faster, zero-touch provisioning, saving us three to four person-hours each time a switch or router is provisioned."
"I'm looking forward to the new Nexus 9000 platforms because the 9200, 9300-EX and 9500 platforms will enable us as a university to deal with all the traffic generated by the students in a very efficient way," said David Schrok, network engineer, Avans University of Applied Sciences.
"The new Nexus 9200 and 9300-EX platforms will enable us to stay ahead of the competition with 10/25/40/50G for the access and 40/50/100G in the core," said Peter Elbertse, MD, PPRO Ltd., hosting provider, Netherlands.
"The Cisco Nexus 9200 is a next-generation Top of Rack switch that pushes the boundaries and exceeds performance of existing solutions," said Trey Layton, SVP and CTO, VCE, converged platforms division, EMC Corp. "These switches meet the needs for the dense, hyperconverged compute and IO intensive applications that VCE VxRack Systems address. For example, it's not uncommon for customers with hundreds or thousands of VxRack nodes to drive millions of IO/s, as well as hundreds of gigabits per second of system bandwidth. The Cisco Nexus 9200 solves this problem."
Cloud services at cloud scale with cloud economics
Company's hardware and software innovations will help IT organizations to accelerate the adoption of the hybrid cloud environments that will fulfill their business needs today and into the future.
Cloud scale: 1/10/25/40/50/100Gb/s speeds, up to 10 times the number of IP addresses and end points, plus support for one million containers per rack

Cloud services: hyperconverged infrastructure, real-time telemetry, intelligent buffers for lossless traffic, 50% higher application completion times, plus visibility of every packet, every flow, every speed

Cloud economics: Investment protection and future-proofing with 25Gb/s at the price of 10Gb/s and 100Gb/s at the price of 40Gb/s
Expanded ACI ecosystem
The company is expanding its ACI ecosystem with several technology pioneers: Infoblox, Inc., which automates network configuration and change; N3N, which extends ACI visibility beyond the network to the entire data center; Tufin, which provides visibility, control and security change orchestration across heterogeneous environments; vArmour, which provides application-aware micro-segmentation with advanced security analytics; and Veritas Technologies LLC, which collects, protects, analyzes and optimizes customers' global data.
In addition, the firm welcomes several technology innovators to the ACI ecosystem which are taking advantage of ACI automation through its open REST APIs to deliver hyper-agile application deployment, security, governance and cloud operations. Together, the new members include:
Opportunities for channel partners
The new solutions provide firm's channel partners with an expanded end-to-end data center portfolio to better serve their customers.
"Cisco's new data center and cloud solutions will enable our partners to help their customers as they evolve to application-centric data center infrastructure and also address the requirements for DevOps and application developers," said Ken Trombetta, VP, global partner organization, Cisco. "We believe this will expand the opportunity for new revenue streams and professional services for Cisco partners."
Additional resources:
Blog by Soni Jiandani, SVP, Cisco: Delivering Cloud Services at Cloud Scale with Cloud Economics
Blog by Satinder Sethi, VP, Cisco: Introducing Cisco HyperFlex Systems
Data center innovations
Video: Memorial Care and new Cisco HyperFlex Systems: 'Epic Flexibility'
Video: Meander Health Care Centre and new Cisco HyperFlex Systems: 'Tomorrow's Healthcare IT'
Cisco's newest ACI ecosystem members
IDC video: Getting Datacenter Networks Ready for Next-Generation Workloads
Miercom test report:  Cisco Systems Speeding Applications in Data Center Networks
Cisco end-to-end 40Gb/s
Data Center Services