Web Browser Access Added to Nexsan Transporter Private Cloud File, Sync and Share Appliance
Policy controls allow users to share data links with external audiences and set user defined expiration dates for enhanced security.
This is a Press Release edited by StorageNewsletter.com on February 19, 2016 at 2:59 pm
Nexsan, Inc. announced that its family of Transporter private cloud file sync and share appliances offers secure data access via industry standard Web browsers.
Users are able to browse and navigate through folders stored on their private cloud Transporter device, create folders, upload and download files and rename or delete files and folders as needed. All Web-based activity is performed through a secure login keeping data secure behind the company firewall.
According to a recent industry study, organizations actively using cloud, mobility, big data or security technologies are experiencing up to 53% higher revenue growth rates than those that have not invested in these technologies. Users are highly mobile and require simple, smart access to their data regardless of their location. IT is tasked with the need to support the business requirements of an increasingly mobile workforce while ensuring that critical data assets are secure. (*)
Click to enlarge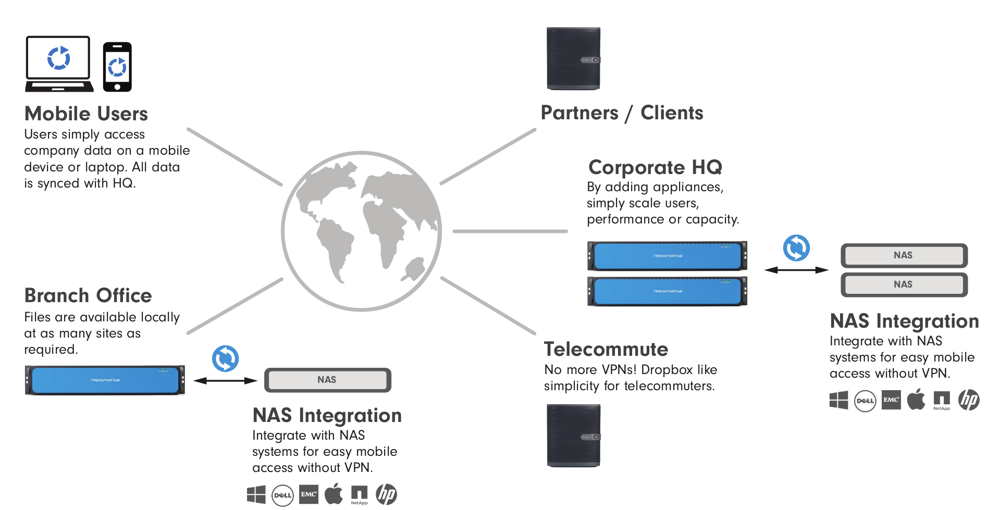 In addition, Transporter storage appliances feature customizable branding that gives businesses and organizations the ability to add their logo, color scheme and presentation of their content to create a company-branded portal and emails. Now internal organizational users and external guest users will benefit from consistent company branding for a superior customer and partner experience.
The version of Transporter firmware delivers policy controls that allow users to securely share data links with their customers, partners and peers – anytime, anywhere, on any device for enhanced connectivity and business efficiency. System administrators can set automated link expiry policies by hours, days, weeks or months, so that shared content is no longer accessible to invited external parties after the expiration date.
The firm delivers innovative storage, secure archive and file, sync and share solutions that address the needs of enterprises and connected workforce. Transporter keeps data safe and secure within a company's own firewall while allowing users to access, share and synchronize data anytime, anywhere for business advantage. The result is a more flexible and higher performing private cloud solution with enterprise redundancy and failover for reliability that public cloud file sharing services are not able to provide.
"We continue to listen to our customers to innovate and continuously deliver the most advanced file, sync and share appliances on the market," said Geoff Barrall, CTO, Nexsan. "Unlike cloud service providers that put data at risk by storing it on a public Web server, Transporter files are securely stored on the Transporter appliance behind a company's firewall for secure file sharing with the ease of Web-browser-based access at a price that public cloud providers just can't match."
The secure Transporter file, sync and share features are available.
(*) Global Technology Adoption Index, Dell, October 2015