Open-E Storage Software DSS V7 With NFS Active-Active Failover
Includes failover functionality for NFS and iSCSI protocols.
This is a Press Release edited by StorageNewsletter.com on October 2, 2015 at 3:20 pm
Open-E, Inc. released the update up50 for its storage software DSS V7.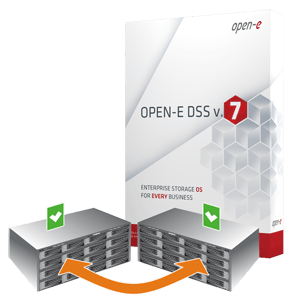 With the end-of-life for the previous DSS V6 fast approaching, all of its main features are now implemented in this update for version 7.
Although first planned for release on October 1st, by popular demand and to serve clients better – update 50 for company's storage software V7 is released early and includes many new and improved features, such as:
New active-active NFS Failover (feature pack)

Improved active-active iSCSI failover (feature pack)

Improved active-passive iSCSI and NFS failover

Enhanced cluster configuration

New local backup tool

Improved kernel

Enhanced hardware support
The most anticipated features were for sure the active-active and active-passive failover for both NFS and iSCSI protocol. The NFS (NAS) failover was so far only available in DSS V6. With an active-passive failover setup, users can achieve fault tolerance via synchronous volume replication for NFS or iSCSI shares. With two nodes in an active-passive configuration all data written to the primary server is mirrored to the secondary server. In case the primary server fails, the software automatically switches all operations to the secondary server. On the other hand, an active-active failover offers BC and HA with volumes running in the active mode on two nodes simultaneously. If one node fails, the other one takes over automatically and all application services keep running without interruption. This way, performance can be doubled and switching time cut in half compared to active-passive.
Click to enlarge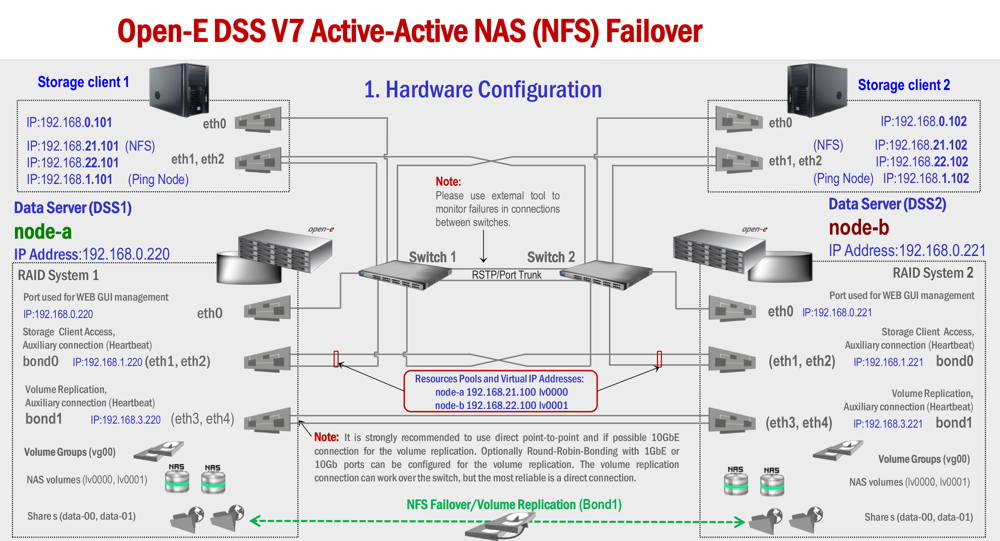 DSS V7 allows for configuration of both nodes while connected to one system, as opposed to DSS V6. Additionally, the company included a set of tools for cluster management, such as the resource pool overview, remote node status, configuration statuses and a failover manager providing an overview of cluster configurations and allowing administrators to stop it. When starting a cluster, DSS V7 checks all critical settings on each node to avoid wrong configurations.
The active-passive failover is included in the upgrade for existing users and available at no extra cost. The active-active failover for NFS or iSCSI is sold in separate Feature Packs and available via company's worldwide partner network.
Apart from the failover functionalities, the up50 includes an improved and reliable local backup tool that allows users to secure and restore data with minimal interruption to their workflow. It can be either used with the built-in backup and restore capabilities, or utilized with commercial backup software. Additionally, DSS V7 is  running on the latest kernel which ensures higher stability and increased performance for demanding enterprise setups. In regards to hardware support, company's engineers also updated the software with a wide range of drivers for network controllers, RAID adapters, management tools and protocols. The full list of supported hardware and software is available in the company's hardware compatibility List on the company's website.
The extensive update of company's proven software product is good news especially for customers who are still using company's DSS V6.
"We know that the NFS failover feature was a popular feature in V6 and many customers wanted to keep it for this reason. These users can now upgrade to Open-E DSS V7 without losing their favorite tool", said Krzysztof Franek, CEO and president, Open-E. "With the end-of-life for Open-E DSS V6 fast approaching, we are glad to release the new update 50 for Open-E DSS V7 earlier and also offer special prices for upgrades until September 30th, 2015."