Catalogic Software Advances Data Management Automation and Adds IBM With Delivery of ECX 2.2
Deliver in-place copy data management support for Big Blue's storage platforms including Storwize, SVC, v9000 and Flash Copy Manage
This is a Press Release edited by StorageNewsletter.com on September 1, 2015 at 2:44 pm
Catalogic Software, Inc. announced the details of ECX 2.2, the next release of its product scheduled for release in September of this year.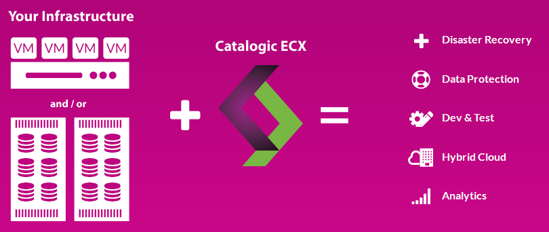 This release – which was showcased at VMworld 2015 – delivers enhancements to the workflow automation and orchestration for copy data creation and use, enabling IT teams to dramatically reduce the labor involved in delivering data access to the business and IT functions that require it, helping to drive competitive advantage and, resulting in significant cost savings. Additionally, ECX 2.2 will deliver 'in-place' copy data management support for major IBM Corporation's storage platforms, including Storwize, SVC, v9000 and IBM Flash Copy Manager.
"The functionality of ECX that resonates most with our customers is the ability to leverage their existing storage and virtual server environments to deliver a complete copy data management solution. ECX is the only data management platform that plugs into their existing infrastructure and allows them to create automated policies and workflows to easily manage what have historically been very time consuming and difficult processes," said Ed Walsh, CEO, Catalogic. "With the delivery of ECX 2.2, we are taking a huge step forward in simplifying copy data management workflows by allowing storage and virtualization administrators to create customized templates for all of their key processes that involve the creation or use of data copies."
The customizable workflow management templates delivered in ECX 2.2 address one of the top pain points facing IT organizations today – the complexity of data management, which is impairing the IT team's ability to meet its commitments across a range of key functions and services. ECX addresses this directly by allowing the IT team to create and use standard templates that deliver automation of critical copy data workflows. Incorporating these templates within a centralized copy data management platform that is designed to leverage the IT team's existing infrastructure makes deployment and use non-disruptive.
"ECX has allowed us to centrally manage and automate our most important data access processes, including making copies accessible for self-service by our end users," commented Stepphon Gayle, Fairfax County Public Schools. "We are very excited to see the delivery ECX 2.2, as we expect the automation workflow templates to improve the degree to which we can allow our end users to make use of data copies in support of their various business functions."
"As a long time IBM Partner, we are thrilled to see Catalogic add support for the major IBM storage platforms to ECX. At Tectrade, we currently deliver data protection services via our Helix Protect brand. These services range from reporting right up to a fully managed service for data protection," said William Bush, manager, technical services, Tectrade BV. "For us, a software-only data management solution that leverages existing IBM technologies and allows us to deliver cloud services to our clients as well as save significant CapEx and OpEx expenditure by simplifying the environment and automating away many efforts that are extremely time consuming today, is key to the progression of our business."
ECX 2.2 includes a host of new features and enhancements that address key enterprise requirements for performance, scalability, and reporting.
"IT organizations recognize that data management today is getting more and more complex, and prevents them from reaching their potential," said George Crump, president, Storage Switzerland. "They are seeking a data management layer that delivers simplification and automation of important processes, freeing up their key resources to focus on delivering higher level services that drive competitive advantage for their businesses. Catalogic has a unique approach that allows customers to put an elegant data management platform in place without the need to deploy any new storage hardware."
"End users see in-place copy data management as an opportunity for significant cost savings and improvements to overall data access and data availability operations," said Bina Hallman, VP, storage and software defined systems, IBM. "With the use of ECX 2.2, IBM storage clients can use their existing storage environment to help improve overall data access and data availability."
ECX 2.2 summary of key features:
Enhanced Policy-Based Copy Data Management Workflow Automation

Copy Data Management for IBM platforms

Improved Role Based Access Control (RBAC)

Expanded scalability and performance

Improved fault tolerance