Start-Up Profile: Portworx
In scale-out block storage software for Linux containers
By Jean Jacques Maleval | July 2, 2015 at 2:51 pm
Company
Portworx, Inc.
HQs
Redwood City, CA
Date founded
2015
Financial funding
$8.5 million total in series A on June 2015 led by the Mayfield Fund whose MD Navin Chaddha became board member
Main executives
All of them were formerly at Dell and Ocarina (acquired by Dell in 2010).
Murli Thirumale, co-founder and CEO: was storage executive at Dell, CEO and co-founder of Ocarina, GM and group VP at Citrix, CEO and co-founder of Net6.
Goutham (Gou) Rao, co-founder and CTO: was CTO, data protection, and executive director at Dell, CTO and co-founder of Ocarina, CTO at Citrix, co-founder and CTO of Net6.
Vinod Jayaraman, co-founder and chief architect: was chief architect at Dell and Ocarina, architect at F5 and Swan Labs
Number of employees
8
Technology
Scale-out block storage software for Linux Containers
Products description
Portworx PWX  Converged Infrastructure is a container-aware infrastructure technology specifically focused on accelerating deployment of containers in production. It provides software-defined scale-out block storage natively to Docker containers. This allows applications to have stateful persistence and be scheduled fluidly across machines and private and public clouds. With PWX, applications can be scaled rapidly without IT intervention.
Chaddha said: "We believe their unique software-defined storage solution has the potential to replace traditional SAN and NAS architectures."
PWX provides:
Container-aware storage, which enabling data persistence across nodes, container-level snapshots, and storage policies at container granularity.
Self-service IT through software-defined storage.
Converged storage, which ensures that containers run on storage nodes to maximize I/O performance.
Elastic Storage Orchestrator, which auto scales block storage to meet application needs and moves underlying storage blocks across nodes to optimize performance and ensure HA.
Thirumale commented: "Building storage with container-level granularity ensures storage policies can be applied at the container level, enabling greater agility, application state consistency, HA, rolling upgrades and high performance. In getting to this point, we had to break a few cherished notions about storage and traditional architectures."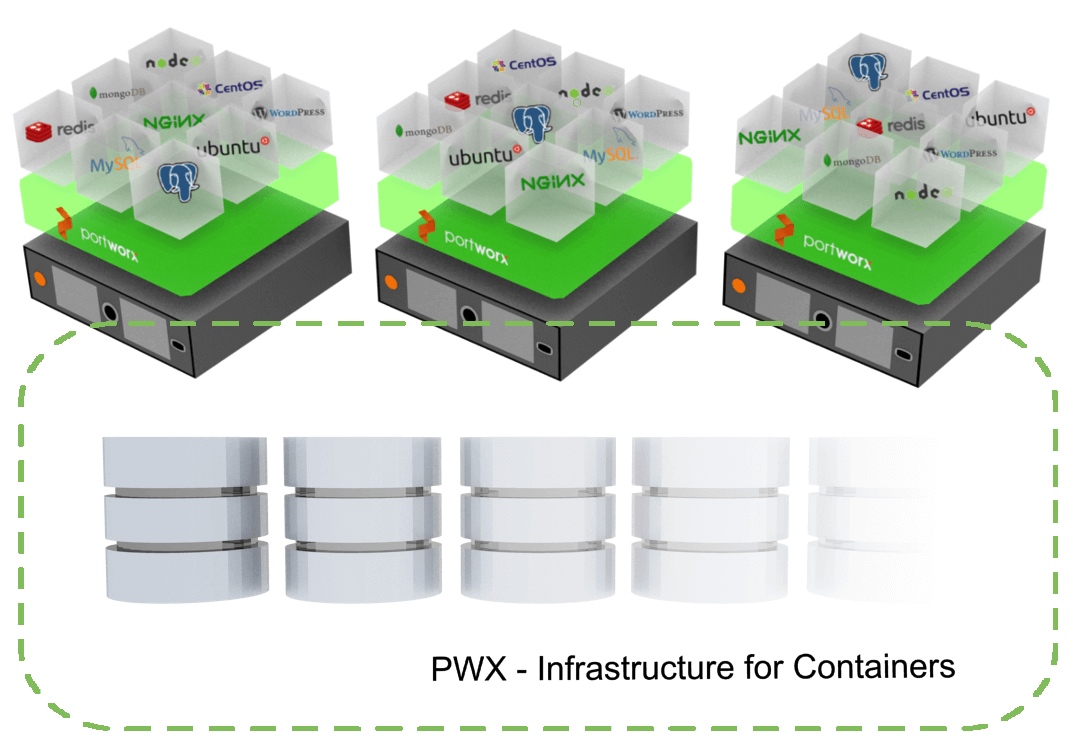 Released date
June 22, 2015
Availability
August 2015
Customers
In beta only
Target market
SaaS, DevOps, DevTest, enterprise PaaS and IaaS
Competitors
Including Flocker by ClusterHQ, Rancher by Rancher Labs, Project 6 software by Datawise.io