Terry Cunningham CEO, Springpath
After five years as president and GM, Evault
This is a Press Release edited by StorageNewsletter.com on May 21, 2015 at 3:00 pm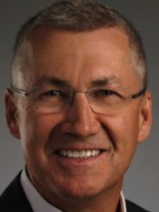 Springpath, Inc., in hyper-converged infrastructure software, announced the appointment of industry veteran Terry Cunningham as CEO.
Mallik Mahalingam, co-founder and previous Springpath CEO and CTO, will continue in his role as CTO.
"Hyper-convergence is an important catalyst that's making DevOps a reality for the enterprise," said Cunningham. "I was attracted to Springpath's software based technology and business model. It's perfect for DevOps. After operating a web-scale cloud services company, I saw first hand the desperate need for an agile and lean platform that enables continuous delivery of modern applications."
Cunningham joins Springpath after five years as president and GM of Seagate's cloud storage and DR division, Evault, Inc. Earlier in his career he was COO at Veritas following the Veritas-Seagate Software merger in 1999. His first start-up was Crystal Decisions, an enterprise reporting platform, where he drove go-to-market partnerships with companies such as Microsoft and SAP as well as approximately 700 other OEMs.
"With more than 20 years in storage and software, Terry has the connections and the experience to lead Springpath to success," said Mahalingam. "I'm excited to focus on future product strategies that will take hyper-convergence to the next generation of functionality and make DevOps a reality for a greater number of enterprises."
"I've worked with Terry for over 20 years, and I've seen him build great companies," said Steve Luczo, CEO and chairman, Seagate Technology LLC. "Given the significance of hyper-convergence to the storage industry, I'll be keeping my eye on Springpath."
"Terry not only understands the emerging DevOps culture and what's required to support it, he understands how to help server vendors like HP, Cisco, Dell and Lenovo to capitalize on the growing trend of replacing traditional storage with servers as storage," said Abhi Talwalker, former president and CEO of LSI Corporation (acquired by Avago).