VMAX 100K Added to VSPEX Portfolio
Scales up to 2,800 VMs.
This is a Press Release edited by StorageNewsletter.com on May 11, 2015 at 3:08 pm
EMC Corporation announced expansion of its VSPEX architecture portfolio to include the  enterprise data services platform, VMAX 100K.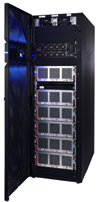 Introduced last year, VMAX3 is a new architecture for enterprise storage, separating software data services from the underlying platform, fundamentally changing what's possible in the data center.
Earlier, EMC announced an expanded set of VMAX3 data services that further automate, consolidate, and protect mission-critical IT operations.
Available exclusively through VSPEX-enabled business partners, the VSPEX family expansion with VMAX 100K provides customers the ability to seamlessly bridge their VMware private cloud deployment with public clouds, paving the way forward to hyperconsolidate and connect on- and off-premise workloads into a hybrid cloud environment. As a result, they are able to simplify operational and recovery capabilities while benefitting from agility, choice and flexibility compared with traditional build-your-own architectures.
VSPEX with VMAX 100K is purpose built to deliver and manage predictable service levels at scale for hybrid clouds. This VSPEX solution is based on the VMAX3 Dynamic Virtual Matrix Architecture, which delivers agility and efficiency-at-scale to meet the demanding requirements of today's fast-paced business environment. Hundreds of CPU cores and ports are pooled and allocated on-demand in a single VMAX3 system to meet the most stringent Service Level Objectives.
Delivering choice, VSPEX provides customers the flexibility to build around EMC storage systems with the server and networking components they prefer to address their IT needs. The addition of the VSPEX with VMAX 100K enables IT agility with additional scale, increased savings, reduced TCO by 30% or more over the previous generation.
VSPEX With VMAX 100K Redefines IT
VSPEX with VMAX 100K is proven by EMC to deliver up to 2,800 VMs with physical configurations that start with a single VMAX3 engine and frame. Expandable to up to four storage frames, the VSPEX with VMAX 100K architecture provides organizations the ability to start small and scale up as the needs arise. This level of scalability has never been offered in a VSPEX solution.
In addition, according to IDC, by implementing VMAX3, IT organizations can reduce storage infrastructure costs over 14% on a $/GB basis, increase storage density by 75% per floor tile, reduce weight by 60% per floor tile and simplify storage management and reduce provisioning by up to 5X.
Hyperconsolidation
Customers can achieve the new levels of hyperconsolidation and ability to scale to 2,800 VMs with VSPEX with VMAX 100K storage. VMAX3 consolidates server infrastructure associated workloads like file sharing, backup, and other applications into the VMAX3 footprint directly improving performance and availability.
Streamlined Management
Management of VSPEX with VMAX 100K is streamlined and made possible with technologies from EMC, VMware and a broad set of technology partners. In addition, EMC Virtual Storage Integrator (VSI) provides organizations the ability to effectively manage VMAX3 from within VMware vCenter, enhancing the speed at which provisioning tasks can be completed and with less cross-functional team intervention. These benefits now extend to VSPEX with VMAX 100K.
Service Level Objective Based Provisioning
VSPEX with VMAX 100K reduces IT complexity by providing simplification of application provisioning for specific service level objectives with built-in tiers that are fully integrated into VMAX3's FAST. VMAX3 introduces Service Level Objective provisioning to simplify management at scale and improve overall staff productivity.
The VSPEX with VMAX 100K is available through VSPEX enabled business partners.
Eric Barnhart, VP, Avnet Technology Solutions, Americas, EMC solutions group, said: "The accelerating transition to the 3rd Platform is driving a new wave of investment in IT solutions that help companies harness the power of big data and analytics, cloud services, mobility, and social networking. Avnet's role in helping to bring EMC's VSPEX portfolio of offerings to market, including those featuring VMAX 100K, exemplifies the innovative ways we are helping our partners capitalize on these market opportunities and providing them with exclusive access to the first-of-its-kind VSPEX solution."
Ashish Nadkami, storage analyst, IDC, said: "The economies of deploying a private cloud infrastructure greatly improve with VSPEX with VMAX 100K by enabling enterprises to address mission-critical workloads. Hyperconsolidation translates to greater $/GB savings and that may mean more than a 30% TCO savings for IT organizations."
Gil Shneorson, VP, GM, VSPEX, EMC, said: "By expanding the VSPEX portfolio with the VMAX 100K, EMC is delivering an even greater spectrum of choice, to span and meet the requirements of customers by providing maximum flexibility, efficiency and simplicity. We are now giving our ecosystem partners a new way of addressing the growing market for private and hybrid cloud infrastructures which enables our partners to continue to differentiate and build value."