IT Pros Vote 2015 Hyperconverged, CNA and Other IT Brand Leaders – IT Brand Pulse
Repeat winners Dell, Emulex, HP, Intel, Microsoft, Riverbed and VMware; Nutanix and Palo Alto Networks top charts for first time
This is a Press Release edited by StorageNewsletter.com on February 20, 2015 at 2:56 pm
IT Brand Pulse announced the results of its January 2015 IT brand leader surveys covering 12 product types.
IT Pros from around the world responded to the independent, non-sponsored surveys, and were asked which vendors they perceive as the leader in the following categories: Converged Network Adapters, Hyperconverged Systems, Enterprise Blade Servers, Enterprise Rackmount Servers, Enterprise Server LOM, Enterprise Server OS, Enterprise Server Processors, Industry Standard Servers, Microservers, NextGen Enterprise Firewalls, Server Virtualization and WAN Optimization.
"Our January surveys revealed seven repeat winners and new brand leaders for next gen firewalls and hyperconverged systems," said Frank Berry, CEO and senior analyst. "At the same time, Intel and VMware reaffirmed their status as two of the most dominant brands in IT."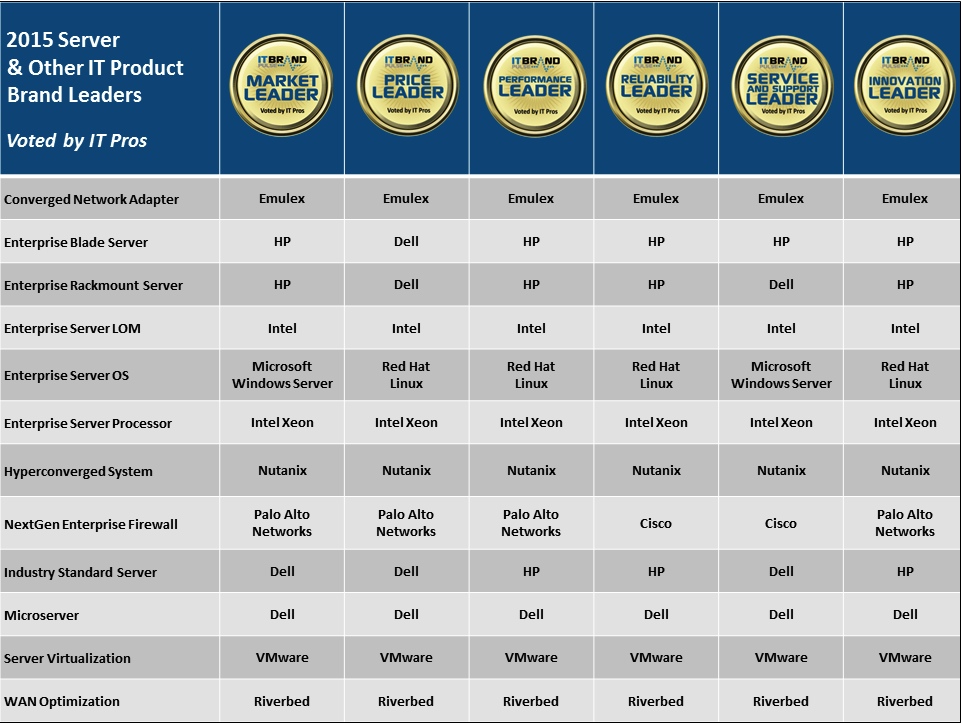 Click to enlarge
Converged Network Adapters
For the fifth year, IT professionals put their votes behind Emulex, across the board, for Market, Price, Performance, Reliability, Service & Support and Innovation leadership for Converged Network Adapters. Cisco landed in the second-place Market Leader slot, with Intel, third.
"Being recognized for Converged Network Adapter (CNA) brand leadership by IT professionals across every category that IT Brand Pulse surveyed demonstrates the technical depth and breadth of our OneConnect CNAs, which are designed to accelerate applications, increase data center efficiency and improve bandwidth to support next generation workloads such as big data analytics, VDI, and emerging compute architectures, such OpenStack or Open Compute-based cloud computing," said Shaun Walsh, SVP marketing, Emulex Corp.www.emulex.com. "We are pleased to be recognized for the fifth straight year by IT Brand Pulse and are committed to delivering solutions that address today's high performance data center needs."
Enterprise Server OS
For Enterprise Server OS, Windows Server was crowned Market Leader (for the fourth time in as many years). However, it was second-place Red Hat Linux, who secured four of the five remaining titles (Price, Performance, Reliability and Innovation). Microsoft took Service & Support Leader. IBM-AIX placed in the third position as Market Leader.
 
"Microsoft is honored that Windows Server has been recognized by IT professionals as the Enterprise Server OS market leader for the fourth consecutive year," said Mike Schutz, GM, Microsoft Corp.'s cloud platform. "Because we build and operate public cloud services at global scale, we are able to bring the experience and learnings from running our cloud to our customers, helping them to transform their datacenters to meet today's ever-changing business needs."
WAN Optimization
For the second straight year, Riverbed topped WAN Optimization as Market, Price, Performance, Reliability, Service & Support and Innovation leader. Cisco finished second all-around, with the third Market Leader spot going to Citrix.
"Riverbed is pleased to receive recognition from the IT industry as the leader in WAN optimization," said Paul O'Farrell, SVP and GM, SteelHead product group, Riverbed Technology, Inc. "Our customers turn to Riverbed SteelHead to dramatically improve applications performance despite the challenges of distance, network latency and the growing number of connections between end-users and web-based application servers. SteelHead delivers unparalleled optimization to applications, while providing visibility and control across hybrid apps and hybrid networks, to translate application performance into business performance. It is a great honor to have IT professionals select Riverbed as the market leader across every category of application optimization, which demonstrates our commitment to solving the end-user experience issues associated with the hybrid enterprise."
Hyperconverged Systems
As one of two new product categories added to the 2015 brand surveys, end user respondents were asked who they perceived to be the leader(s) for Hyperconverged Systems, and the result was definitive: Nutanix. In a category sweep, Nutanix overcame competition from Scale Computing to be named Market, Price, Performance, Reliability, Service & Support and Innovation leader. SimpliVity was the third Market Leader choice.
Enterprise Blade and Rackmount Servers
HP was one of three multiple Market Leader champions in these 2015 surveys, capturing both Enterprise Blade Servers (fifth consecutive time) and Enterprise Rackmount Servers (fourth title in as many years). HP nearly swept the Enterprise Blade Server category by being named Performance, Reliability, Service & Support and Innovation leader; giving up only the Price Leader title to Dell (runner-up Market Leader, ahead of  Cisco and IBM who tied for third). For Enterprise Rackmount Servers, respondents chose almost the same leader formula (Market, Performance, Reliability and Innovation honors to HP; Price to Dell), but this time handed the Service & Support award to the number two Market Leader, Dell.  IBM filled in third.
 
Industry Standard Servers
Another double category winner, Dell, was the favorite as Market Leader for Industry Standard Servers, as well as Microservers. For Industry Standard Servers, this marks the third year in a row that Dell was chosen Market Leader (in front of HP and Cisco, respectively), though the remaining leader titles were evenly split: Dell for Price and Service & Support awards, HP for Performance, Reliability and Innovation. This year's Microserver survey results showed Dell regaining the Market Leader title it lost in 2013, with IT pros also giving Dell the entire category honors (Price, Performance, Reliability, Service & Support and Innovation). HP, the reigning two-time title-holder, finished second and Supermicro rounded out the top three.
Enterprise Server LOM and Processors
Intel Xeon once again swept Enterprise Server LOM (two straight years) and picked up its fourth consecutive win for Enterprise Server Processors. Intel Xeon was selected as the Market, Price, Performance, Reliability, Service & Support and Innovation leader for LOM, with Broadcom coming in second across the board, followed by Emulex and QLogic in a third-place Market Leader tie. In the largest vote margin in the January surveys, Intel (with its Xeon-family offering) received Market, Price, Performance, Relibility, Service & Support and Innovatin awards for Server Processors. The Intel Atom processor commanded the runner-up Market Leader space, followed by AMD.
NextGen Enterprise Firewalls
With a crowded field of 13 vendors, the other category making its debut in the brand leader surveys was NextGen Enterprise Firewalls. Voters chose Palo Alto Networks for the first Market, Price, Performance and Innovation honors, while awarding Cisco, (the number two Market Leader) Reliability and Service & Support leader. Check Point Software came in third.
Server Virtualization
VMware overwhelmingly made it five-in-a-row with its 2015 victory in every leader category of Server Virtualization (Market, Price, Performance, Reliability, Service & Support and Innovation). Microsoft and Oracle placed second and third, accordingly, for Market Leader.