SolidFire Launches SSA Native Integration With VMware vCenter Site Recovery Manager
To perform site-to-site failover, failback, migration and testing
This is a Press Release edited by StorageNewsletter.com on October 23, 2014 at 3:01 pm
SolidFire, Inc., in solid-state array, announced integration with VMware Site Recovery Manager (SRM) and the availability of its Storage Replication Adapter (SRA).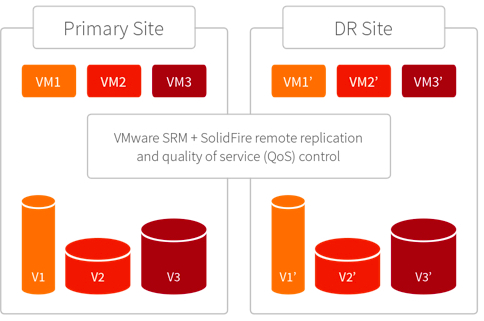 With this announcement, SolidFire offers VMware customers an integration to perform site-to-site failover, failback, migration and testing. The SRA exposes and highlights SolidFire's ability to replicate from one or two storage clusters at the protected site to one or two storage clusters at the recovery site – all in the same protection group.
SRA defines the interface between SRM and the replicated storage arrays. It provides an interface for SRM to communicate with the storage arrays and execute supported workflows. Administrators can manage and configure replication of VMs hosted on SolidFire storage clusters. SRA provides a user-friendly interface to facilitate migration of storage arrays for planned and DR between the protected and recovery sites.
SRA allows organizations to:
Provision and manage storage and replication policies at the VM level
Set-up centralized recovery plans in minutes
Enable individual tenants to provision disaster protection through pre-defined policies
Perform orchestration of site failover, planned migrations and failback with a click
Perform testing of recovery plans in an isolated network to avoid impacting production applications
Test recovery plan as frequently as needed without disruption to ensure predictability of RTO and to simplify regulatory compliance
SRM is an extension to VMware vCenter Server that delivers a DR solution that provides orchestration and non-disruptive testing of centralized recovery plans for all virtualized applications. It can discover and manage replicated datastores and automate migration of inventory between vCenter Server instances.