StoneFly Expands HA IP SAN + NAS Cluster Line
With Voyager WX appliance for Windows, up to 4PB
This is a Press Release edited by StorageNewsletter.com on July 3, 2014 at 2:46 pm
StoneFly, Inc., supplier of integrated IP SAN (SAN) systems and a wholly-owned subsidiary of Dynamic Network Factory, Inc. (DNF), announced the Voyager WX Series of IP SAN + NAS Cluster Appliances, its fifth generation of HA cluster appliances.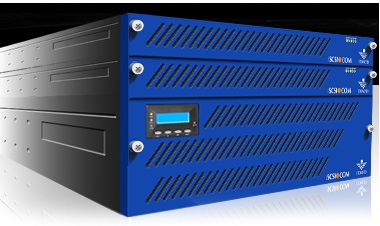 The cornerstone of the Voyager WX IP SAN + NAS Cluster Appliances is the Storage Concentrator VM (SCVM), which is a patented storage virtualization engine running the StoneFusion IP SAN OS. StoneFusion provides iSCSI block-level provisioning as well as centralized storage management and storage features including synchronous campus mirroring, 2520 delta-based snapshots per subsystem, and thin provisioning with space reclamation. Optional features include asynchronous replication, hardware-enabled AES 256 block level volume encryption, data deduplication for efficient storage utilization, and Volume Shadow Copy Service (VSS) agents for quiescing databases.
Utilizing native support with unlimited concurrent SMB 3.0 connections for Windows clients, the Voyager WX includes a Windows Storage Server 2012 R2 virtual NAS storage appliance failover cluster configured to support NFS and CIFS protocols. Implementing StoneFusion for its back end storage allows Windows Storage Server to supplement its built-in features with StoneFly's elaborate toolbox of enterprise storage management features like snapshots, replication, encryption, deduplication and more.
"Voyager WX IP SAN + NAS clusters are perfectly optimized for Windows-based customers while providing them with the most advanced storage technologies," said Mo Tahmasebi, president and CEO, StoneFly.
The Voyager WX can be used as iSCSI and/or NAS storage for both conventional workstations and servers, as well as virtualized machines. It supports a range of virtual server environments including VMware, Xenserver, and Hyper-V. It was designed to deliver performance at an economical price point. It is for enterprise customers in need of a robust SAN offering both HA and versatility for primary and secondary storage applications.
As  new member of the StoneFly Voyager family of IP SAN + NAS appliances, the Voyager WX base configuration comes standard with dual hexa-core storage virtualization engines and 32GB of data packet and command queuing cache per cluster node, mirrored OS drives separate from the storage arrays, RAID cache battery backup, redundant 80-PLUS certified hot-swappable power supply modules, and quad GbE and quad bonded 10Gb SFP+ connections per cluster.
Available hardware upgrades include up to 512GB cache per node and up to twenty bonded gigabit or twenty 10Gb (RJ-45/CX4 Copper, SFP+, SR/LR Optical) connections per cluster. This performance makes the Voyager WX for critical applications involving online transaction processing, databases, email, disk-based archives, disk-to-disk backup, VDI, virtual servers and other core business uses.
Featuring active-active components for appliance redundancy, BC and increased system performance, the Voyager WX offers RAID protection and requires no down time for storage expansion. Its architecture enables customers to start smaller and then expand to up to 672 drives via expansion arrays and expansion units. For added flexibility, configurations can be mixed and matched according to customer need with any combinations of nearline 7,200rpm SAS, enterprise 10k or 15k SAS, and SSD drives.