StoneFly Unleashes Scale Out NAS for Several Petabytes
Adding nodes without losing performance
This is a Press Release edited by StorageNewsletter.com on July 1, 2014 at 2:46 pm
StoneFly, Inc., supplier of integrated IP SAN and a wholly-owned subsidiary of Dynamic Network Factory, Inc. (DNF), released its SSO (Super Scale Out) NAS storage appliances delivering performance and scalability.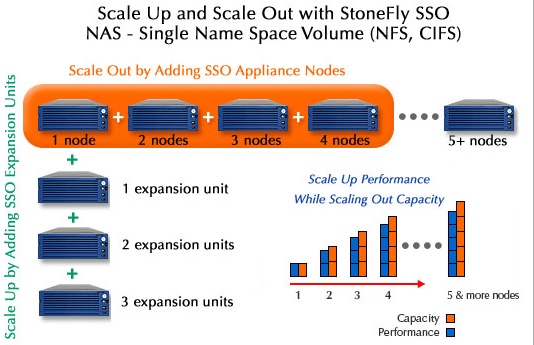 SSO allows companies to scale out as their business grows by adding nodes without losing performance. With the SSO, volumes can be expanded across multiple nodes using no metadata and a single namespace. Usable bandwidth increases as new nodes are added. Mmultiple nodes can be managed with just a single user interface. Each time the SSO is scaled out, it adds more capacity, more throughput, and more concurrency. Installation, management, and scaling is simple to achieve at any size.
"SSO is the most flexible platform on earth. You can start small and grow as big as you want – a natural fit for big data. Optimized for storing media and backup, build it one node at a time and scale both capacity and performance as you add nodes," said Mo Tahmasebi, president and CEO, StoneFly.
SSO series of NAS appliances were designed for customers requiring a powerful storage solution that can scale out storage capacity while scaling up performance. Nodes scale up to 36 drives and 216TBs of storage per chassis, up to 108 drives per node, and easily scale out to multiple nodes on demand. For managing large quantities of unstructured (file-based) data within a single global namespace and a single file system.
Like its older sibling, the StoneFly TSO (Twin Scale Out) which began shipping in January, SSO appliances were designed for markets that require vast quantities of high bandwidth throughput or fast parallel throughput for very large files required by HPC in media and entertainment.
Content creation, transformation, production, and archive, as well as unstructured data (documents, presentations, pictures, music, and video files) are best stored in large Scale Out NAS appliances like the SSO and TSO. SSO simplifies the storage of media and is a platform for consolidation onto a shared resource implementing higher utilization.
SSO was designed to be used for fast primary storage for visual effects and high IO-intensive media production applications that require high-concurrent sequential throughput, post-production transcode, and streaming media. It drives down the overall cost of storage, while increasing performance for applications that need it when they need it, and reduces costs and floor space requirements. Capacity can be provisioned, shared, and managed with fewer resources. SSO is efficient to operate since it leverages all of its resources, maximizes utilization, and integrates nearline SAS, enterprise SAS, and SSD tiering within the storage nodes.
Scale Out NAS is a distributed file system that can scale to several petabytes, all while handling thousands of clients. It functions as a distributed data overlay, polling together storage building blocks over TCP/IP, aggregating disk resources and managing data in a single global namespace. The unified platform handles blocks, files, objects, and big data.
Scale Out NAS solves enterprise storage requirements, including:
Enterprise-wide file sharing with a single access point across storage locations
Nearline storage for infrequently accessed data that needs to be online
Rich media (audio and video) content distribution with petabyte-scale storage and high-read performance requirements
High-performance storage for bandwidth-intensive applications like weather prediction and oil and gas exploration
Centralized storage-as-a-service to enterprise applications
Backup target and archive for on-site or off-site data protection