New Nimbus Data Gemini X-Series Scale-Out All-Flash Array
Delivers petabyte raw capacity with unified SAN/NAS.
This is a Press Release edited by StorageNewsletter.com on March 3, 2014 at 2:58 pm
Nimbus Data Systems, Inc. introduced the Gemini X-series, a scale-out all-flash array for large enterprises and cloud service providers.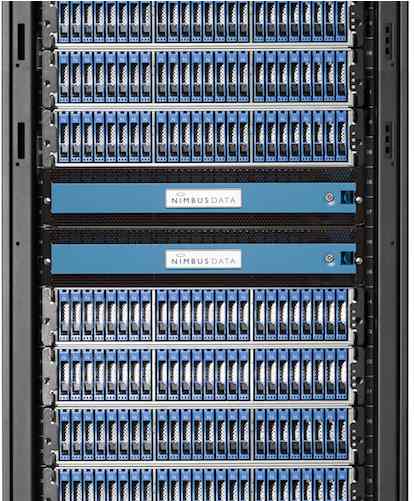 It features a patent-pending scale-out all-flash architecture that enables customers to linearly scale capacity with performance, all while delivering unified storage and data management software of Nimbus Data's HALO OS.
With the Gemini X-series, customers can deploy a petabyte of redundant all-flash storage capacity in a single namespace in half a rack of space, offering an efficient, high performance, and software-rich all-flash infrastructure.
 
True Scale-Out With Unified Storage and Data Management Software
As the volume of digital data that is created continues to accelerate, CIO's are demanding ways to abate the overall TCO of their IT infrastructure and extend the ROI of existing data centers. At the same time, organizations must balance cost containment with the agility to expand capacity and performance quickly and on-demand. The Gemini X-series offers customers a new view on the economic value of an all-flash environment, challenging their tier-1 storage acquisition strategy.
 
Building on the modular Gemini F-series all-flash systems, the Gemini X-series extends all-flash from application-specific use cases (like databases and VDI) to full-scale tier-1 storage replacement, offering capacity and software that is equal or better than high-end disk arrays but with the superior density, power efficiency, and reliability of flash memory.
Engineered by Nimbus Data, the Gemini X-series features deduplication and compression for storage efficiency, as well as data and metadata checksums, snapshots and replication for ensuring data protection. Featuring redundancy throughout with no-single-point-of-failure and easy non-disruptive component maintenance, it delivers the reliability, availability and service ability (RAS) characteristics that customers have come to expect from storage arrays.
 
"The Gemini X-series all-flash array is our finest technical achievement, combining true scale-out performance and capacity with the full complement of award-winning unified storage and data management features that Nimbus Data is known for," said Thomas Isakovich, CEO and founder, Nimbus Data. "The Gemini X-series all-flash array will enable the next wave of all-flash adoption. By packing about one petabyte of flash in a single system, with the potential of several petabytes after deduplication and compression, the Gemini X-series enables customers to reduce data center operating costs by more than 95-percent compared to disk-based systems."
 
Patent-Pending Gemini X1000 Flash Director
The Gemini X-series consists of two patent-pending building blocks: Flash Directors and Flash Nodes.
At the heart of the Gemini X-series is the new X1000 Flash Director. This device, deployed in pairs for redundancy, combines a non-blocking 320Gbps RDMA switch, up to 40 user-configurable ports for connectivity to the existing infrastructure, and centralized cluster management software. The X1000 Flash Director virtualizes storage capacity across the cluster into a single namespace, load-balances IO evenly across all nodes, and centralizes management of the entire system. By also supporting RAIN (redundant array on independent nodes) configurations, it offers multiple levels of redundancy to satisfy the most mission-critical environments. At full scale, the Gemini X-series supports up to 40GBps of sustained throughput and four million 4K IO/s, all while maintaining sub-100 microsecond latency across the cluster.
 
Dense Fault-tolerant Gemini X96 and X48 Flash Nodes
Users can scale capacity and performance by adding Flash Nodes without interruption. The Gemini X96 and X48 Flash Nodes combine 96TB or 48TB of flash storage, respectively, along with redundant hot-swappable storage processors and power/cooling modules. Each Flash Node offloads hardware-intensive operations like parity protection, inline deduplication, flash management, and encryption. Requiring 2U of rack space and 400 watts of power, the Gemini X96 Flash Node leverages Nimbus Data's latest 4TB enterprise flash drives, offering system density that is 30x better and power efficiency that is 35x better than its closest scale-out all-flash competitor.
 
"Nimbus Data is establishing a leading position in the all-flash array market, providing customers with a true scale-out AFA that delivers greater capacity, lower power and higher performance than alternative platforms," said Russ Fellows, senior partner, Evaluator Group. "The Gemini X-series all-flash array enables data center administrators to linearly scale both performance and capacity by adding more Flash Nodes."
 
Data Center Efficiency and Performance
The Gemini X-series achievies approximately 1PB raw capacity, or several petabytes of effective capacity after deduplication, compression and thin-provisioning. In terms of footprint, a 10-node Gemini X-series is compact, requiring 24U of rack space. It delivers capacity in half a rack what would take nearly five full racks of 15,000rpm disk arrays, a 90% reduction. At under six watts of power per terabyte, it reduces power costs by 95% compared to other all-flash arrays, maximizing rack utilization and enabling customers to defer costly data center expansion.
 
Unified SAN and NAS for Virtualization, File Storage, and Large Databases
With HALO OS, the Gemini X-series is an unified all-flash array supporting both block and file protocols including iSCSI, FC, NFS, and SMB, as well as RDMA-based iSER and SRP for low latency. Multiprotocol support ensures investment protection and future-proof flexibility to meet changing requirements. The Gemini X-series includes snapshots, replication, encryption, deduplication, compression, and comprehensive management tools and APIs at no additional cost. All major virtualization and database platforms are supported.
 
Industry and Customer Validation
With more than 500 systems deployed, 17 awards for innovation, and four consecutive years of revenue and profit growth, Nimbus Data is emerging as a leader in flash-based infrastructure.
Look at how the Gemini X-series all-flash array compares with XtremIO, NetApp, Violin Memory and Pure Storage
EMC XtremIO vs. Nimbus Data



(Source: Nimbus Data)
 
Availability
The Gemini X-series all-flash array will be available to strategic customers for evaluation in April 2014, with availability to all customers scheduled for the summer of 2014.