VCE and FlexPod Lead WW Converged Infrastructure Market – IDC
With 16.8% and 15.4% of total revenue, respectively
This is a Press Release edited by StorageNewsletter.com on December 25, 2013 at 2:45 pm
The International Data Corporation's Worldwide Quarterly Integrated Infrastructure and Platforms Tracker found an impressive 68.5% year-over-year factory value growth in the integrated infrastructure and platforms market during 3Q13, with system sales totaling $1.4 billion.
The market generated 622.6PB of new storage capacity shipments during the quarter, which was up 101% compared to the third quarter of 2012.
"The strong growth in the integrated systems market has become a real bright spot within the IT industry," said Eric Sheppard, research director, storage. "Server, storage, and networking vendors have clearly created a set of offerings that resonate very well with datacenter operators looking for the next level of infrastructure efficiency for their highly virtualized environments."
"The integrated systems market continues to gain momentum and we saw strong adoption across all categories in the third quarter," said Jed Scaramella, research director, enterprise servers. "A greater number of IT customers are realizing the value proposition of integrated systems and how they can simplify IT operations. IDC expects integrated systems to be on many customers' radar during purchasing cycles in 2014."
WW Integrated Infrastructure and Platforms
(Revenue in $ million)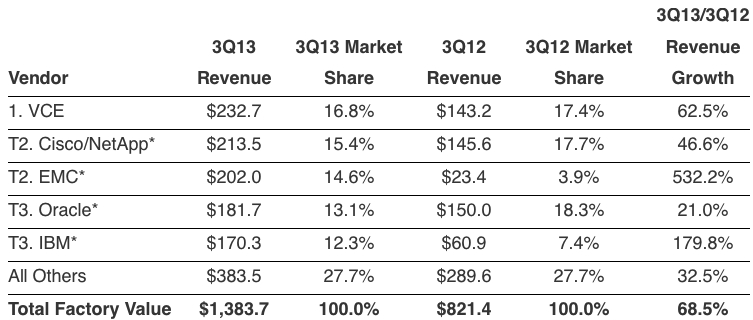 (Source: IDC Worldwide Integrated Infrastructure & Platforms Tracker, December 20, 2013)
* Note: IDC declares a statistical tie in the worldwide integrated infrastructure and platforms market when there is less than one% difference in the factory revenues of two or more vendors.
3Q13 Integrated Infrastructure vs. Integrated Platforms
Integrated platform systems are integrated systems that are sold with additional pre-integrated packaged software and customized system engineering optimized to enable such functions as application development software, databases, testing, and integration tools. Since early iterations of this IDC Tracker will focus only on the core infrastructure of these systems, software is excluded from market sizing.
Sales of integrated platform systems generated $399.8 million in sales during the quarter, which represented a 14.2% year-over-year growth rate and 28.8% of the total market value. Oracle was the largest supplier of integrated platform systems with $181.7 million in sales, or 45.6% share of the market segment.
Integrated infrastructure systems are designed for general-purpose, distributed workloads that are likely to have differing performance profiles. While integrated infrastructure is similar to integrated platforms in that it will leverage the same infrastructure building blocks, it is not optimized for a specific workload. Integrated infrastructure sales were up 108.6% year over year during the third quarter on $984.9 million worth of sales (71.2% of the total market value). VCE was the top-ranked supplier of integrated infrastructure in the quarter, generating $231.1 million which represented a 23.5% share of the market segment.
Taxonomy Notes:
IDC defines integrated infrastructure and platforms as pre-integrated, vendor-certified systems containing server hardware, disk storage systems, networking equipment, and basic element/systems management software. Systems not sold with all four of these components are not counted within this Tracker. Specific to management software, IDC includes embedded or integrated management and control software optimized for the auto discovery, provisioning and pooling of physical and virtual compute, storage and networking resources shipped as part of the core, standard integrated system.