Greenliant Shipping Embedded eMMC NANDrive SSD
Operating between -40°C and +85°C
This is a Press Release edited by StorageNewsletter.com on December 23, 2013 at 3:01 pm
Greenliant Systems, Ltd. is now mass producing its eMMC NANDrive embedded SSDs.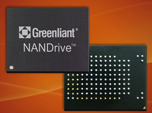 The GLS85VM devices operate at full industrial temperatures between -40 and +85°C, giving customers storage in a small, ball grid array form factor that can withstand severe conditions.
All SSDs have the same footprint in a 14mm x 18mm, 100-ball package, with 1mm ball pitch for increased long-term reliability. GLS85VM devices are compatible with JEDEC eMMC 4.4x and 4.3 standards. With a focus on meeting stringent customer requirements, Greenliant's fabless manufacturing operations are ISO 9001:2008 certified and eMMC NANDrive is manufactured in ISO/TS 16949:2009 facilities.
"From industrial computers and sensors to instrumentation and automotive systems, eMMC has been rapidly adopted by Intel Bay Trail and a growing number of ARM-based platforms," said Nobu Higuchi, VP of application engineering and product marketing, Greenliant. "eMMC NANDrive is ideally positioned to serve a variety of high-reliability applications."
Based on Greenliant's internally-developed NAND controller, eMMC NANDrive has wear-leveling, bad block management and ECC capabilities to extend the life of the product. It also includes power interrupt data protection and security features to safeguard sensitive data. NANDrive is available with 2-bits-per-cell (MLC) or 1-bit-per-cell (SLC) NAND to meet varying customer requirements for lifespan, endurance and performance.
GLS85VM series eMMC NANDrive SSDs are available and can be ordered through Greenliant authorized sales channels. Customers can also request NANDrive product samples and evaluation boards.