Sunshine State Education & Research Computing Alliance Customer of DDN
For multiple petabyte data sharing across Florida research universities
This is a Press Release edited by StorageNewsletter.com on November 28, 2013 at 2:41 pm
The Sunshine State Education & Research Computing Alliance (SSERCA) has selected DataDirect Networks, Inc. (DDN) Web Object Scaler (WOS) performance object storage to drive the development of a statewide research community that can address 21st century research challenges.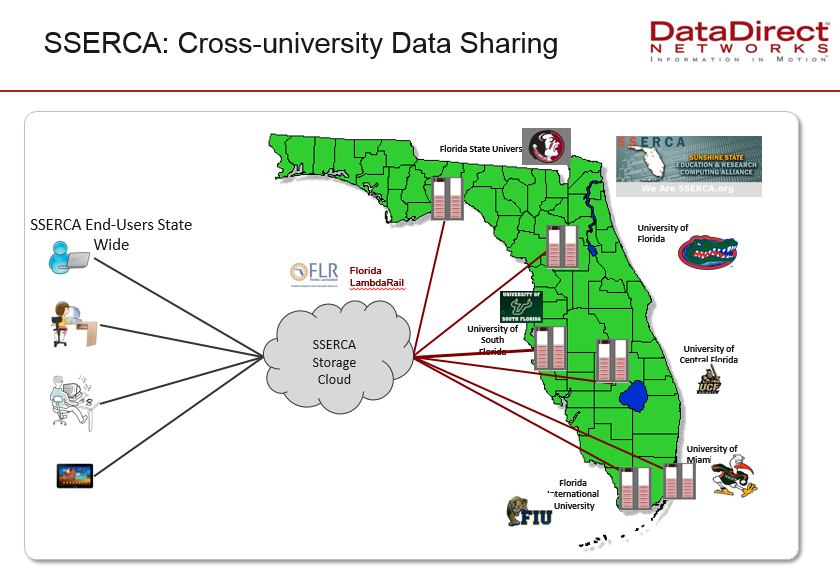 In supporting the alliance's mission to break down barriers to insight and foster educational research and collaboration, SSERCA is deploying WOS object storage system to provide thousands of researchers across all disciplines access to cloud-based scientific computing, communication and educational resources.
SSERCA members, including Florida State University, University of Florida, University of South Florida, University of Central Florida, Florida International University and University of Miami, as well as colleagues outside the university system, will be able to search, retrieve and archive vital research securely stored in DDN's scalable web-based data repository.
With WOS technology, SSERCA can build an extensible storage ecosystem for managing large volumes of big data without the scalability, complexity, cost and reliability challenges that are associated with traditional block and file storage.
Given the ability for WOS to scale exponentially, SSERCA can grow beyond its initial multiple-petabyte capacity to support future growth plans for the alliance which may triple the number of petabytes of distributed cloud storage across the alliance's multi-university environment.
Additionally, SSERCA researchers will be able to take advantage of WOS to collect, analyze and share large, complex research data from multiple locations and applications across different DDN storage tiers, including advanced storage platforms that support performance computing requirements at numerous Florida universities.
With WOS, SSERCA can consolidate traditional storage layers, including backup and archive, which will enable research teams to minimize storage management while maximizing productivity and efficiency.
WOS platform is optimized for high-speed throughput of large, complex data volumes as well as super-fast I/O operations for small files, making it suited for meeting SSERCA's needs to handle all types and sizes of research data from multiple sources.
Recently named by IDC as a leader in the object storage market, WOS platform delivers scalable performance, 10x superior performance efficiency and the lowest object storage latency to enhance cloud- and data-intense application experiences.
Dr. Erik Deumens, director of research computing, University of Florida, said: "To support our goal of building a statewide research community, we're creating an extensible storage environment to increase collaboration and data sharing. DDN's WOS technology will provide the vital storage framework while leveraging the essence and simplicity of cloud infrastructure to help SSERCA broaden its data-centric research capabilities."
Dr. Jim Wilgenbusch, director of research computing center, Florida State University, said: "SSERCA's goal is to facilitate and grow research across the state of Florida. This means we need to support multiple file systems and multiple architectures and provide an infrastructure solution that the state of Florida's research community can use."
Joel Zysman, director of HPC, University of Miami, said: "DDN's ability to support multiple mechanisms for data transmission to and from third party high-performance parallel file systems, which may be tightly coupled with campus HPC assets, was a key differentiator in selecting DDN's cost-effective solution. This selection will enable SSERCA to share data seamlessly while leveraging our existing investment in DDN and/or other HPC storage equipment."
Jeff Denworth, VP marketing, DDN, said: "DDN is pleased to help SSERCA fulfill its research mission by making it much easier for dispersed teams to store, access, analyze and share complex data. With WOS technology, DDN combines massive storage scalability with the simplicity of cloud infrastructure to take productivity and efficiency to the next level, all while lowering cost and risk."