Shuttle Releases OMNINAS KD20 2-Bay NAS ($149)
Media server functionality and mobile apps
This is a Press Release edited by StorageNewsletter.com on September 26, 2013 at 2:25 pm
Shuttle Computer Group Inc. announced its OMNINAS KD20 NAS device designed for homes, small office/home office businesses and work groups that need networked storage.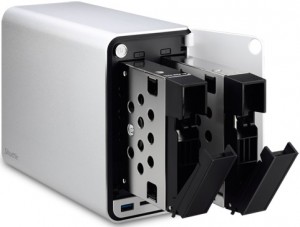 Saving, managing and sharing digital content can be daunting, but this solution has an installation wizard that makes creating a personal cloud stress-free.
"Storing your data in a central location is becoming critical these days, and not everyone wants to rely on a cloud that is controlled by someone else," said Marty Lash, director, sales and marketing, Shuttle Computer Group. "With the new OMNINAS KD20, you can store and access your music, photos, documents, and even stream movies, directly from your own personal, secure, cloud."
It's a two-bay NAS device designed as a multimedia content hub, which lets users store and share documents, movies, music and photos over mobile devices such as iPad, iPhone, Android tablets and smartphones, etc.
It can also be accessed by any computing device that is on the network, which ensures that your files are always available to you. The device is simple to set up yet filled with advanced technology that satisfies even the most technical nerd:
Two hot-swappable disk drive bays for up to eight terabytes of storage space. Drives can be operated in RAID-0 for maximum speed or RAID-1 mode for mirroring, or automatic copies, over a single network. The status of each disk can be monitored independently.
A front-access USB 3.0 port, two rear-access 2.0 USB ports, and one card reader makes downloading files from external flash drives to the device easy.
The built-in print server allows all users to access one or more USB-connected printer. With the OMNINAS_Finder feature, users can print from anywhere in the house or office.
Its 'Auto Copy' function allows data to be copied from USB media or SD memory cards, simply.
The KD20 uses an energy-saving dual-core processor, which enables rapid R/W data transfer.
An integrated DLNA-compliant media server provides video, photos and music for playback on gaming consoles or other media players. It also includes an iTunes server for media connection.
Its aluminum housing, or chassis, provides thermal conductivity, making it cool and quiet. The integrated control unit activates the fan only when the HDD temperature approaches specified limits. In a typical environment, the fan remains inactive.
Free apps for iOS and Android tablets and smartphones are available for mobile access to stored content.
The NAS device has a MSRP of $149 and is available through online retailers such as Amazon, NewEgg and TigerDirect.
It comes with a three-year warranty, terms and conditions apply.