SSD Units Grew 22% from 4Q12 to 1Q13 – Trendfocus
Leaders being in order Samsung, SanDisk, Toshiba and Intel
This is a Press Release edited by StorageNewsletter.com on May 22, 2013 at 3:07 pm
The NAND market continued to heat up, as NAND supply was tight in CQ1 '13 due to healthy demand and supply constraints. Nevertheless, the SSD market grew from the prior quarter to 13.28 million, up 22% quarter on quarter.
In CQ1, the client SSD market was up 19% sequentially to 12.06 million. Enterprise SSD growth rates continue to outpace any seasonal server or storage system softness – this market was up 66% from CQ4 '12, to 1.22 million.
Client SSDs were dominated by NAND suppliers, especially Samsung, who took the lead in selling TLC (3bit/cell) into PC OEMs and the retail channel. Toshiba and SanDisk, who had been the main drivers for TLC in the industry up to this point, could not sustain the momentum and lost share in the market.
The enterprise SSD market is gaining more traction in data centers and cloud storage, as the $/GB metric decreased to levels low enough to drive an inflection in demand. TCO and performance arguments are far more compelling at today's $/GB levels and with costs expected to continue downward, enterprise SSD adoption will continue to grow at rates outpacing other storage devices.
Total SSD Market by Application
Units in million
CQ1 '13
actuals
CQ1 '14
Forecast
Y/Y
Growth
Client SSDs


Stand-Alone Units
7.073
10.180
44%
Cache Units
4.986
8.319
67%
Total
12.059
18.499
53%
Enterprise SSDs
SATA Units
1.009
1.151
14%
SAS Units
0.170
0.198
16%
PCIe Units
0.037
0.042
14%
Total
1.216
1.391
14%
Total SSD Units
13.275
19.890
50%


(Source: Trendfocus, May 2013)
Total NAND Market Share by Technology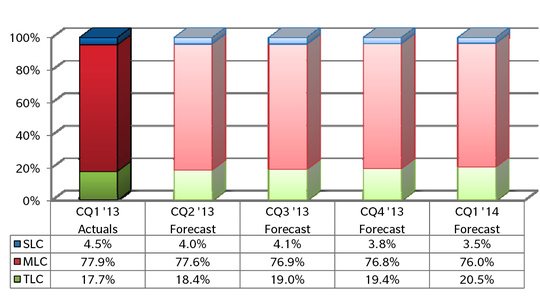 (Source: Trendfocus, May 2013)
MLC dominated the NAND market in CQ1 with 77.9% share, up 8% quarter on quarter.
TLC (3bit/cell) is gaining traction and rose 8% from quarter-to-quarter.
Samsung is the only company shipping TLC-based SSDs in volume.
SLC is declining quickly as demand transitions to MLC, except in certain high performance, high-endurance applications such as military, industrial, medical and automotive.
Spot Market Pricing of SSDs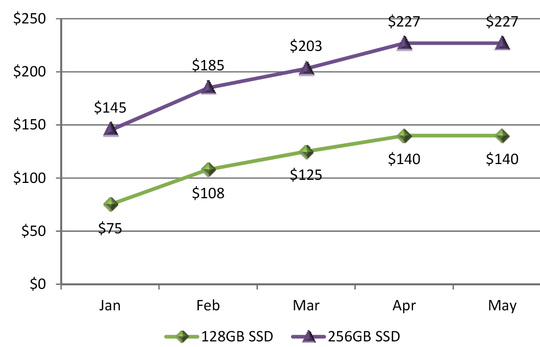 (Source: Trendfocus, May 2013)
Price for SSDs in the spot market continues to rise due to constrained NAND supply. OEM and large-scale contracts can be markedly different than spot market pricing.
256GB SSD increased 57% from $145 in January to $227 in first week of May.
128GB SSD increased 87% since January to $140.
SSD Supplier Market Share in 1Q13
in million
of units
Client
Enterprise
Total
Share

Samsung
4.092
0.060
4.152
31.3%
SanDisk
2.200
0.026
2.226
16.8%
Toshiba
1.222
0.000
1.222
9.2%
Intel
0.832
0.025
0.857
6.5%
HGST
0.000
0.094
0.094
0.7%
STEC
0.000
0.044
0.044
0.3%
Others
3.713
0.967
4.680
35.3%
Total
12.059
1.216
13.275
100%
(Source: Trendfocus, May 2013)
Comments
Now Trendfocus is becoming a serious analyst firm in SSDs after being concentrated for several years on HDDs disk heads and media only. Other ones in this flash sector include IDC and IHS iSuppli.

It's a difficult job because there are over 100 SSD makers around the world. It's easier to track HDDs with only three manufacturers remaining.

What is published above is a small abstract of the 29 pages of the Trenfocus report NAND/SSD Information Service - May 13, 2013, CQ1'13 Quarterly Update.

We just found the Californian analysts relatively conservative concerning the growth of the enterprise PCIe SSD market compared to the SAS one, and more globally on enterprise SSDs.