$1/GB SSD Arrives
Reports Dynamite Data
This is a Press Release edited by StorageNewsletter.com on December 20, 2012 at 2:33 pm
Solid State Society: The Magic $1 per Gigabyte Reality Arrives! is a report written by Kristopher Kubicki, chief architect, Dynamite Data LLC.
We made it! History repeats itself! The great news: $1/GB solid state devices is the new normal. Below you can see average commodity SSD prices drop from $3 per gigabyte in 2010 (and in capacities rarely larger than 128GB) to $1.50 today, with a large number priced under $1/GB.
Over the last three years, we've monitored the price, rebate and stock status of more than 600 individual SSDs at hundreds of ecommerce merchants. The result: most comprehensive, continuously updated SSD dataset on the planet.
The red area of this chart represents the $/GB in the 25th through the 75th percentile of all devices sold in the US, with the blue line representing the lowest price per GB in U.S. e-commerce, after mail-in-rebates. This means that 25% of all the drives sold in the US now sell for less than $1/GB!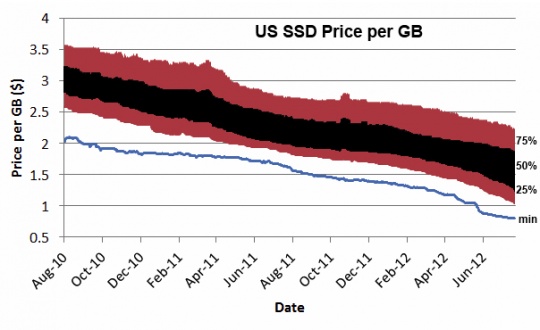 (Source: 622 most reviewed SSDs at all U.S. e-commerce
merchants with revenues above $10M per year. Dynamite Data)
We first saw low-budget SSDs hit the $1 mark in April, with heavy mail-in-rebates. However the industry has been very consistent and extremely fast in its direction. The bigger and newer players pushed the bottom quartile from $1.5/GB to $1/GB in just four months! We're currently experiencing the fastest decline in SSD prices in three years. If history has anything to say we will now see prices per drive stabilize and the size of the drives substantially grow over the next few years.
For the third year in a row, we've witnessed a slight but significant seasonal depreciation of SSD $/GB in the Spring. This may be due to increased demand in the previous quarter, which artificially props up retail prices. In addition, Spring seems to be the de facto launch window for new devices, as we've seen a flurry of new drives from relative newcomer Samsung and the ever-aggressive Micron.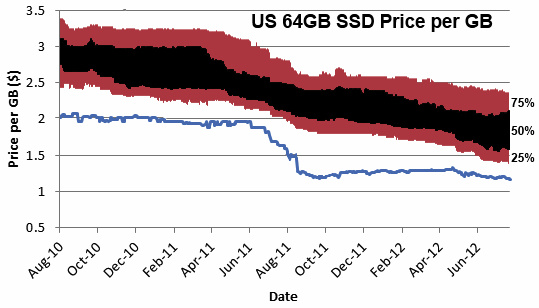 (Source: Most reviewed 60-64GB SSDs at all U.S. e-commerce
merchants with revenues above $10M per year. Dynamite Data)
When we divide our analysis by capacity, there's a clear indication that 64GB devices are not what's bringing the price per GB down. There are some fantastic devices out there (including Micron's new v4 SSDs) that shatter the $1 per GB mark, but at the time of publication those drives were not shipping yet. Ultimately good for consumers is the fact that budget and high performance consumer 64GB drives are now a lot closer together in price, and quality.
Comments
The first SSDs were as high as $2,000/GB, price of a 2GB IDE unit from SimpleTech in 2000.

Among the lowest priced devices, there are currently the 256GB Crucial (Micron) v4 released at $0.74/GB, the Samsung SSD 840 Pro at $0.88/GB for 450GB, and the 400GB SanDisk Lightning at $0.87/GB.