Start-Up's Profile: Nimbus Data Systems
All-SSD enterprise subsystem at HDDs' prices
This is a Press Release edited by StorageNewsletter.com on April 26, 2010 at 3:04 pm
Company:
Nimbus Data Systems, Inc.
Headquarters and offices:
HQs in San Francisco, CA; R&D in Pubai, India, and Dallas, TX
Born in:
2003 (incorporated in 2006)
Angel investors:
Spring Creek Partners, a participant in TrueSAN's funding
Ed Zschau, former GM, IBM Storage Systems Division
Dick Watts, former corporate VP, HP UNIX server and PC business units
Jack Russo, founder and attorney-at-law, Russo & Hale, LLP
Revenues:
Sales "in single digit million of dollars", profitable since 2009 (and debt-free)
Main executives:
CEO and founder Thomas Z. Isakovich, 32, is the only executive of the company. He was founder, CEO and CTO of TrueSAN Networks, born in 1999, a company that began in a Stanford University dorm room to work on a software solution combining storage virtualization, network/device management and SRM, but closed in 2003 after getting $35 million in funding. Isakovich acquired field experience as an animator at MTV Studios and as the founder of Phoenix Studios, a multimedia design firm. He was also the founder and editor-in-chief of The PowerPC Journal, the first technical report focused on the emerging RISC technology (only three issues were published). In addition, he conducted user systems research at IBM's Almaden Research Center where he developed 3D hologram-based user interfaces. As a technical marketing analyst at Oracle spin-off Liberate Technologies, he initially discovered the potential of the data-centric computing mode while developing strategies to proliferate thin client computing. He is a founder of UpFunds, a financial investment concern, as well as the Chairperson of the End-User Focus Group for the Fibre Channel Industry Association. Isakovich attended Stanford University and studied Economics and Symbolic Systems.

Number of employees:
30 (95% of them engineers, 3 in Texas, all the other ones in India)
Technology:
Nimbus was one of the first companies to ship 10GbE storage system in 2006 and to incorporate SSD technology in IP storage in 2008. Today the start-up launched S-class, an unified storage system for files and blocks (NAS – NFS, CICS – and iSCSI SAN) combining SSD array and a bunch of software sold together.
"We took baby steps", said Tom Isakovich. "V1 in 2006: a $5,000 basic iSCI appliance with RAID-5 and two GbE ports. V2 in 2008: adding snapshot, RAID-6 and replication. V3 last year: an unified storage system with iSCSI and NAS."
Nimbus' Halo storage OS, now at release v5, offers management and data protection capabilities with 64-bit storage virtualization technology. It includes a RAID (0, 1, 5, 6, 10, 50 and JBOD) with a policy-based caching engine. The following applications are included with no supplementary fees: thin provisioning by default, snapshot, snapclone, synchronous mirroring and asynchronous replication with dedicated WAN port. There is also 10:1 inline hash-based de-dupe – and compression – on primary storage. To prove the simplicity of the system's Web management, Nimbus is supposed to reveal next month an iPhone app to manage the arrays.
The new SSD RAID use Westmere/Nehalem processing cores and Nimbus has developed its own SSDs – in hot-swappable modules – based on Micron's EMLC NAND flash chips, "more reliable than MLC and less costly than SLC", according to Isakovich. Power consumption is less than 100W. Isakovich announces 500,000 IO/s and up to 40Gb/s bandwith with 4x1GbE/10GbE ports using Mellanox FlexConnect technology. There is a 6G SAS interface to expand the capacity with up to 20 enclosures. He added that FCoE is coming.
Prices of hardware with the complete enterprise software and data protection suite are €20,000 ($24,995) for 2.5TB and €30,000 ($39,995) for 5TB in 3U, the maximum capacity being 100TB (native, without with de-dupe) with 21 enclosures or 504 flash blades. Nimbus offers three-year or five-year warranty in option, as well as 24x7x365 four-hour onsite service.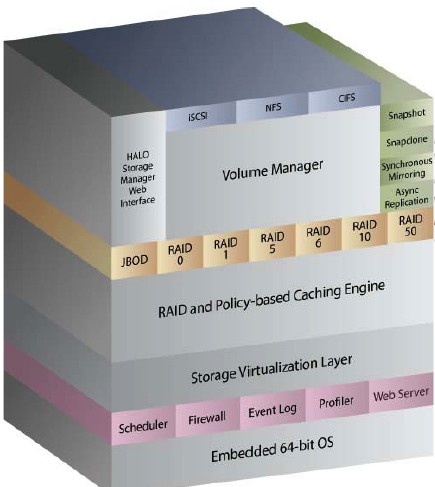 Halo storage OS
Roadmap:
Increased capacity and density (petabyte-class)
Greater network connectivity
Superior security features
Mobile storage management
OEMs:
The following companies licensed Nimbus' iSCSI code:
AMCC to build IP storage controllers
Iomega since two years to bundle Nimbus MySAN software with Windows Storage Server-based NAS
IBM/Tivoli for Windows iSCSI target
Number of customers:
200 for Halo OS (15,000 companies in 28 countries with OEM's customers)
Main customers:
U.S. Department of Defense, Loro Piana, Nexgen Pharma
Distribution:
For the new product, Nimbus will use channel only, with one distributor per country
Applications:
Virtualization ( Citrix, Hyper-V, VMware), OLTP/databases, HPC, Microsoft Exchange, SQL
Competitors:
Dell/EqualLogic, NetApp
Comments
Nimbus is offering one of the first pure flash enterprise storage arrays at prices competing with subsystems based on fast enterprise hard disk drives considering that the software is included. "EqualLogic 4.8TB with 15K SAS HDDs cost €20,000", said Isakovich. "15K/10K disk is dead, with no IO/s gains since ten years. Virtualization demands very high IO/s that spinning disk cannot handle. Caching attempts to mask but fails to solve the performance gap. Tiered storage is a band-aid, not a breakthrough."

The start-up has an unusual model as it refuses the money of VCs, being help by angel investors only, and has no intention to be acquired. Nimbus said to be profitable with sales coming from previous offering and is investing using revenues of products sold.

Today' sale force comprises only two people: CEO Isakovich and French José Rodrigues, recently recruited for Europe (he was formerly at StoreAlliance, Dell/EqualLogic and Veritas).