Start-Up's Profile: RAID Killer Cleversafe
Just raising huge $55 million in series D
By Jean-Jacques Maleval on 2013.08.22
Company
Cleversafe, Inc.
Locations
HQs in Chicago, IL, with operations in Vienna, VA and Denver, CO, as well as in London, UK and Tokyo, Japan
Date founded
2004
Financial funding
With its most recent oversubscribed series D funding round of $55 million, the company has raised over $100 million in capital to date. It raised $31.4 million in October 2010, in an extension of a series C funding round. All of previous investors participated in series D including lead investor New Enterprise Associates. In conjunction with the financing, NEA's managing general partner Peter Barris joins the board of directors. New World Ventures is a new investor for this latest round.
Revenues and profitability
The start-up expects this round to be the last one needed before reaching profitability. It has doubled revenues and number of customers each of the last four years and is on track to be cash flow positive in the next calendar year, shipping a total of more than 200PB of storage capacity.
Main executives and founders
John Morris, president and CEO: He joined last May, replacing Chris Gavin, after a thirty-year career spent growing enterprise technology businesses. Most recently serving in several roles as a member of the executive committee of Juniper Networks, as EVP of WW field Operations, he added more than a billion dollars to Juniper's top line. He also led Pay By Touch, a payments industry start-up, to implement its biometric solution in thousands of retail stores and millions of consumers as its president and COO. He started his career at IBM where, over a 23-year career, he held numerous executive general management roles including several with multi-billion dollar revenue responsibilities and various executive roles while spending four years living in the AsiaPac region.
Chris Gladwin, founder and vice chairman: He was previously the creator of the a workgroup storage server at Zenith Data Systems and was a manager of corporate storage standards at Lockheed Martin, also created and managed a number of new technology start-ups, including MusicNow, which was acquired by Circuit City. He has been the creative force behind the development of Dispersed Storage system to solve the problem of big storage.
Russ Kennedy, VP product strategy, marketing and customer solutions: He brings more than 20 years experience in the storage industry. He joined the company initially in 2007 and left in 2009, staying on in an advisory role. In 2011, he rejoined. Previously, he served as the VP of competitive intelligence at CA and was the senior director of engineering and product management at Thin Identity Corporation.
Chad Thibodeau, director of alliances: With more than 15 years of technology experience in enterprise storage, telecommunications and the defense industry, he brings an understanding of the traditional capabilities surrounding, SAN, RAID and replication. He is also the co-chair of SNIA Cloud Archive and Long-term Preservation group. Formerly a senior product manager at Compellent (acquired by Dell), he was responsible for hardware products and third-party relationships with partners such as Cisco, Brocade, Emulex and QLogic. Prior to Compellent, he managed multiple enterprise product lines for Dell.
Number of employees
More than 100
Technology
Cleversafe's dsNet object storage system protects both data and metadata equally and is more reliable and more efficient than traditional RAIDs. By applying its information dispersal technology to slice and disperse data, single points of failure and centralized synchronization points are eliminated. As data is distributed across all storage nodes, metadata can scale linearly and infinitely as new nodes are added, thus reducing scalability bottlenecks and increasing performance and reliability. This approach delivers the combination of analytics and storage in a geographically distributed single system, allowing organizations to scale their big data environments to hundreds of petabytes.
Dispersed Storage Technology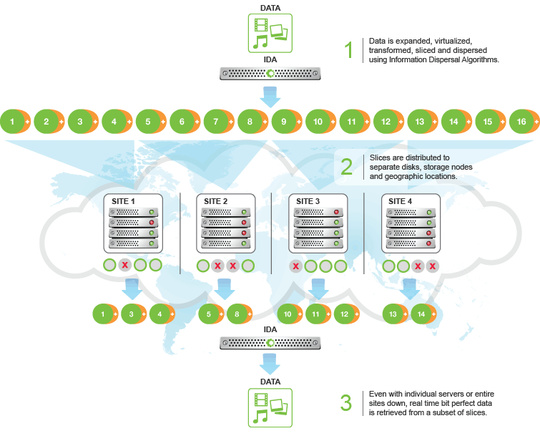 A reliable storage system requires more raw than usable terabytes. The ratio between the two depends on the storage architecture. If reliability is based on making three copies of the data on multiple RAID-6 arrays, a storage system needs to provide more than 3.5 raw terabytes per usable terabyte. Typical configurations of dsNet require between 1.2 and 1.8 raw terabytes per usable terabyte, while providing better reliability and availability than a storage system that relies on copies for reliability.
Most recently, the firm has advanced combined storage and computation with Hadoop MapReduce, reducing customers' infrastructure costs for separate servers dedicated to analytical processes.
The start-up has been assigned 88 issued and allowed patents.
Products description
Cleversafe's appliances come ready to run upon installation. Each system is composed of several appliances of three distinct types. The dsNet Manager provides operation and maintenance functions. The Accesser appliance services data requests from applications and performs the IDA calculations as needed, storing and retrieving the 'slices' for each data item to and from the Slicestor storage nodes.
Released date
V3.0.2 of dsNet object storage system is shipping, V3 since May 2013.
Price range
From $300 to $900 per usable terabyte for systems with between 6 and 15 9's of reliability, including hardware, software and three years of maintenance and support.
Partners
Solution Network: Include CommVault, Symantec, Cloudera, IBM, Gladinet, Mezeo, Solid Instance, WebDrive, Brevity, DeJarnette, Microsoft's SharePoint, Panzura, Lockheed Martin, VMware, RedHat, Riverbed, Cisco, F5, QStar Technologies.
Partner Program: Include Integrated Storage, global platinum partner CTC Itochu Techno Solutions, UK distribution partner Channelfusion, and national Platinum partners Advanced Systems Group, Bell Techlogix, and IDS.
Distributors and OEMs
Include MBX Systems, Newisys, Seagate, Super Micro Computer
Customers
They are those that need in excess of a petabyte. Among them:
Two of the Fortune 5 photo sharing sites in the world, including nearly 100PB at Shutterfly and recently Photobox, an European photo/video sharing site.
Three of the top ten media companies in the UK, including Future Publishing.
One of the top three mobile providers in Japan
Along with wins in the US federal government, including a strategic investment and technology development agreement with In-Q-Tel (the firm that identifies technology to support the missions of the US Intelligence Community) and a partnership with Lockheed Martin.
Target market
Customers are those that typically need solutions to address their storage needs in excess of a petabyte.