Company Profile: Data Dynamics
Developer of StorageX, product surviving multiple companies
By Philippe Nicolas | June 20, 2019 at 2:36 pm
StorageX is recognized on the market but its curent owner, Data Dynamics, Inc., is a bit confidential.
We meet Piyush Mehta, its  CEO, during the recent IT Press Tour.
Genesis and background
Nuview, founded in 2003 by Rahul Mehta, was the original developer of StorageX. The company built different products at different time with a clear exit strategy in mind, here is the list:
ClusterX acquired by Veritas Software in 1999,
ManageX by HP in 1997, and
StorageX by Brocade Communications in 2006 for $60 million.
Brocade at that time, under the management of Mike Klayko, who joined the company with the Rhapsody Networks acquisition in 2003, chose to go beyond classic SAN/FC switch business by starting two business units: the first dedicated to HBA/HCA (C for Converged) supported by the acquisition of Silverback Systems in 2007 and the McData merge in 2006 and the second about file storage solutions around Tapestry product line fueled by a WAFS product based on Packeteer OEM and NuView StorageX mentioned above. At that tine, NetApp OEMed StorageX under the name Virtual File Manager aka VFM.
But Brocade did a fantastic mistake, coming from a hardware block storage networking business sold via OEMs essentially. Company's management believed that it should be easy to setup and grow a software file storage business via VARs and channels. It failed miserably with people coming from the first category trying to sell the secondary.
Software is not hardware, file is not block and VARs/channel is not OEM, three simultaneous challenges they were unable to address correctly. Brocade tried to iterate and develop a hardware (Brocade loved hardware) based file virtualization engine named File Management Engine. It didn't work at all and guess what, Brocade stopped this division around 2010 and StorageX became an orphan.
In 2012, Piyush Mehta acquired StorageX from Brocade and started Data Dynamics. The timeline below illustrates the various owners of StorageX.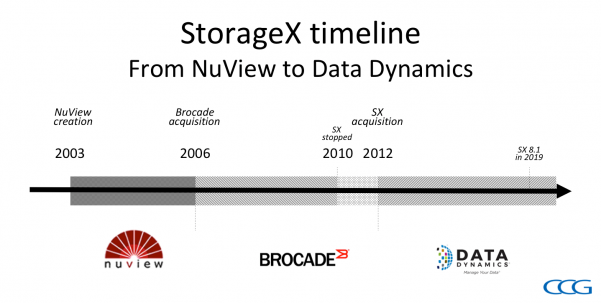 Data Dynamics era
The acquisition of StorageX in 2012 triggered the creation of Data Dynamics by Piyush Mehta. The company has its HQ in Teaneck, NJ plus offices in Houston, TX (where NuView HQ was), Tuczon, AZ and Pune, India. Globally the entity has 50 employees.
We don't find any institutional investors, just private money, and Piyush Mehta himself. We found also 2 board members: Andy Monshaw and Randy Seidl.
Data Dynamics has a few partnerships, among them Nexenta, just acquired by DDN, Compuverde, as well acquired recently by Pure Storage, and a few anecdotic others.
StorageX
Interestingly, even with 3 owners, NuView, Brocade and Data Dynamics, StorageX as a name stayed and survived each change confirming a strong market position and business resiliency. It confirms also that it's difficult without any advantage to rename the product.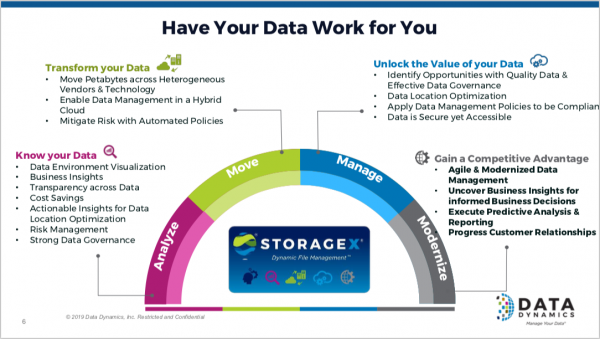 StorageX is a pure software products without any gateway or agents to deploy and is considered as one of the most comprehensive file data controller based on a advanced metadata engine. However it suffers from a lack of visibility on the market. It operates as a global file directory service for on-premises file servers and NAS like DNS plays for Internet. The slide above illustrates the features set of the product around the analysis of the unstructured data environment.
StorageX leverages a SQL database for several years, it integrates now Elastic search and NoSQL engine when analytics and archives modules are enabled, for storing meta data collected and the tagging that drives categorization and intelligence into the data. This information can be accessed via StorageX UI, API or directly via Elastic.
In term of deployments, StorageX server receives data from UDE – Universal Data Engine – collectors running on-premises. As a pure software, StorageX doesn't require agents, gateway or stubs.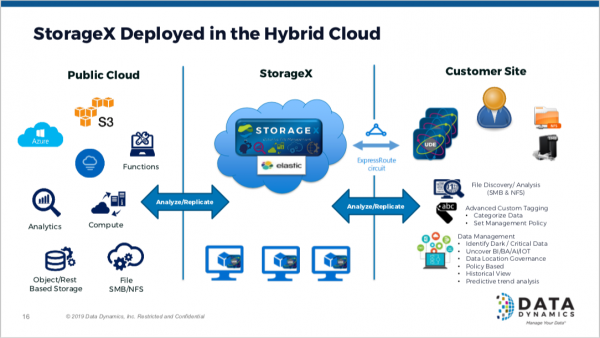 With the 8.1 release, several new features were introduced:
Analyze: optimized file scan and analytics powered by Elasticsearch plus the capability to perform query search to create custom datasets for effective data analytics and reporting,
Move: support added for Microsoft Azure Blog meaning that StorageX adds object storage target,
Manage: Integration added for 3rd-party monitoring tools plus enabled data grooming for Cassandra,
Modernize: New API functions for business workflow integrations.
StorageX is also a solution chosen and selected for the delivered proven ROI. The image below shows an example that illustrates generated savings.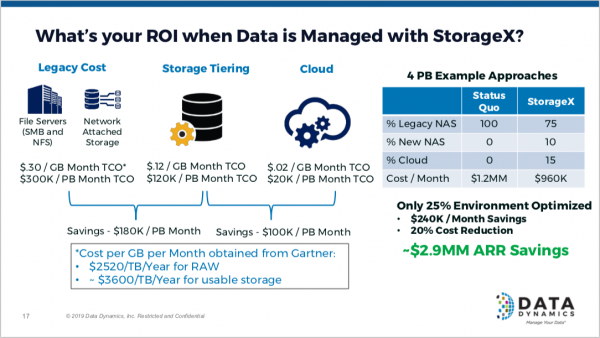 The pricing model for all StorageX modules is based or capacity per year per account in addition to a StorageX engine fee.
Future
We expect StorageX 9.0 soon with some new features and product architecture. First in term of architecture, Mehta told that the product will be redesigned with micro-services for the core and edge i.e the data collectors. AI will be also included and security extended. The last addition will see content analysis to complement metadata knowledge, enhance policy engine and align with some compliance requirements.