Rsync and DeltaCopy Integrated on Thecus NAS
Incremental backup and data transfer over LAN or WAN
This is a Press Release edited by StorageNewsletter.com on August 15, 2014 at 2:44 pm
Many backup solutions are available for those seeking peace of mind in the digital world, though a number of options turn out to be complex, expensive, or needing to be imported from third-parties (such as OwnCloud and Syncrify).
But why reinvent the wheel when a free solution is ready from Thecus Technology Corp.?
Server-Side
For numerous forms of backup, all Thecus NAS already have a native engine embedded. Named Rsync Target, this tool can be found in the Backup menu inside the system administration interface (ThecusOS). By enabling the option and setting a username and password, your NAS will be able to receive any data from a Rsync Client over the LAN or WAN. Just don't forget to open port 873 on the router.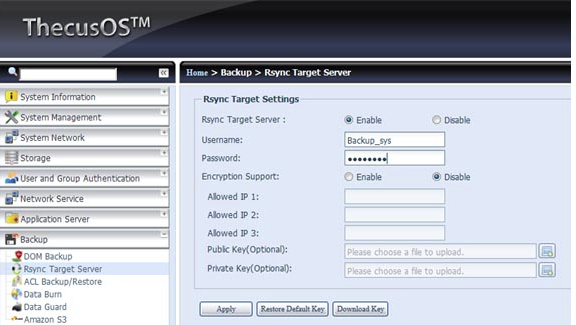 Please note: Rsync is available on all OS5 and OS6 Thecus NAS systems
Client-Side
Let's say you have to backup one file every night. A normal file copy operation would copy the entire file even if only a few bytes have changed. DeltaCopy (The Rsync protocol is not native to Microsoft systems, so to make the most of this useful utility, Windows users need to install a program called DeltaCopy – a fast, open source incremental backup program), on the other hand, would only copy the part of file that has actually been modified. This reduces the data transfer to just a fraction of the 500MB total, saving you time and network bandwidth.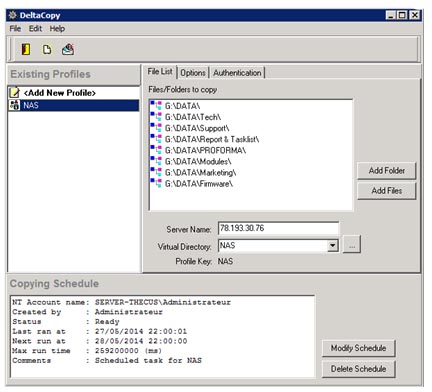 Once installed on any Microsoft desktop or server, it will allow you to connect to your NAS and perform backup/sync tasks. Just set and forget it.
Highlights:
Incremental backup – Copies the parts of the file that have been modified rather than the whole file

Task Scheduler – Profiles in DeltaCopy can run based on a schedule

Email Notification – Administrators can receive email confirmation related to successful and failed transfers

One-Click Restore – Backed-up files can be restored.